Streaking Ducks prepared for Stanley Cup pursuit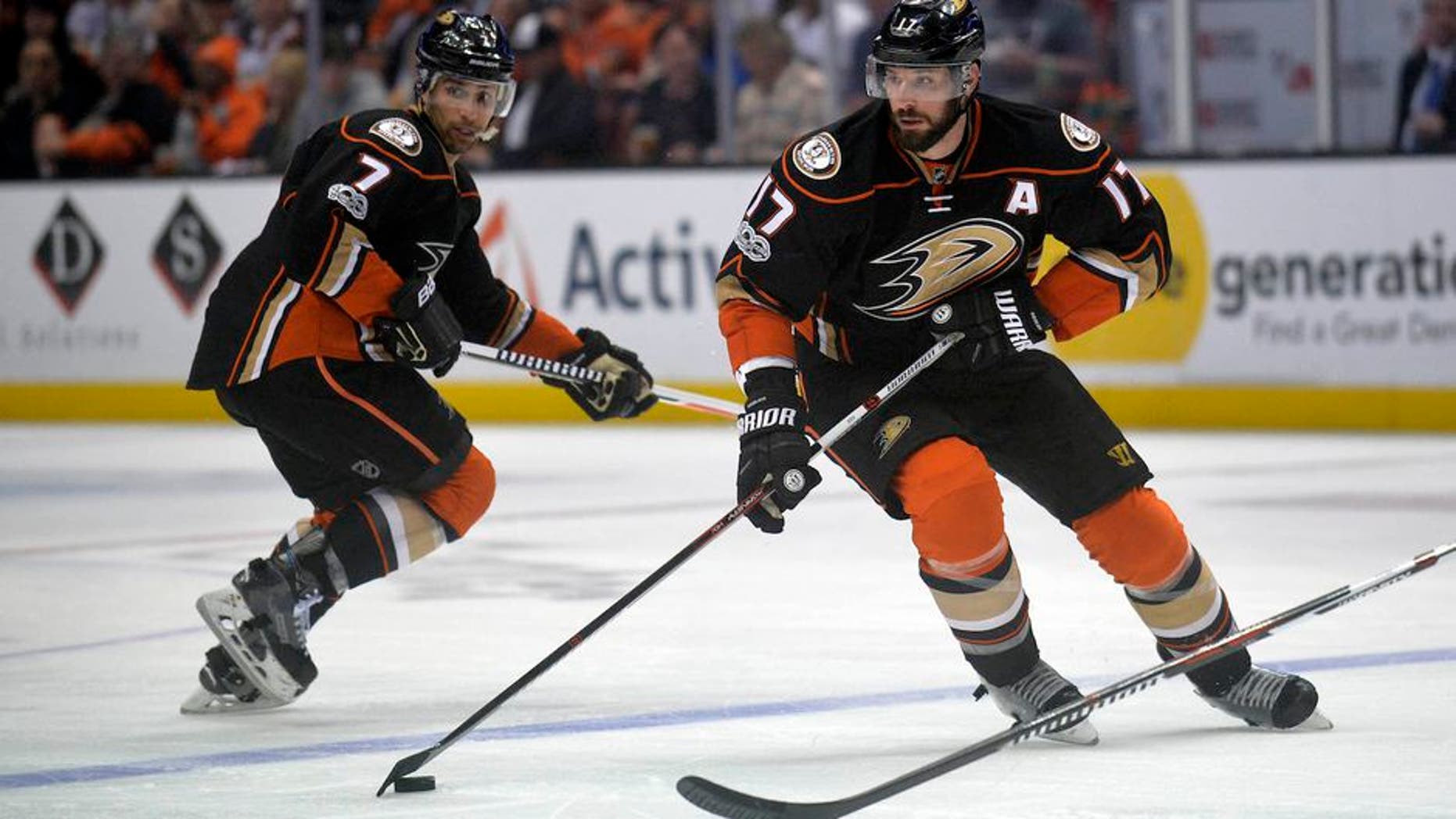 The Anaheim Ducks ended the regular season on an impressive roll and have the experience and talent needed to bring a second Stanley Cup to Orange County.
Their first opponent will be a hungry team wanting to show that they can be a force in the postseason -- and perhaps deliver another first-round upset.
Southern California will be the site of a first-round playoff series on Thursday night when the Ducks welcome the Calgary Flames to Honda Center.
Anaheim finished on an 11-0-3 run -- including a home-and-home sweep of Calgary earlier this month -- to surge past the Edmonton Oilers and San Jose Sharks and win their fifth straight Pacific Division title.
Coach Randy Carlyle, who guided the Ducks to their only Stanley Cup title in 2007, knows what to expect after posting a 39-30 mark in the postseason with Anaheim and the Toronto Maple Leafs.
"The playoffs are a different animal," he told the team's official website. "We know the intensity level and physicality will go up, and space is going to be earned. There won't be anything given out there."
The Ducks won four of five in the season series with the Flames. The only blemish was an 8-3 loss on Dec. 4 in Calgary, where the Flames set a season-high for goals scored -- and Anaheim did the same for goals allowed.
"We've played them two times in the last week so there isn't a lot of secrets on what their lineup is or what they have historically done," Carlyle said.
When it comes to playoff experience, the Ducks have a decided edge. Ryan Getzlaf has played in 104 games and needs one point for 100 in postseason play while Corey Perry is three games shy of 100, and has 32 goals and 78 points in his playoff career.
Getzlaf led the Ducks in scoring for the fifth straight season with 73 points (15 goals, 58 assists) in 74 games, but failed to record a goal against Calgary this season while totaling six assists. Rickard Rakell enjoyed a breakout season for Anaheim with a team-high 33 goals despite missing 11 games, yet managed one versus the Flames.
Calgary will want to watch Ryan Kesler, who had four multi-point contests, finishing with four goals and five assists in the season series. Kesler led the Ducks with four goals in the playoffs last season when they lost to the then-seventh-seeded Nashville Predators in seven games in the opening round.
If there is a weakness on the Ducks' playoff roster, it may be in goal. John Gibson (25-16-9, 2.22 goals-against average, six shutouts) and Jonathan Bernier (21-7-4, 2.50 GAA, two shutouts) excelled in the regular season, but neither has stood out in the postseason. Gibson is 2-4 with a 2.84 GAA and one shutout while Bernier has just 30 minutes of experience with the Los Angeles Kings in 2013.
While Anaheim boasts a wealth of playoff experience on its roster, Calgary is in the postseason for the first time since 2014-15, when it lost to the Ducks in the second round in five games.
Unlike a couple of years ago, the Flames now have some seasoned playoff performers including Kris Versteeg, a two-time Stanley Cup winner with the Chicago Blackhawks who had a team-best five points (two goals, three assists) in four games against the Ducks in 2016-17.
"We have a lot of veteran guys now that have been through these circumstances before. We have guys who've won and know what it takes. To have those kind of people in the dressing room and those kind of guys who have been in those situations is a big help," forward Sean Monahan told the Flames' official website.
Monahan led the Flames with 27 goals and was second on the team with 58 points, trailing only Johnny Gaudreau, who had 61 points (18 goals, 43 assists) in 72 games.
Brian Elliott, who has made 31 playoff starts in his career, overcame a tough debut with Calgary -- 3-9-1 with a 3.31 GAA in his first 13 games -- before going 23-9-2 with a 2.27 GAA the rest of the way. He said a key for the Flames is heading back to Alberta with a win under their belts.
"They have home-ice advantage and we have to win at least one there. It's a tough building to play in, but I like to think ours is just as tough to play in," he said. "It's a new chapter and we're approaching it as an opportunity and guys are looking forward to that challenge"
Also making his postseason debut is coach Glen Gulutzan, who led the Flames to a fourth-place finish the in the Pacific with 97 points. Gulutzan failed to help the Dallas Stars reach the postseason in 2012 or 2013.
He said players keeping emotions in check is crucial.
"Discipline over emotion is huge. Just embrace the fact you're going to be in a big-time battle and there's going to be things that you don't like. If your focus is on the right thing and you accept the other distractions around you, you can manage those things and you won't be in a position to take penalties," he said.
Game 2 is scheduled for Saturday night in Anaheim.