Streak-busting No. 1 UConn wins 66-55 to break No. 7 Baylor's 69-game home winning streak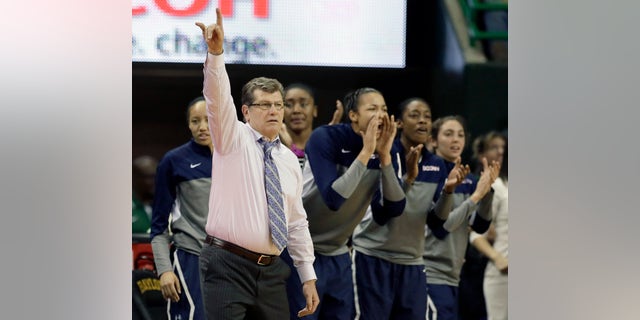 WACO, Texas – Connecticut has two of the five longest home winning streaks in Division I women's basketball, including the NCAA record of 99. The Huskies have put an end to the other three.
Their latest streak-busting win came in their closest game this season, a 66-55 victory Monday night at No. 7 Baylor, which had won a national-best 69 in a row at home.
"Coming down here is a big game, and you want to compete and you want to win. The streak and all that other stuff, it's kind of in the back of your mind," Huskies guard Bria Hartley said. "You really don't pay that much attention to it, but when you guys say it, and we were able to break it, it feels good."
Breanna Stewart had 18 points and 11 rebounds for UConn (18-0), and her baseline jumper with 10½ minutes left started a game-clinching 16-6 run after Baylor got within a point.
Baylor (14-2) hadn't lost at home since a 70-54 defeat to Texas in its regular-season home finale March 7, 2010. Senior starters Odyssey Sims, the national scoring leader, and Makenzie Robertson, the daughter of coach Kim Mulkey, had never before walked off the court at the Ferrell Center with a loss.
"I don't think they're worried about that. I just think they're competitors, and you hate losing. It's not about a streak. You'll re-live the game," Mulkey said. "Odyssey will re-live the game and think, 'Wow, if I would have given us a little bit more, we might have won.' Or Makenzie thinks, 'If I would have made a couple more free throws.' That's what competitors do. But they certainly are not worried about a streak."
UConn had its own 69-game home winning streak a decade ago, then later added the 99-game run that ended with a loss to St. John's two years ago. Before snapping Baylor's home streak, the Huskies ended Stanford's 82-game run at Maples Pavilion last season. They also put an end to Tennessee's streak after the Lady Vols became the first team to reach 69 in a row at home 18 years ago.
Sims, who went into the game averaging 31.8 points, had 20 points on 4-of-25 shooting and made all 10 of her free throws, none after halftime. The All-American guard didn't score again after her 3-pointer with 10:54 left got Baylor within 50-49.
"We tried everything (against Sims), we really did. Every imaginable defense that you can imagine that you can guard somebody, we tried it," UConn coach Geno Auriemma said. "But in the end, you've just got to hope she misses. ... She's going to get her points. But I want her to work really, really, really hard, harder than she's worked all year to get those points. I thought we responded."
Hartley had 17 points for UConn, which has won 24 in a row overall to equal the sixth-longest winning streak in school history. It is the Huskies' second 24-game winning streak since their record 90 in a row ended in December 2010.
"To be tested out of conference in January like we were tonight, it really shows how good of a team we are in the end," Stewart said. "When we had to make plays, we made them."
UConn had won its first five games against Top 25 opponents by an average margin of 22 points. The closest anybody got before Monday was Maryland, which lost by 17 at home to the Huskies.
Moriah Jefferson, the only UConn player from Texas, had 13 points, five assists and four steals. Stefanie Dolson had 10 points and seven rebounds.
Freshman Nina Davis had 11 points and 17 rebounds for Baylor. Robertson had 10 points including three 3-pointers.
"We got a great measuring stick and a gauge of how good we are and how good we can be," said Mulkey, who lost two-time AP player of the year Brittney Griner and four other seniors after last season. "When Odyssey Sims has a night like she does and you're three points from tying the ballgame with the No. 1 team in the country, you feel good. ... We're going to move on to the most important part, and that's conference."