Still chasing fights: Even as a superstar, Conor McGregor hungry as ever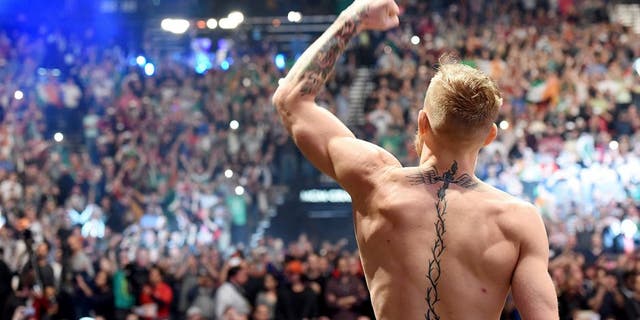 Some weeks ago I wrote about how Fabricio Werdum was right to not fight a short-notice replacement when Cain Velasquez pulled out of their scheduled heavyweight rematch. I stand by that belief.
Werdum is pushing 40, says he himself was also injured, and the proposed replacement opponent - Stipe Miocic - is a completely different fighter than Velasquez. Werdum stayed in the fight until his opponent pulled out.
At that point, with just a couple weeks before the date, he was not responsible for the card falling apart. Similarly, when featherweight champion and lightweight title challenger Conor McGregor was told this week that his March 5 opponent Rafael dos Anjos was out with injury, the Irishman had no responsibility to keep UFC 196 together.
After all, McGregor fought just weeks ago, against one of the best of all time - Jose Aldo - and already risked a lot by deciding to move up in weight. Now that dos Anjos is out, McGregor would be smart to simply move on and wait to fight the Brazilian or someone else with proper notice.
Instead, the promotional cover boy is reportedly eager to fight a late-replacement on under two weeks' notice to stay in the UFC 196 main event. It may not be smart, but goodness gracious it is admirable.
This isn't new territory for McGregor. This past summer, Aldo pulled out with injuries of their scheduled UFC 189 main event.
Conor had the title shot sewn up and there is little doubt that he would have been able to fight Aldo, later, if he waited to face the legend once he'd healed. Instead, McGregor took on a much more difficult style match-up, on short notice, in Chad Mendes.
"Notorious" reportedly didn't hesitate to accept the Mendes fight. Of course, he won, after going through a meat grinder in the first round, and eventually got his fists on Aldo, in December.
In fact, many of McGregor's opponents were actually replacements after original foes dropped out with injuries.This morning my colleague Damon Martin reminded me that this would actually be the fourth time McGregor has fought a replacement opponent in his short UFC career, if the UFC finds someone for him on March 5.
In 2013, McGregor faced Max Holloway, who replaced Andy Ogle. In 2014, McGregor faced Diego Brandao after Cole Miller injured his hand.
Last year, of course, he faced Chad Mendes when the Team Alpha Male member stepped in for Aldo. Perhaps the UFC will come to terms with McGregor's fourth replacement opponent, in the next few days.
It is one thing for McGregor to have done that as an up-and-comer needing recognition and paydays.It is a whole other beast for him to continue to fight all-comers, now, as a superstar champion with lots to lose.
McGregor is one of the richest, most famous fighters in the world. Turns out, he's also still one of the most hungry.