Stewart-Haas Racing is creating its own image with switch to Ford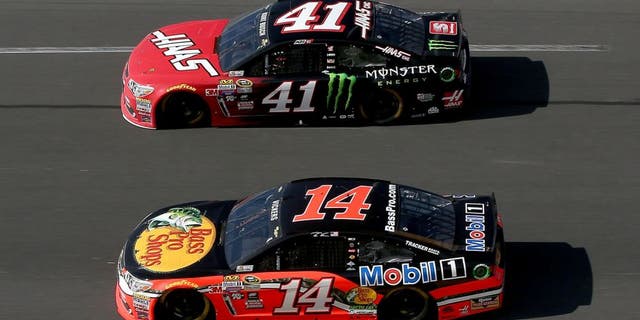 I think one of the most surprising announcements we've had in a long, long time and probably one of the best kept secrets came to light this week with the announcement that in 2017, Stewart-Haas Racing will leave long-time manufacturer Chevrolet and move to Ford.
We've seen a lot of dramatic shifts on the business side of NASCAR. I think this is yet another clear example of an organization trying to make themselves even more competitive and solid with a long-term vision in mind.
We had the new Charter system come out where NASCAR and the owners worked out an agreement to try and help owners have an established value in their organization. This has never happened before in our sport.
We've seen NASCAR try to gain control of their business model, both from a competition and business standpoint. It's very cliché to say but it's true -- "this isn't your father's NASCAR" anymore.
The NASCAR landscape has and will keep changing like never before. For years, Chevrolet has dominated in our sport. Now for the first time in 2015, we saw Toyota win their first championship.
So here sits Ford in the third of three positions and they are being very proactive in trying to get back to being on top. What thrills me to no end is that Ford says "we want to be in NASCAR and we want to get back to being No. 1 in the sport." That's extremely positive for NASCAR.
You don't want to add new teams to the Ford banner just for the sake of adding teams. You want to add game-changers and that is what Ford has now done by reaching an agreement with SHR.
There have been so many firsts that have come out of the creation of SHR. since its inception. This is a huge win for Ford to lure them away from Chevrolet.
So in 2017 when you look at the top of the leaderboard, Ford now has a four-team organization that is comparable to the Hendrick Motorsports Chevrolets, as well as comparable to the four teams that Joe Gibbs Racing fields for Toyota. I think this is a grand move Ford has made.
No offense to Richard Petty, Jack Roush or Roger Penske, but the reality is they are getting up there in years. So being proactive like this, instead of reactive when it comes to their future, speaks volumes for Ford's vision of the future in NASCAR.
The other reality is that with his deep and long ties to Chevrolet with all his car dealerships, no one really believes that anyone is going to replace Rick Hendrick as Chevrolet's top organization in NASCAR.
What SHR has now done is serve notice -- they want to come out from under the umbrella of being a satellite organization to Hendrick Motorsports and be a lead organization for Ford.