Steven Matz to start NLCS Game 4 for the Mets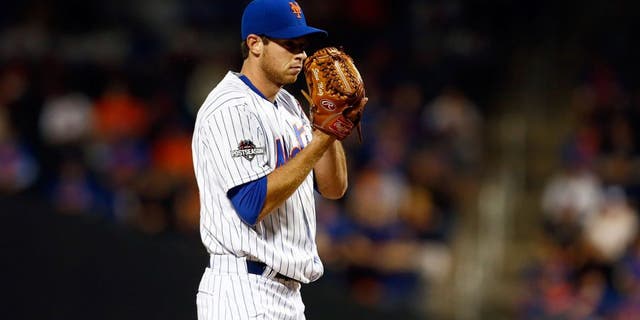 NEWYou can now listen to Fox News articles!
After a mediocre performance in his first career postseason start, the New York Mets will hand the ball to rookie Steven Matz in Game 4 of the NLCS, which could be a potential series-clinching affair.
"I have all the confidence in the world that Steven Matz is going to pitch a good game," manager Terry Collins said.
Matz last pitched on Oct. 13 in the Mets' 3-1 loss to the Los Angeles Dodgers in Game 4 of the NLDS at Citi Field.
The rookie left-hander, who was 4-0 with a 2.27 ERA in six regular-season starts, threw five innings while giving up six hits and three earned runs in his first postseason start in the NLDS.
While there is typically concern about pitchers throwing on short rest in the postseason, there is also a similar unease about starters pitching on extra rest, as they are unable to heed their usual five-day routine.
However, the Mets aren't worried that Matz will have an extra two days in between his Game 4 start of the NLDS last Tuesday and his upcoming start in Wednesday's Game 4 of the NLCS.
"I'm not concerned about the fact that it's been a while between times he's gone out there," Collins said. "It just seems like the way it's gone at the end of the year for him. He's had to do that each and every time, and he's limited the damage. He's gone out and pitched pretty well."
Matz's start has the potential to be historic for the Mets, as it could be a series-clinching game if Game 3 starter Jacob deGrom can put the Mets up 3-0 in the NLCS on Tuesday as the series heads to Chicago.