Steve Weatherford reveals why Giants players truly love Tom Coughlin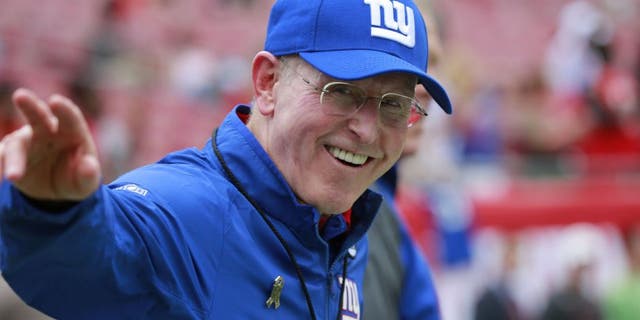 When word started spreading on Sunday that New York Giants head coach Tom Coughlin would either resign or be fired in the wake of the team's 6-10 finish this season, former Giants punter Steve Weatherford was among the first of Coughlin's current and ex-players to take to social media to praise the two-time Super Bowl-winning coach.
In a tweet, Weatherford referred to Coughlin, for whom he played for four seasons, as "the finest man I've ever met," and stated that "we should all be thankful" for the longtime coach.
On Monday, Coughlin officially stepped down after 12 seasons with the Giants, and shortly afterward Weatherford expounded on his tribute, telling FOX Sports that his life changed the moment he signed with New York -- and more specifically, with Coughlin -- in the summer of 2011.
"It wasn't just winning a Super Bowl seven months later," Weatherford said in a phone interview. "It wasn't getting a long-term extension. None of those things were nearly as important as the things that I learned about being a leader and leveraging your celebrity to help motivate and inspire other people.
"I think the true measure of a man is how he treats somebody he can gain nothing from, and it was really just the simple things -- how Tom would go out of his way to make people feel special. The memories that I'm going to have of Tom as a football coach really kind of pale in comparison to the relationship and the experiences that I had that had nothing to do with football."
Thought by some to be the definition of a stereotypical curmudgeonly coach, Coughlin was actually far from it, says Weatherford. Sure, he had a bit of a crusty demeanor with the media at times, as many coaches do, but behind closed doors, Coughlin respected every single member of the Giants organization, from the bottom up.
"Even in the cafeteria, just the way he would treat the janitors and how he would do way more than anybody else in that building -- he'd take his plates and go back and wash them himself if he saw that the dishwasher guys were getting backed up," Weatherford said. "He would go back and do that on his own and it just really spoke volumes of what type of person he was."
Beyond that, Coughlin was a father figure to his players. It's something Weatherford always knew to be true, but a lesson he really learned firsthand after he was involved in a serious car accident just seven months ago.
On May 31, Weatherford's daughter Josie was born in San Diego, and a few hours later, Weatherford hopped on a plane headed for Newark, where Giants OTAs began on June 1. Storms diverted Weatherford's flight to Washington, D.C., where Weatherford rented a car so he could make it in time for practice the next morning.
That, alone, Weatherford said, was indicative of his feelings about Coughlin.
"The only reason I did that wasn't for my teammates," Weatherford said. "It was because I wanted to be there for Tom, because I knew he viewed me as a leader. I knew he viewed me as somebody who set the tone for the rest of the guys on the team, and because of his investment in me, it made me a better person. It made me want to be there on time. It made me want to be a leader while I was there, not because it was expected of me, but because he invested in me."
However, while driving on the New Jersey Turnpike, Weatherford's car hydroplaned at 70 miles per hour and crashed into a median. The accident totaled the rental, but Weatherford walked away unscathed, and the conversation he had with Coughlin later that morning was one that forever shaped his perspective on who Coughlin is.
"I got back to the facility and obviously I had to get checked out by the team doctors and trainers to make sure I didn't have any broken bones or internal bleeding, et cetera, and they went and told Tom that they didn't think I could practice today," Weatherford said. "So he comes to check on me, not because he cared whether or not I could practice that day, but to talk to me, because he cared about me.
"So as I was telling him the story and we're kind of talking back and forth in the hallway outside the locker room, just him and I, he kind of started to get emotional. And then I began to get emotional because I could have died. And that really showed me a different side of him, that he wasn't just my coach. Our relationship ran so much deeper than just player and coach.
"And I don't think it was just because he loved me and not other people. He had the same type of relationship that I had with Justin Tuck, with Eli Manning, with Antrel Rolle, with the guys on his team that were leaders, that were captains, that did things the way that he wanted them to be done. And I'm not just talking about how you play football, but how you conduct yourself. So that was kind of a pivotal point in my life when I realized that I was more than just a player to Tom Coughlin, and that meant so much to me."
Three months after the accident, the Giants released the fan favorite Weatherford, with Coughlin describing the punter as "an exceptional human being," but Weatherford contends that he was just trying to be a reflection of Coughlin.
"He is so much bigger than football," Weatherford said. "I think there are things that come to mind when you hear 'Tom Coughlin.' Class, integrity -- obviously football -- excellence, leader. All these things are kind of all-encompassing of everything you think of when you hear his name.
"I've grown a lot as a man, a lot as a husband and a father, and obviously I grew as a football player (because of Coughlin). Without him, I wouldn't have a Super Bowl ring and I wouldn't be as endeared by the community up here as I am. There are a million different ways my life has changed because of him."
Now the question that remains is where -- or if -- Coughlin will continue to change lives on the sidelines going forward. At 69 years old, Coughlin was the oldest coach in the NFL this season, and were he to continue elsewhere as a head coach he'd remain among the oldest to do it in NFL history.
Weatherford said he anticipates that Coughlin might be done, but if Coughlin's resignation does ultimately turn into a retirement, it will be to spend more time with his wife, Judy, and his family -- not because he didn't have the energy or the will to keep coaching.
"I know he's going to be in high demand," said Weatherford, who played in one game for the Jets this season. "I know there are going to be a lot of phone calls that he's going to get in the next couple days because he's got a lot left in the tank.
"I was always the first person to get into the building every single morning, because I like to work out early in the morning, get my workout in and start my day on the right foot. But for the longest time, I never could beat him into the building. So after about my fourth year of playing for him, I was like, 'Man, coach, I don't know what time you get in, but I can't seem to beat you.' And he says, 'Well the joke's on you, Steve. I don't go home. I sleep in the office.'
"That's the type of guy he is. He gave everything to the franchise, he gave everything to his players and he's got nothing to be ashamed of. He's a living legend, and I think if he wants to coach again, people would be lucky to have him."
You can follow Sam Gardner on Twitter or email him at samgardnerfox@gmail.com.