Steve Kerr can take plenty of blame for Warriors' Game 7 loss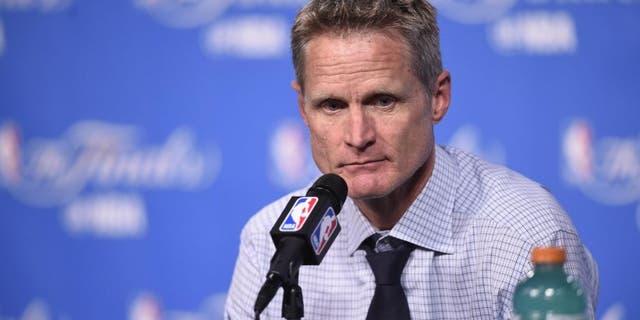 NEWYou can now listen to Fox News articles!
OAKLAND, Calif. -- €" There were dozens of reasons the Golden State Warriors failed to repeat as NBA champions. Reasons 1 through 10 are LeBron James.
But it's impossible to overlook how Steve Kerr managed -- €" or more accurately, mismanaged -- €" his rotations in Game 7.
It's easy to second-guess after the fact, but it's another thing to see -- €" in real-time -- €" a plan not working and actively stick with it.
That's what Kerr did Sunday.
Festus Ezeli and Anderson Varejao played more than 19 minutes in Game 7. Combined, they were a minus-18, providing a single point, a single rebound, no field goals, and five fouls.
That's obviously not winning basketball, and in a game where the margins are microscopically tight, those wasted minutes can easily be pointed to as the difference in the contest.
As a coach, Kerr earned respect after winning a title last season, but with that respect also comes the expectation that he's capable of making prudent decisions on the fly.
Kerr had to see the ineffectiveness of his 7-footers -- €" it was readily apparent to everyone in Oracle Arena Sunday. But both players saw second stints in the second half.
Varejao, in his 8:29 Sunday, posted a net rating of minus-47.5. Ezeli, in his nearly 11 minutes, posted a net rating of minus-32.5. Both marks were far and away the worst in the game for Golden State.
The Warriors entered Game 7 shorthanded at center, yes, but the two options that walked onto the court proved quickly that they were not the answers to the Warriors' problems.
But James Michael McAdoo remained on the bench. And while it's unlikely he would have provided much for Golden State, the bar was set so low he might have been an upgrade.
Shaun Livingston, a reliable and steady presence on both sides of the floor for the Warriors all season, remained on the bench as well. He played only 16 minutes in Game 7 -- €" his minutes a casualty of Varejao and Ezeli's playing time. Sliding Draymond Green to center, while a taxing proposition, would have allowed Livingston to play instead of Ezeli and Varejao.
This isn't to say that Andrew Bogut would have been the difference -- €" he was one of the worst Warriors players in the Finals before he injured his knee in Game 5. But it does highlight how out-of-whack the Warriors rotations became after that injury.
In a game decided by four points in the final minute, it clear that it only takes one bad minute of play to change the outcome of a game. Sunday, the Warriors received 17 minutes of bad play, and it might have cost them a title.