Sterling ordered to testify at Clippers sale trial after skipping opening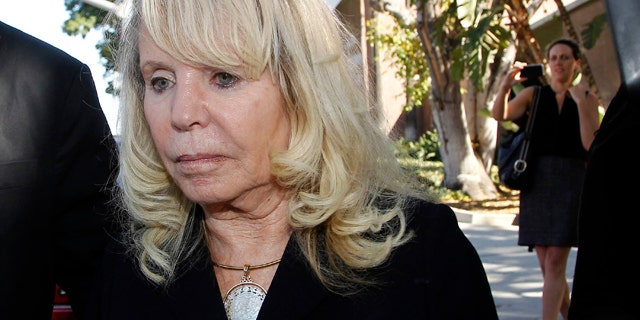 NEWYou can now listen to Fox News articles!
LOS ANGELES – Donald Sterling, who's challenging his wife's $2 billion deal to sell the Los Angeles Clippers, was ordered to testify after he skipped the opening of the case.
Sterling was ordered to appear for Tuesday afternoon's hearing after he couldn't be found Monday. Instead, the first testimony came from a neurologist who concluded that the 80-year-old team owner had Alzheimer's disease.
Dr. Meril Sue Platzer testified that she was hired by Sterling's wife, Shelly, to evaluate him and made the diagnosis based on two brain scans and a two-hour interview at his home with his wife and an attorney present.
"After it was over," she said. "I told him and Mrs. Sterling that he probably has Alzheimer's."
"What was his reaction?" asked Pierce O'Donnell, an attorney for Sterling's wife.
"I'm hungry. I want to eat," Platzer said.
Shelly Sterling "was taken aback, shocked and very concerned for her husband," the doctor said.
Sterling's lawyers have argued that he's perfectly capable of handling decisions and that his wife had no authority to unilaterally reach a deal to sell the Clippers to former Microsoft CEO Steve Ballmer.
They tried to get a federal judge to switch the probate case to federal court -- which would have delayed it -- but the motion was rejected Monday. The motion argued that Sterling's federal medical privacy rights were violated because the records were disclosed to his wife and the public.
His lawyers also have argued that Sterling agreed to be mentally evaluated by two doctors under false pretenses, being unaware that the results would be used for legal purposes and thinking it was because of his wife's concern for his health.
Platzer testified that she wasn't told that her evaluation was in connection with the Clippers sale and that she was hired after Shelly Sterling viewed her husband's sometimes-rambling television interview with Anderson Cooper.
Sterling's attorneys also have argued that the exams and letters regarding his mental capacity were defective and incomplete, and that there was conspiracy to sell the team without his consent.
The NBA has moved to oust Sterling because of racist remarks he made to a girlfriend.
"The NBA wants to get rid of my client," Sterling attorney Gary Ruttenberg said in court. "They were colluding with Mrs. Sterling and her counsel to do this."
His wife's lawyers claim Donald Sterling has been engaging in tactics to run out the clock on the Clippers sale.
NBA owners are scheduled to vote on the deal on July 15. It's also the day that Ballmer's offer is set to expire -- and there is no deal without the judge's approval of the sale.
If the sale isn't completed by Sept. 15, the league said it could seize the team and put it up for auction.
"He will pull out all the stops to prevent the sale from going forward," O'Donnell told Judge Michael Levanas.