Stephenson hugs LeBron after another night of antics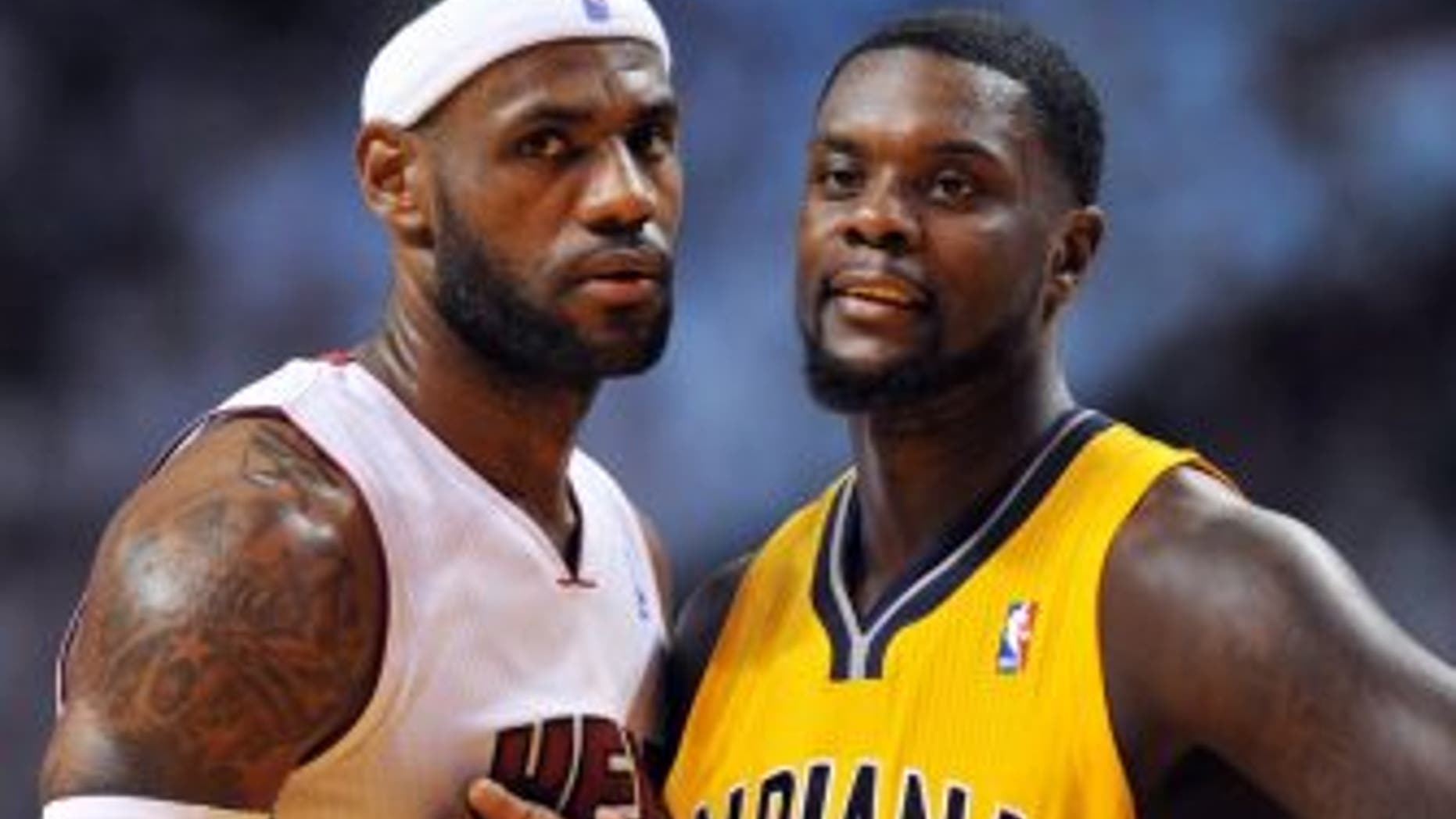 After watching Lance Stephenson blow in LeBron's ear, it shouldn't have been surprising to see him hug James after Game 6 on Friday night.
Or congratulate the Miami Heat for finishing off the Indiana Pacers, 117-92, to reach the NBA Finals for the fourth straight year.
"I have much respect for LeBron and the heat. This was a great series they deserve it all love to Heat. Want to say that I'm so proud of my teammates we work so hard all year to get to point, Everything is a learning experience and getting better every year love u guys Pacer nation and thanks to all of our Pacer fans love y'all too," Stephenson wrote on Instagram.
But it was surprising, after another night of antics by Stephenson that had ESPN's Bill Simmons saying on the halftime show that the Pacers forward was acting like "an ass."
Apparently, a lecture from Larry Bird wasn't enough to dissuade Stephenson from trying to get in the heads of LeBron and the Heat. Stephenson was back at it in Game 6, busy trying to provoke James:
Then he just flat-out smacked Norris Cole in the face for a flagrant foul:
Teammates cringed at Stephenson's actions. Heat enforcer Udonis Haslem hopped off the bench to promise some gritty things.
And maybe most importantly, they didn't do a damn thing to slow LeBron or the Heat. James scored 15 of his 25 points in the first half as Miami opened a 26-point lead.
In the end, all Stephenson could do is try to hug it out ... and maybe ask for a job. The 23-year-old from Brooklyn will be a free agent, and his sideshow may end up costing him more than a trip to the Finals. When asked if he'd like to see Stephenson return, Pacers star Paul George said, "I don't know. That's for Larry Bird and (GM) Kevin Pritchard to decide."
Stephenson said afterwards: "I have no regrets. I'm very passionate about basketball. I'm very competitive. I love to show my will and my heart when I'm on the floor. Sometimes I tend to do things that are out of control but it's within ... my competitiveness to win the game."