Stephenson has made excitement chic again in Pacers locker room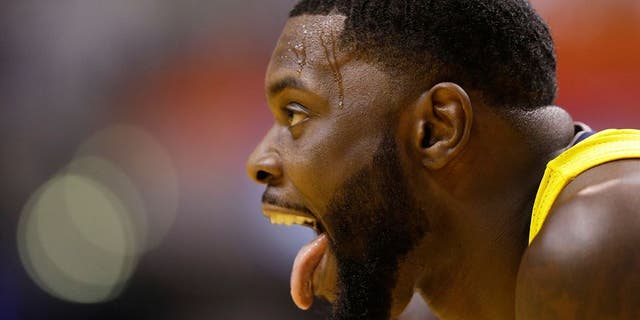 NEWYou can now listen to Fox News articles!
INDIANAPOLIS -- Lance Stephenson flapped his arms and screamed loudly after scoring an innocuous first-half basket Wednesday night.
In some corners, fans may scowl at the sight of a journeyman bench player creating unnecessary drama. In Indiana, it's embraced as a welcome change.
After five months of watching erratic and often uninspired play, Pacers president of basketball operations Larry Bird gambled on one of his favorite players. He believed that Stephenson's occasionally overbearing act would give the Pacers the energy boost they needed to make the playoffs.
The difference has been stunning.
"We're playing with a little bit more edge than we have all season long. I'm seeing more of a sense of urgency," coach Nate McMillan said when asked about Stephenson's impact. "More fight and toughness. We're seeing more consistency in what we're doing on both ends of the floor."
While Paul George continues to produce big numbers, Stephenson has become a force in other ways.
He's made excitement, enthusiasm and effort chic again in the locker room. He's brought panache to the defense. And the combination is a major reason the Pacers are heading to defending champion Cleveland on Saturday rather than home for the summer.
Before the 6-foot-5 guard re-signed with Indiana on March 30, the Pacers hadn't posted consecutive wins since early February as they slid from a tie for fifth in the East to the brink of elimination.
Stephenson's return changed everything.
Since making his first appearance in a double-overtime loss at Cleveland on April 2, Indiana has won five straight and heads into the postseason as the hottest team in the East.
What's different?
"He's different. He's the oddball and you need that," George said. "You need the guy that's energetic and live, a guy who's going to stir the pot, and we work very well off of each other."
But Stephenson has learned the hard way that his theatrics aren't for everyone -- even in Indy.
During the 2014 Eastern Conference finals, he was criticized by Bird and others for trying to play mind games with LeBron James by embellishing contact, flopping and even blowing in James' ear. Indiana wound up losing the series in six games.
A few months later, Stephenson signed with Charlotte.
Over the next three years, nothing went right. Stephenson played for five teams and went from budding star to out of the league. Things deteriorated so much that the man nicknamed "Born Ready" was actually looking ahead to next season.
That's when Bird called with a three-year deal, an offer that brought Stephenson to tears.
"Certain teams and certain situations just don't work for certain guys," Stephenson said. "I learned a lot from it and I'm a better person on and off the court because of it."
This time, Stephenson was healthy -- and ready.
Though he hasn't produced triple-doubles like he once did with the Pacers, he has been efficient. Stephenson finished with four points, 10 rebounds and six assists in 23 minutes in Wednesday's 104-86 playoff-clinching victory over Atlanta's backups.
But Stephenson hasn't toned down the antics.
A layup in the closing seconds of his home debut, a 108-90 victory over Toronto, led to a shoving match and three technical fouls last week. He drew national attention for doing a victory dance after ending the third quarter with a 3-pointer at Orlando last weekend. And then there was the scream against the Hawks.
Pacers fans don't seem to mind, and his teammates understand that playing with emotion is what makes Stephenson special.
"Everywhere he went he was trying to be a star and a guy that needs the ball and is demanding of the ball. He couldn't find his way," George said. "Here, we need him to have the ball."
They want him to have a ball, too.
So far, the reunion has been a perfect match for Indiana and Stephenson.
Despite playing in just 18 games this season -- six each with New Orleans, Minnesota and Indiana -- Stephenson seems to have found his old groove. And the Pacers aren't the only ones who have noticed.
"He's definitely given them another playmaker, another ball handler," James said Thursday. "The guy's just going to play. Lance is never afraid of the moment, he's going to play. We just have to make sure we account for him when he's in the game because he can make plays."
Brian Spurlock-USA TODAY Sports | Brian Spurlock