Stephen Thompson says he can't be denied UFC title shot after KO win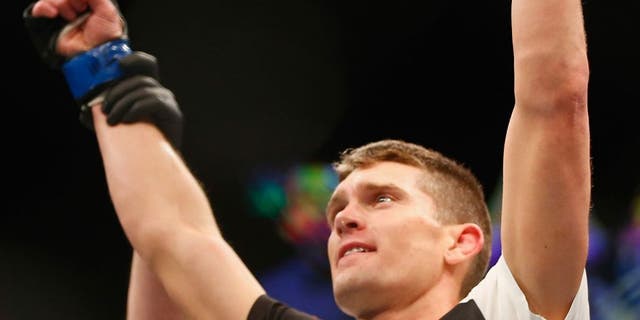 In the UFC's talent-rich welterweight division, the list of men having a legitimate claim as a top title contender is long. There is Tyron Woodley, who has won four out of his last five bouts, and owns a TKO victory over the man who just pushed champion Robbie Lawler to the brink -- Carlos Condit.
There is also Demian Maia, who counts top young contenders like Gunnar Nelson and Neil Magny among his vanquished on his current four-fight win streak. Of course, there are also the likes of Maia's next opponent Matt Brown and former title challenger Rory MacDonald, who both seem completely capable of beating Lawler on any given night.
Then, there is Stephen Thompson. Thompson owns the longest active win-streak in the division, with six, and on Saturday made a career-defining statement against former champion Johny Hendricks.
Hendricks has already split two razor-close fights with Lawler, and combines scary punching power with elite grappling. Still, he couldn't make it out of the first round against "Wonderboy" in Las Vegas.
Thompson defended Hendricks' takedown attempts, froze him up with his movement and stunned him over and again with thudding, crisp punches and kicks until the "Bigg Rigg" fell. In the South Carolina fighter's mind, he set himself apart from all the rest with the victory.
"I think after that performance, they have to give it to me," he told FOX Sports.
"I think what I did tonight shows I'm ready for that title shot."
Whoever you personally feel deserves the next crack at UFC gold, it would be hard to disagree with Thompson's statement. There is no reason to believe that he wouldn't give Lawler or anyone else at 170 pounds all they could handle at this point in time.
For what it's worth, the fight would doubtless be thrilling, as well. Stephen Thompson doesn't seem capable of being in a slow-paced contest.
"I think it would be an exciting fight," he continued.
Thompson believes he's earned a championship bout next and that he could make good if he gets the opportunity. However, he wasn't willing to say he'd play hardball with the UFC and demand a title fight, next.
"That's what I'm shooting for," he specified.
"If they happen to say, 'no, we want you to fight someone else,' of course, I'll do that."