Stephen Curry's NBA Finals legacy can't be determined by a box score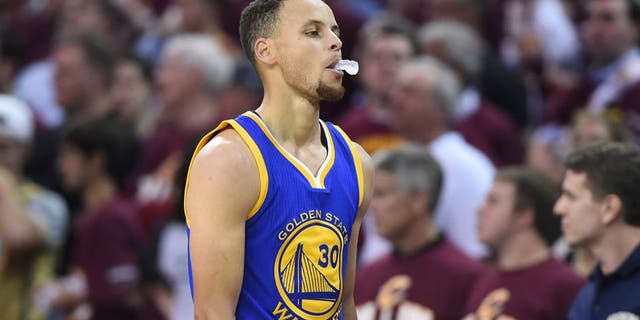 NEWYou can now listen to Fox News articles!
Stephen Curry had a downright bad game Wednesday night in Cleveland, as the Warriors were blown out 120-90 in Game 3 of the NBA Finals.
For a significant span of the game, Curry, the first-ever unanimous MVP in league history, was inarguably the worst player on the court.
Something had to be up, right?
Was Curry sick? Is he injured? It didn't look like the Cavs were defending him in a different way, but was there something they were doing that took him out of the game?
No, no, and no.
Sometimes even the best players have bad games, and Curry picked a bad time to have one.
The Warriors still have a 2-1 lead, but if Curry decides to make it a trend, this series -- which after two games looked like an inevitable Warriors win -- will be tied. He admitted as much after Wednesday's contest.
"Unfortunately, it was all me," Curry said. "I have to play a hundred times better than that, especially in the first quarter, to kind of control the game, and I didn't do it."
Should superstar players like Curry be afforded an allowance of bad games, particularly in high-leverage situations? (Despite the Warriors' 2-0 lead, Game 3 was just that -- all Finals games are high-leverage situations.) Probably not. Their superstar status makes them a cut above a normal player, and the NBA Finals is the time where they are supposed to show that night in, night out.
But Curry is not a typical superstar. He plays a style that few before him have played, and no one has come close to the levels he's reached.
The typical superstar is an isolation scorer in the mold of Michael Jordan or LeBron James. Curry is the first of his kind -- a jump-shooting point guard who thrives not in one-on-one situations, but in chaos. Without that chaos, it's hard for Curry to find a rhythm -- one that other superstars can manufacture with enough touches at their favorite spot on the court.
History will be the ultimate judge of Curry, and should he come out and have a big Game 4 Friday and eventually lead the Warriors to a second title in as many years, no one will recall Wednesday's poor performance.
But we don't have that kind of perspective at our disposal at the moment, so in the buildup to that pivotal Game 4, Curry's performance will be under a microscope. Much will be made of the MVP's Finals production, which, according to the box score, has been poor.
That said, the box score doesn't tell the full story.
Curry' Game 3 was a bad performance, there's no doubt about that. Curry was disengaged defensively and he wasn't showing the energy or tenacity necessary to affect the Cavs when the Warriors had the ball. He missed open shots and had as many turnovers (6) as field goals.
"It's not about living up to a certain expectation other than the one that I have for myself, and I haven't done that, or I didn't do that tonight, and I've got to be better," Curry said.
But Curry has not been poor in these Finals. His box score numbers might not have matched his regular-season stats (29 points total in the first two games of the Finals) but he was affecting the Cavaliers in a significant way. In Games 1 and 2, Cleveland had to double-team Curry on most every possession, and the gravity he created against a disjointed Cavaliers defense opened up all sorts of offensive opportunities for his teammates.
The Cavs aimed to switch assignments less often in Game 3, and Curry's poor start to the game and Cleveland's early 19-point lead helped that cause. Cleveland didn't need to focus so much defensive attention on Curry with that significant cushion.
Curry found a bit of offensive rhythm as the game progressed, but his inability to torch the Cavs' for not paying as much attention to him on defense meant the Cleveland gameplan didn't change -- there was no chance of chaos in Game 3 -- and the Cavs coasted to a victory.
Curry doesn't need to go out and score 45 points in Game 4 to make up for the Game 3 loss. He just needs to affect the Cavaliers defense in the way that he did in Games 1 and 2. Given his poor performance Wednesday, that's probably going to take a fast start that includes a few super-deep 3-pointers.
But so long as Curry forces the Cavs to double-team him; so long as he creates the chaos in which he and the Warriors' offense thrive, he'll have done his job.
Curry is not a normal superstar, for better or worse. His legacy is still a work in progress, but history rewards winners, and the Warriors don't need a historic scoring outburst from the league MVP to beat the Cavs -- that's not how the team is built. Curry merely needs to be more engaged -- more of a threat -- in Game 4 if the Warriors are going to find themselves up 3-1 in these NBA Finals.