Steph Curry sees 3-point streak snapped in nightmare night vs. Lakers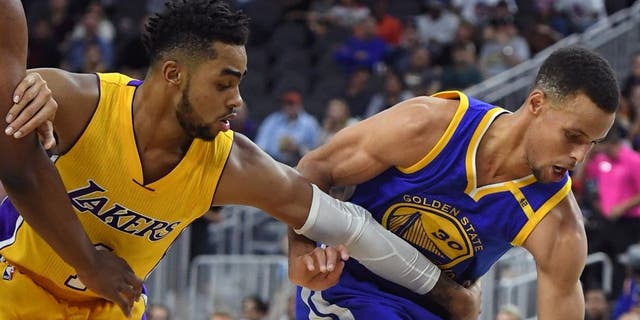 Three things you always could count on: death, taxes and Stephen Curry hitting at least one three-pointer every game.
Welp, now we're down to just death and taxes. Bummer.
Curry saw his NBA record streak of 157 straight games with a three snapped in Friday night's 117-97 loss at the Lakers, struggling through an 0-for-10 night from behind the arc. He finished with just 13 points on 5-for-17 shooting, though he did have 11 assists and eight rebounds.
Including the postseason, Curry had at least one 3 in 196 straight games, and he had also hit in 116 straight regular-season road games -- both NBA records.
"That was a cool little ride," said Curry, who hadn't missed all his threes since Nov. 11, 2014. "Would have loved to finish my career making one every game, but hey, start a new one. What was it, like two years? Kind of weird not to make one, but I will keep shooting."
It's not an entirely shocking development. The Warriors have been woeful from three-point range in their first six games, hitting less than 30 percent after Friday's 5-for-32 night. It's a far cry from last season when they led the league, drilling 41.6 percent of their threes.
Curry, Kevin Durant and backup guard Ian Clark all had been shooting better than 40 percent on threes entering Friday, but their teammates haven't been on point, particularly Klay Thompson, who was shooting a stunning 19.4 percent on threes and actually helped his percentage by going 2 for 10 against LA.
The Associated Press contributed to this report.