Steph Curry calls out Spurs center Dewayne Dedmon for 'dirty play'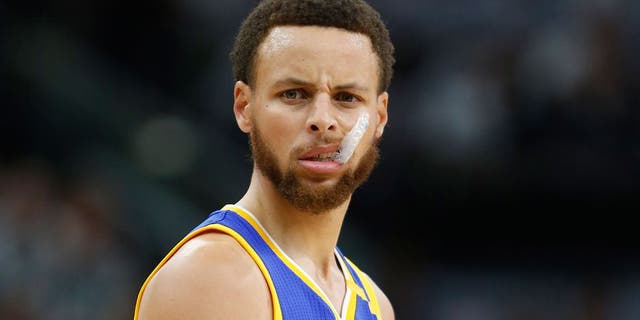 The Golden State Warriors run to their third consecutive trip to the Finals hasnt had much drama on the scoreboard, but their Western Conference finals series against the San Antonio Spurs continues to be quite chippy.
From Zaza Pachulias questionable closeout on Kawhi Leonard that reinjured his ankle to LaMarcus Aldridges suspicious defense on Kevin Durant that left some wondering if it were payback, the back-and-forth between the teams has only increased as the series has unfolded.
The latest questionable play occurred late in the Warriors 120-108 win in Game 3. Spurs center Dewayne Dedmon set a screen on Steph Curry with 4:36 left in the fourth quarter and Golden State holding a 17-point lead. Dedmon appeared to drive his knee into Currys thigh and give the reigning MVP a subtle shove in the back.
When asked about the incident, Curry said he didnt want to disparage Dedmon, but he did think the play was dirty.
"I know he's not a dirty player. I'm not going to try to mess up his reputation, but I feel like that was a dirty play," Curry said, via ESPN. "Luckily no one was hurt."
Spurs coach Gregg Popovich didn't take the same approach when Leonard rolled his ankle after stepping on Pachulia's foot, saying the Warriors' big man has a history of questionable plays.
Unlike the Leonard-Pachulia incident, no foul was called on Dedmon, but Warriors acting head coach Mike Brown thought a whistle should have been blown.
"I thought it was an illegal screen," Brown said. "When it happened live, I was not sure, but when you look at the film, it was an illegal pick. Sometimes the officials make the call, and sometimes they don't."