Stenhouse plows into slowing Hornish, then the wall, at Pocono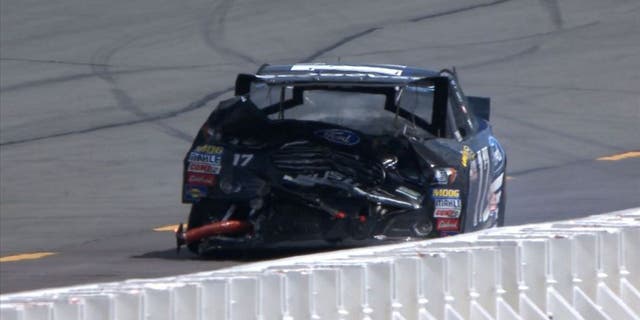 A rough day for Roush Fenway Racing's Ricky Stenhouse Jr. went from bad to worse on Lap 27 of Sunday's Windows 10 400 at Pocono Raceway.

Racing at the back of the pack, Stenhouse was following the No. 38 Front Row Motorsports Ford of David Gilliland into Turn 1 when Sam Hornish Jr.'s car slowed up ahead. While Gilliland was able to take evasive action to avoid Hornish, Stenhouse drove hard into the back of the No. 9 Richard Petty Motorsports Ford to bring out the fifth caution of the day.
Hornish missed a shift when the race restarted on Lap 24 and was falling through the field prior to getting hit by Stenhouse.

The impact caused significant damage to the front of Stenhouse's car, while Hornish was able to drive away from the incident.
"Everything was happening real fast," said Stenhouse, who walked away uninjured. "I saw the 9 (Hornish) in Turn 3 run up the track and I thought he just got loose and everything was fine, but getting into Turn 1 the car in front of me ducked out at the last minute and there was the 9 sitting and I got on the brakes really hard. I think it got on the splitter, and (I) couldn't go left or right and just ran right into him. It is not a good day for us. ...
"I guess the 9 missed a shift or something and I wasn't aware of it until the 35 (Cole Whitt) or one of the other cars pulled out real quick, and there was the 9 sitting there. By the time I reacted, it was just too late and I ran right back into him."
This marks consecutive weeks that Stenhouse has finished outside the top 35, after coming home three laps down at Indianapolis Motor Speedway last Sunday. This is also Stenhouse's 13th finish of 24th or worse in 21 races this season.
"It is a frustrating weekend and a frustrating year, but we will continue to work to get our cars better, and continue to plug away," Stenhouse said.

Hornish's race effectively ended on Lap 67 when Kurt Busch spun, and Hornish, with nowhere to go, collided with Busch's No. 41 Stewart-Haas Racing Chevy.

"It is one of those days," Hornish said. "I missed a shift on a restart, which wasn't any good, and then we had a tire come apart and then we got hit and then that deal right there (with Busch). Kurt was trying to hold on to it and I saw that he got it straightened back out, and it is one of those things where everything stops smoking long enough that you think he has it back under control again and then it is just wobbling around on him.
"Unfortunate for us, for sure. ... I love coming to Pocono and I have had some good runs here and led laps and felt like we could win races, but it just hasn't been for us this year. Hopefully that doesn't carry on to Watkins Glen next weekend."