Stefan Struve: If I fight my fight, Jared Rosholt has no chance at all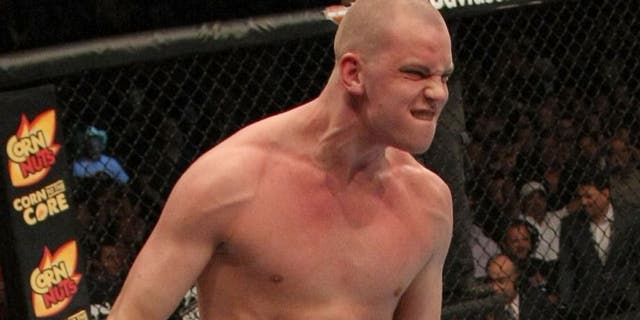 NEWYou can now listen to Fox News articles!
LAS VEGAS, NV - MAY 26: Stefan Struve reacts to his submission win over Lavar Johnson during a heavyweight bout at UFC 146 at MGM Grand Garden Arena on May 26, 2012 in Las Vegas, Nevada. (Photo by Donald Miralle/Zuffa LLC/Zuffa LLC via Getty Images) Donald Miralle/Zuffa LLC Zuffa LLC
It's difficult to fathom with 14 UFC fights already under his belt that Stefan Struve is still one of the youngest fighters in the heavyweight division, but as he approaches his 28th birthday in a few months the seven-foot Dutchman just now believes he's approaching the prime of his career.
Struve signed with the world's biggest MMA promotion when he was just 20 years of age and he's endured more than his fair share of ups and downs but with his upcoming fight against Jared Rosholt at UFC 193, he believes he's finally ready to make a serious push into the deepest part of the division.
"I really feel I'm ready to be a top contender now," Struve told FOX Sports recently. "I'm 27 now, but I came into the UFC when I was 20 years old. I had a couple losses but I still had so much to learn and so much growing to do so in my opinion it was a kid fighting men and I did pretty well in most of them but I got caught in a couple of them.
"I just feel great, I really feel ready to take on anybody. I'm sparring with good guys on my team and I know what I can do and if I do that in the cage I'm going to be in the top three by the end of next year."
Struve recently relocated to Florida where he's been training full time with the Blackzilians, the same camp responsible for Anthony 'Rumble' Johnson, Rashad Evans and multi-time kickboxing champion Tyrone Spong.
The move to Florida as well as his recent win over Antonio Rodrigo Nogueria was a great way for Struve to hit the reset button following a heart condition that nearly ended his career in 2013.
Struve doesn't like to think of it as a restart, however, because everything that's happened has just been another step on his journey towards hopefully becoming a UFC champion one day. There's no getting to the top without stumbling down the mountain a few times and Struve's experiences have only made him stronger.
"I just left everything behind me," Struve said. "I'm not thinking about the health issues anymore, that's all taken care of and I'm just back where I was when I had a nice win streak and the only reason I lost those fights are the issues that I had.
"If I would have been on that win streak after the (Stipe) Miocic fight and not had the issues I had, I would have already fought for the belt. That's how I feel and how I think about it. Things went different and you have to deal with it."
Following his win in August, Struve was matched up with Rosholt as both fighters look to crack the top 10 with a win. Struve has tasted that kind of success before, but Rosholt has yet to pick up a signature victory since joining the UFC.
Struve actually looks at that factor as one of the reasons why he knows he'll beat Rosholt this weekend because the former college wrestler seems to struggle every time he takes a decided step up in competition.
Judging by experience and past rankings, Struve will definitely be the biggest test of Rosholt's career and the Dutch native doesn't expect this will go any better for him.
"The two times he stepped up in competition was against Oleksiy Oliynyk and Derrick Lewis and maybe Soa Palelei, he beat him, but those two fights didn't go too well for him and this fight isn't going to go too well for him either," Struve said.
"I work tremendously hard on my takedown defense and my cage work and I just don't see him winning this fight. If I fight my fight and I apply my will, he's got no chance at all."
Struve knows that Rosholt's best chance to win comes from his wrestling background where he will try to take this fight to the ground as often as possible. Struve welcomes him to try although he doesn't think Rosholt will enjoy what happens next.
The end result according to Struve will be another signature loss on Rosholt's record while he makes a push into the deep end of the heavyweight division to kick off 2016.
"His wrestling is the area where he has the most experience and he's the best at. He's got power, his cardio isn't too good and he really doesn't have submissions and I'm not worried about submissions from him. He should worry about submissions from me if he tries to take me down," Struve said. "I've got submissions from every single angle.
"We'll see, I'm pretty confident that he's going to try to take me down but I'll be able to stop him or get back up and finish him."