Steelers try to look at positives in preseason-opening loss to Giants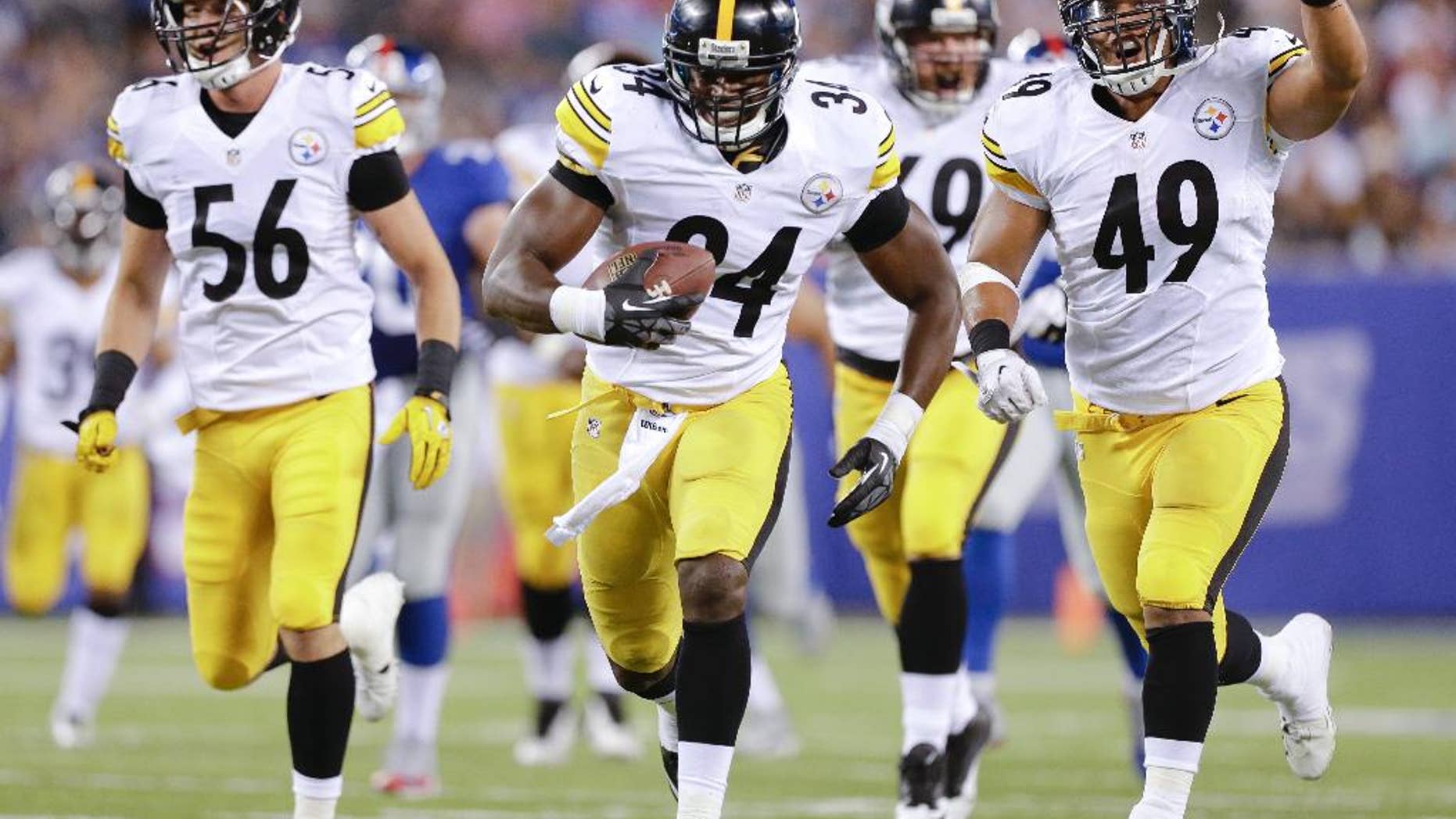 EAST RUTHERFORD, N.J. – Coach Mike Tomlin tried to put a positive spin on the Pittsburgh Steelers' preseason-opening loss.
"We had some positives and had some negatives," Tomlin said after the New York Giants beat the Steelers 20-16 on Saturday night.
"Bottom line is that we didn't win the game. We had some things we can build upon. We can learn and grow. We'll take this as part of the process. But we didn't do enough to win the game and that's the No. 1 goal. I'm less concerned about style points and more about winning. We have to do a better job of winning the game."
Ben Roethlisberger played only one series, completing 1-of-2 passes, but it was a 46-yard screen pass to rookie Dri Archer that almost went the distance, if not for a saving tackle from Giants cornerback Prince Amukamara.
"I thought we did good," Roethlisberger said in quotes provided by the Steelers' public relations staff. "We got down there and had a good run on first down and a good run on second down (both from Le'Veon Bell). I thought it was a good, solid first series. We moved the ball down the field and got points on the board."
Bell carried three times for 18 yards on that drive. As a rookie last year, he sprained the middle of his foot in the second preseason game and missed the first three weeks of the regular season. He then went on to set a Steelers record for yards from scrimmage with 1,259 yards rushing and receiving.
"I think we wanted to get me in the game early," he said. "I obviously feel better than I did last year."
Shaun Suisham's first of three field goals, a 26-yarder, gave the Steelers a brief 3-0 lead in the first quarter. It was brief because Rashad Jennings took the first play after the field goal 73 yards for the touchdown that put New York ahead.
Bruce Gradkowski completed 8 of 12 passes, but only for 66 yards and really didn't get the Steelers close to the end zone. Take away a 28-yard completion to Markus Wheaton and a 17-yarder to Antonio Brown, and Gradkowski didn't manage much.
But Brown said he felt "total excitement" in playing.
"You get the opportunity to compete against someone other than your teammates," said Brown, who had two receptions for 21 yards. "You get the game feeling back and get your game jersey on. Just the feeling to get back in the game is great."
Rookie Howard Jones recovered an ill-advised, backward pass by Giants backup quarterback Ryan Nassib and returned it 28 yards for the Steelers' lone touchdown of the game, giving them a 16-13 lead with 10:16 remaining in the game.
A lengthy review took place after the play, but it was ruled that Jones, a rookie out of Shepherd, alertly continued on with the play and scored the touchdown.
"It has to be that way," Tomlin said. "You play those plays out and then let the officials sort it out later."
The Steelers managed just 4 total yards of rushing in the third quarter on six carries. Third string QB Landry Jones completed 6 of 10 passes, but only for 26 yards.
The Steelers surrendered 312 yards of total offense, but 80 came on the Giants' final drive.
"As you can see, we have a lot of work to do," said linebacker Jarvis Jones, who had a sack of Eli Manning midway through the first quarter. "We still have a lot of jelling and get a feel for each other. It was a lot faster than what we had been practicing. But I think we did all right. We need to finish better, then get into the film room and continue to get better."
The Steelers were moving the ball in the final minutes but Martavis Bryant fumbled the ball after making a 19-yard catch down to the New York 27-yard line with 1:14 remaining.
"I don't have a lot of outstanding concerns," Tomlin said. "It's our first preseason game. We should be better. I expect the results to be better."
Tomlin said the only minor injury coming out of the game was when starting left guard Ramon Foster received a poke in the eye in the first quarter, but Tomlin said "there doesn't seem to be ramifications from that."