Steelers preparing for both McCown and Manziel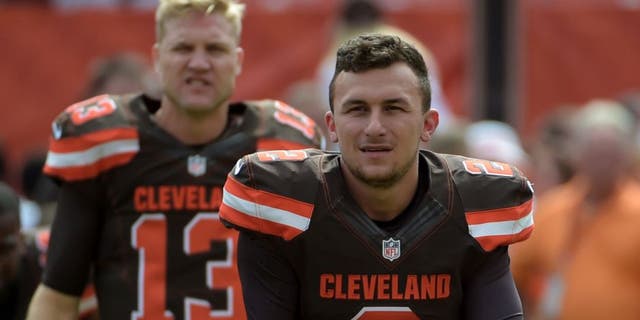 Will it be Josh McCown or Johnny Manziel starting for the Browns on Sunday in Pittsburgh? Kirby Lee Kirby Lee-USA TODAY Sports
Browns quarterback Josh McCown returned to practice on a limited basis Wednesday, but Steelers head coach Mike Tomlin is ensuring that all bases are covered when his team hosts Cleveland on Sunday.
Tomlin anticipates that McCown will be the starter, but his defense will also prepare for the wrinkles that come with a Johnny Manziel-led offense.
"We have to prepare for the change that would occur if Johnny would play," Tomlin said at his Tuesday press conference per Steelers Depot. "They are some subtle changes. We will prepare accordingly. But the vast majority of our preparation will be geared toward defending and minimizing Josh and what he does. Both guys are extremely mobile and are capable of creating. I think their play selection reflects that mobility in both guys."
Manziel completed 15 of 33 passes for 168 yards and a touchdown in last Thursday's 31-10 loss to Cincinnati while McCown sat out with injured ribs. Browns head coach Mike Pettine said Tuesday that McCown will get the start if he's healthy enough come Sunday.
The Steelers' own quarterback situation remains murky after Ben Roethlisberger's foot injury last Sunday against Oakland. Backup Landry Jones is expected to get the nod, but Tomlin indicated he would leave the door "slightly ajar" Roethlisberger to start.
MORE NEWS: Want stories delivered to you? Sign up for our NFL newsletters.