Steelers need new kicker in wake of Suisham injury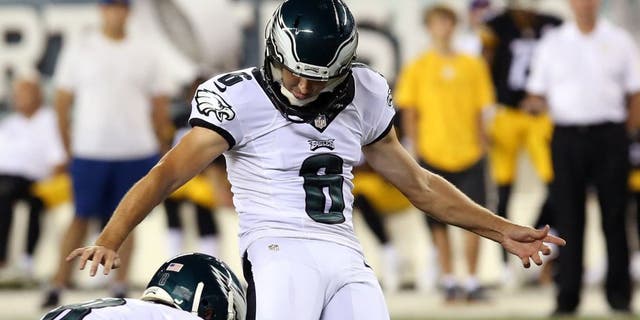 The Pittsburgh Steelers are in the market for a new kicker with Shaun Suisham lost for the year due to a torn ACL.
Suisham suffered the injury in Sunday night's Hall of Fame game against Minnesota. He was trying to make a tackle on the opening kickoff of the second half when his foot was caught in the turf, which is scheduled to be replaced soon, according to the Pittsburgh Post-Gazette. An MRI confirmed the damage to his left knee, and surgery has been scheduled for this week.
Looking at the kicking market, veterans like Shayne Graham, Billy Cundiff and Jay Feely are available, as are younger legs like Garrett Hartley and Alex Henery. Whoever the Steelers sign will likely have to handle kickoff duties as well since neither punter on the roster has experience kicking off.
The 37-year-old Graham made 19-of-22 kicks for New Orleans last season. He's no stranger to the elements, having spent seven years in Cincinnati last decade, but you have to wonder if he's a good fit for the tough conditions at Heinz Field. Feely found a spot with the Bears at the end of last season, filling in for an injured Robbie Gould. He made 3-of-4 kicks, but doesn't really have the leg to kick the ball deep anymore.
Cundiff and Hartley both spent time with the Browns last season. Cundiff was waived after struggling to make 22-of-29 kicks through 13 games. Hartley replaced him and made all three of his attempts to finish out the season, but the Browns still decided to go in a different direction this offseason.
Henery is the wild card. After three strong seasons in which he made 86 percent of his kicks with the Eagles, the 27-year-old was cut last summer and ended up in Detroit, where he was dismissed after missing three field goals in one game.
One player who will not get a tryout is former Steelers kicker Jeff Reed. Reed also made news for his reported ejection as a spectator at Sunday night's Hall of Fame game. He told the Tribune-Review that he left messages with the Steelers hoping for a tryout, but apparently did not get the response he was hoping for. Reed spent nine seasons in Pittsburgh but hasn't kicked since being released by Seattle prior to the 2011 season.
h/t: Tribune-Review