Steelers GM knows it won't be easy replacing TE Heath Miller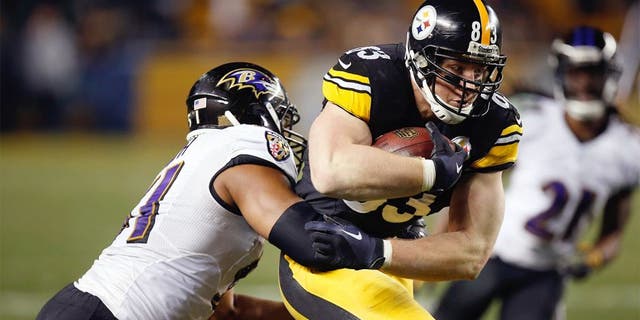 INDIANAPOLIS -- The Pittsburgh Steelers still haven't found a safety that can make the same kind of impact as Troy Polamalu since his retirement in the 2015 offseason.
The same type of problem now exists on offense with tight end Heath Miller calling it a career.
Steelers general manager Kevin Colbert acknowledged Wednesday that Miller's retirement has created a "hole" that won't be easy to fill.
"We'll try to replace the tight end, but we're not going to try and find a Heath Miller, because they're unique," Colbert told me on SiriusXM NFL Radio. "If we do, great. But we're not going to go out and try to compare that next guy to Heath. That may happen from the outside, but we're not going to do that, because we know that's not fair to the next guy. The next guy has to be himself."
Miller became one of Pittsburgh's most popular and dependable players during his 11 NFL seasons. With 592 career catches, Miller was the security blanket for quarterback Ben Roethlisberger.
Asked to describe Miller's strengths, Colbert said: "The combination of being able to block and being a very clutch receiver. Heath had exceptional hands. He could make adjustment-type catches, tough catches, catches where he got hit, red-zone. He could do all that. But his ability to combine all that with the ability to block a defensive end was pretty unique."
That's also why finding his replacement will be difficult.
The Steelers had designs on one in the second round of last year's draft but were outmaneuvered by AFC North rival Baltimore for Maxx Williams. The Ravens traded up with Arizona to snare Williams with the 55th overall pick, which was one slot before Pittsburgh was set to choose.
The Steelers instead addressed tight end in the fifth round by selecting Penn State's Jesse James, an underclassman who caught eight passes for 56 yards in a reserve role last season.
"When he was at Penn State, we felt that [James] wasn't ready for this level," Colbert said. "We've had those discussions with him. He probably came out a little too early [after his junior year]. But we knew that he had the size [6 feet 7 and 261 pounds], the speed, athleticism and the want-to to be able to block.
"We knew he has the potential, but it was probably going to be at least a year for him to catch up. I think you saw improvement as the year went on. He was able to contribute much more than he did in the beginning of the season."
If James isn't the answer, the Steelers will have to look elsewhere because of limited veteran depth on the current roster.
The draft is considered weak at tight end, but the Steelers could be poised to select top prospect Hunter Henry of Arkansas with the No. 25 overall pick. There are potential free-agent fixes as well with names like Antonio Gates, Ladarius Green and Vernon Davis set to hit the market.
But whomever Pittsburgh starts at tight end, Colbert knows this: There will never be another player at the position as beloved and respected among the Steelers and their fans as Miller.
"Sure, we're disappointed, but we're also celebratory for him because it was a great career," Colbert said. "It meant a lot to him, and he obviously meant a lot to us. The outpouring of the fans for giving their praises and thanks to him, he'll take it modestly, but I think he'll find some satisfaction in knowing he did what he could with a great career."