Staying put: Mason Jr., Beasley contracts guaranteed after Heat choose not to waive either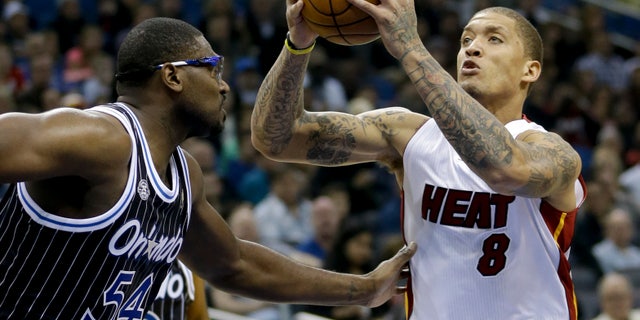 MIAMI – For Michael Beasley and Roger Mason Jr., no news was the best news.
Their contracts will become guaranteed for the remainder of the season Friday, after both remained on the Miami Heat roster past Tuesday's 5 p.m. deadline. If the Heat were so inclined, they could have parted with one or both to open a roster spot, but coach Erik Spoelstra called the decision to keep Mason Jr. — presumed to have been the more vulnerable of the two — "fairly easy."
"I'm sure the past 24 hours were probably not easy for him," Spoelstra said. "I've said this time and time before: It's not easy to find guys like that, guys that will embrace that role, that are only about winning, only about the team, will do all the things behind the scenes and then you need him. He has a resume, he feels comfortable in those situations and he can produce for you. It is a unique role. It is not for everybody. Roger has embraced it and it fits."
So the 15-man roster Miami started the season with remains intact.
There were reports that the team could make a move Tuesday to open a spot and potentially pursue newly waived center Andrew Bynum, especially since the Heat still have not incorporated former No. 1 overall draft pick Greg Oden — who appeared in one preseason game with Miami — into the rotation.
At 5:01 p.m., it became clear that for now at least, the Heat will stick with what they have, including Mason Jr., who appeared in 16 of Miami's 34 games entering Tuesday night.
"It's the best camaraderie I've ever been a part of in 11 years," Mason Jr. said. "We have a veteran group, we have guys who care about each other, we have guys that have high basketball IQs so we talk the game. We've got pros, guys that care, guys that work hard that push each other, that are competitive. I mean, I could go on and on. But it's a great group and it's a special group and it's no surprise that they've been to The Finals three straight years."
That's why Mason Jr. is here, to try to help them get to a fourth in a row and win a third straight title.
And in time, the Heat still believe Oden — whose last regular-season appearance was more than four years ago — will help them. The Heat have laid out a very specific plan for Oden, who continues to rehabilitate his knees and has had several Miami players, LeBron James and Dwyane Wade included, saying that he may be vital sooner than later.
"He's going to be able to help us in some areas that we need to fill later on," Heat forward Chris Bosh said. "I think his time is coming pretty soon. He's working hard."