StaTuesday: We were wrong; James Jones is Packers' and NFL's best deep threat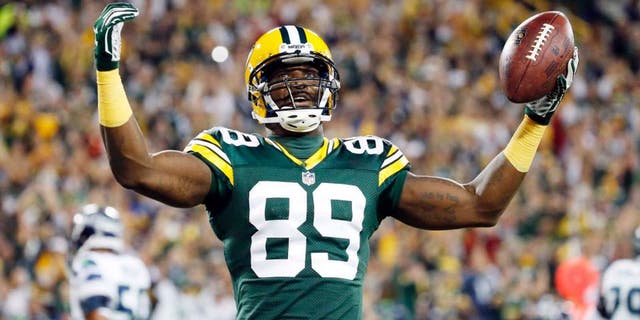 NEWYou can now listen to Fox News articles!
As analytically astute metric mavens, we here at FOX Sports Wisconsin strive to be -- and almost always succeed in being -- accurate, exact, correct and precise (not to mention repetitive) in our renowned StaTuesday series.
But even the crispiest of number-crunchers can, on occasion, be mistaken. Even the most airtight theories can be proved wrong. Like Aristotle's geocentric model, Einstein's static universe and Vince McMahon's XFL, we previously posited an idea that now looks straight stupid.
Back on Sept. 8, after the Packers lost top wideout Jordy Nelson to a season-ending knee injury and signed twice-cut veteran receiver James Jones, we suggested the former would not be able to replace the latter. In fact, our headline was, "StaTuesday: Jones nowhere near the deep threat Nelson was."
It was a strong take, informed by data and backed up by figures showing Jones had never come close to matching or exceeding -- by season or in total -- Nelson's output of "big plays," which are classified by STATS, Inc. as receptions of 25 or more yards.
As we wrote then, from 2010, when both players emerged as playmakers for the Packers, through 2014, Nelson was tied for the third-most receptions of 25 or more yards in the NFL, with 59. During the same span, Jones was tied for 32nd in big-play catches, with 34, despite playing two more games. While Nelson had seasons with 19, 16 and 12 receptions of at least 25 yards, Jones never had more than eight such catches.
We are now officially eating our words.
Through five games, Jones leads not only the Packers but also the entire league in big plays, with seven receptions already of 25-plus yards. Ahead of vaunted pass-catchers like Antonio Brown, Rob Gronkowski, Odell Beckham, Jr., and, well, everyone else, Jones is also No. 1 in the NFL in average reception, at 20.7 yards per catch.
His 65-yard touchdown in last week's win over the Rams was his fifth score of the season, which ranks second. And he's making all these big plays despite many fewer opportunities than other elite receivers, as evidenced by his scant average of just 4.8 targets per game, tied for 88th in the league.
As far as replacing Nelson's production and presence as a Green Bay deep threat, Jones is thus far doing that and a lot more. His seven big plays through five games put him on pace for more than 22 catches of at least 25 yards for the season. That would be the most such receptions in one season of all time in the NFL, edging Calvin Johnson and Jerry Rice, both of whom had a year with 21.
And sure, it's unlikely Jones, 31, will keep destroying defenses at such a historic clip. But considering he'd previously never had more than eight 25-yard catches in a season and only had five last year for the Raiders, we're no longer betting against him. We've learned our lesson. No one is keeping up with this Jones.
In recent weeks, the Packers have been without injured receiver Davante Adams and there has been more speculation that, sans him and Nelson, the team doesn't have a speedy deep threat capable of going long and stretching the field.
Well, after a sincere StaTuesday mea culpa and a re-examination of the numbers, we now postulate this: that deep threat is James Jones.
Follow James Carlton on Twitter