StaTuesday: The rarity of Brewers' Espino's MLB debut start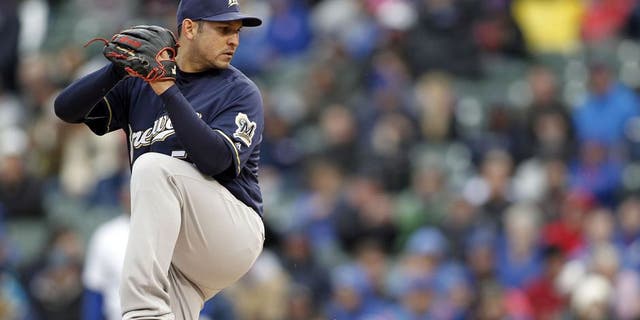 Paolo Espino pitched in 291 minor-league games before making his major-league debut with the Milwaukee Brewers on May 19.
It might have been Espino's first appearance in an MLB uniform, but he was one of the oldest players on the field.
Milwaukee's starting lineup featured just two players older than Espino -- infielder Eric Sogard (31) and first baseman Eric Thames (also 30, but a few months older) -- while the Brewers starter would face seven Cubs who were younger than he was, the exceptions being 36-year-old Ben Zobrist and 32-year-old John Jay.
The difference, of course, is that all four of those above-mentioned players had appeared in the major leagues previously.
To debut in the majors as a starting pitcher at age 30, to say the least, quite rare. Espino is just the 52nd pitcher since 1913 to start in his first game at age 30 or later.
(* -- Chapman and Leiber previously had been outfielders but converted to pitcher during World War II; Dark, the Giants' starting third baseman, was given a start in a meaningless season finale at cellar-dwelling Pittsburgh to "have a little fun," according to manager Leo Durocher.)
Among those 52, 22 occurred before baseball was integrated in 1947. Of the remaining 30, only 17 have happened since 1982. And of those 17, six were players who got a late start to their major-league career after coming over from Cuba or Japan.
While Espino certainly had some success, striking out the first batter he faced (Kyle Schwarber) and retiring the first six hitters, he eventually was lifted for a pinch-hitter in the top of the fifth inning on a cold, rainy day at Wrigley Field. His final line was four innings, five hits, three runs (two earned) with three strikeouts.
Espino's Game Score of 45 ranks just 33rd among those making their starting debuts at 30 years or older.
However, he is one of seven such pitchers since 1961 (i.e. the expansion era) to not give up a home run in his debut and just one of five since 1913 to not allow a walk. The other four were Tommy de la Cruz, Hiroki Kuroda, Minnie Rojas and Dennis Springer.
And before you say, well, Espino only went four innings, we do know the pitch counts of three of those five and Espino (71) was right there with Springer (75) and Kuroda (77).
By the way, the only other Brewers pitcher to make his MLB debut as a starting pitcher at age 30 or more was David Manning in 2003. Like Espino, he went four innings -- although Manning allowed seven runs (six earned) on four hits and five walks -- in a 7-1 loss to the Montreal Expos. Manning followed that up seven days later, lasting just 2 2/3 innings (allowing six runs on seven hits) in another 7-1 loss, this time to the Florida Marlins and never appeared in the majors again.
Espino hopes for a second chance as well -- not to mention a better ending.
Dave Heller is the author of Ken Williams: A Slugger in Ruth's Shadow, Facing Ted Williams -- Players From the Golden Age of Baseball Recall the Greatest Hitter Who Ever Lived and As Good As It Got: The 1944 St. Louis Browns