StaTuesday: Sano's impressive rookie production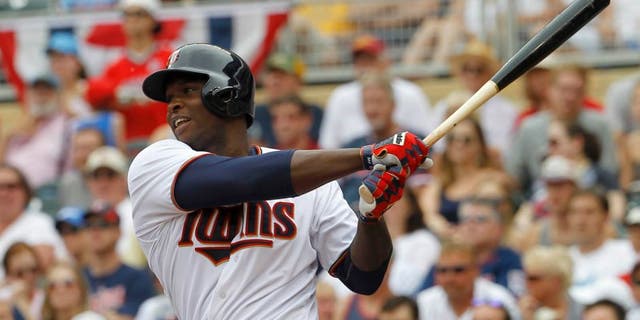 Miguel Sano, it would appear, bypassed all the anxiety, feelings of inadequacy and second-guessing that are natural byproducts of being a big-league rookie.
From the second he arrived at Target Field, the Minnesota Twins' prized young slugger swung with confidence, with patience and with a presence that made fans sit up and take notice.
You might be saying to yourself, though, We've seen hot starts before from Minnesota sluggers that proved, in retrospect, to be little more than mirages. And your skepticism would be understandable. In 1995, for example, promising young Twin Marty Cordova hit 24 home runs during his Rookie of the Year campaign . . . and then hit .246 just two years later and never topped 16 homers with the Twins again.
More recently, Kennys Vargas drove in 38 runs in 53 games last season, before spending much of this season toiling in the Southern and International leagues.
But Sano's introduction to the big leagues feels like something legitimately special. The numbers seem to suggest Sano is destined for legitimately big things.
Sano has the most home runs (11) and most walks (29) through 44 games of any Twin ever. Additionally, Sano has the second-most RBI (34) and third-highest OPS (.978) of any Twin ever through their first 44 games with the franchise.
Through his first 140 plate appearances with Minnesota, Sano's OPS+ (159) ranked seventh-best all-time among MLB right-handed hitters in their age 22 season, according to the St. Paul Pioneer Press. Frank Thomas led that list, at 177, while Sano ranked right behind Hall of Famer Jimmie Foxx (161).
Sano enters Tuesday's game at Tampa Bay batting .288, with a .582 slugging percentage and 12 doubles in 153 at-bats. Over his last seven games, he's hitting .321 with four homers and nine RBI.
The native of the Dominican Republic's first game with the Twins was July 2, at Kansas City; he had two hits the next night. He hit his first MLB home run five days later. And, on Aug. 12, Sano had his first truly special game with Minnesota, belting two homers and ending with six RBI in a rout of Texas.
It's not supposed to be this easy to waltz into the big leagues and become a major run producer. In 1984, the iconic Kirby Puckett played 128 games as a rookie for the Twins and, while he batted .296, he had just 31 RBI. In 1955, fellow eventual Hall of Famer Harmon Killebrew got his first real taste of the big leagues with Washington and hit just .200 with four homers in 38 games.
So, we've established that Sano's red-hot start is fairly historic. But it's also impressive when viewed through the lens of modern-day analytics.
According to fangraphs.com, 48.9 percent of balls put into play by Sano have been classified as "hit with hard speed." The right-handed slugger hit one homer in early August in which the ball left his bat at 108 mph.
And plate discipline? The rookie has provided encouraging results there, too. Only 24.5 percent of the pitches Sano has swung at have been out of the strike zone.
Sano -- who rates as an 80/80 in the "raw power" department by Fangraphs -- is doing all this after missing all of last season with an elbow injury severe enough to require Tommy John surgery.
He hasn't been flawless (Sano has 65 big-league strikeouts, a K rate of 35.3 percent or one out of every 2.4 at-bats), but what the 22-year-old slugger has been, inarguably, is entertaining. And the 2015 Twins, as a result, are worth watching down the stretch.
Follow Kelly Beaton on Twitter