StaTuesday: Most consecutive games with a home run in Twins history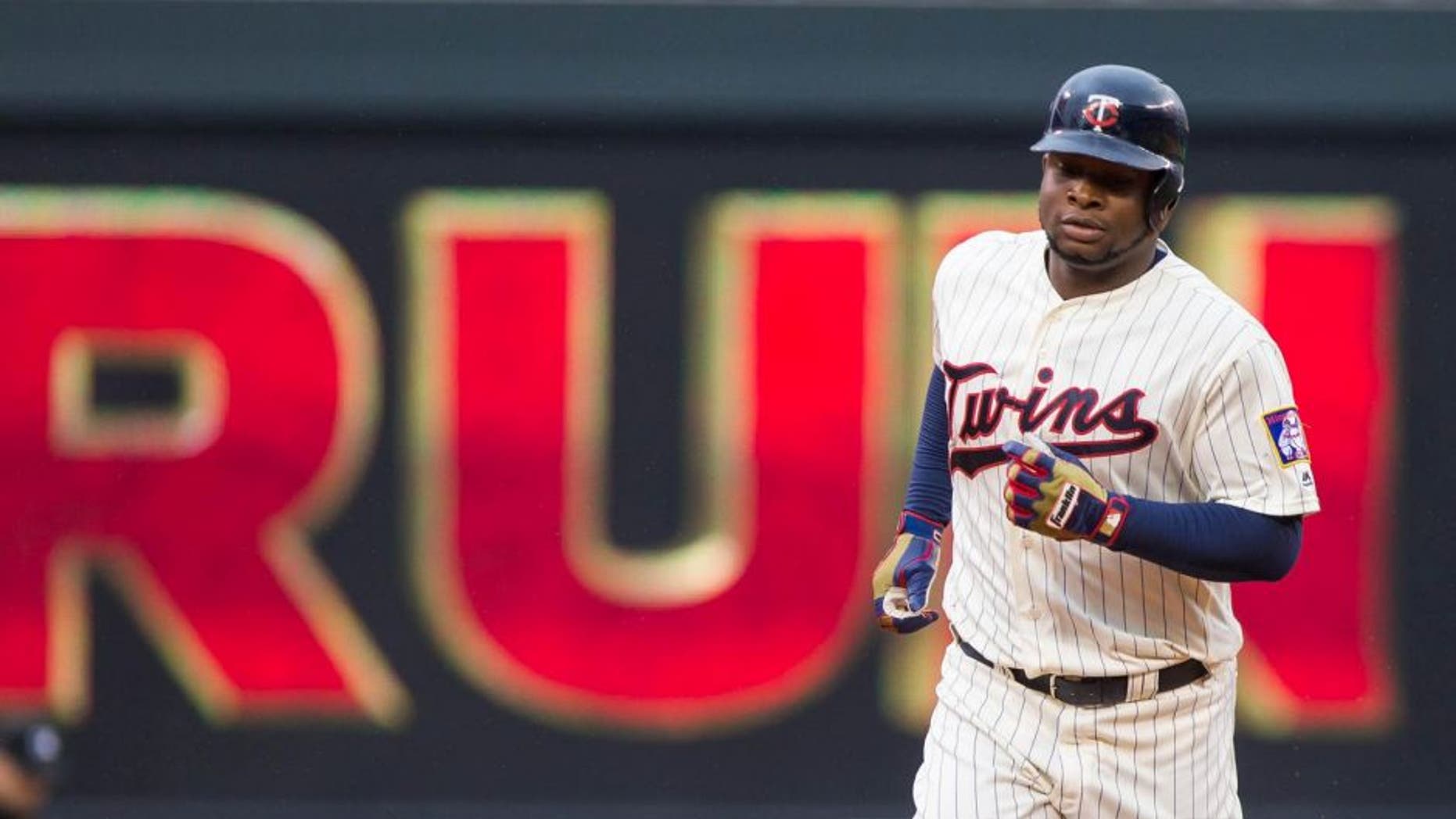 We all know the Minnesota Twins' Miguel Sano has prodigious power -- certainly after hitting 18 home runs last season, many of which were no-doubters solidified that notion. Sano put that power on display from May 25-29, homering in all four games during that span.
Sano started with a homer at Target Field against Kansas City's Dillon Gee, then blasted shots in each contest of a three-game set in Seattle, homering against each Mariners starting pitcher -- Felix Hernandez, Wade Miley and Taijuan Walker.
The four-game homer streak tied for the second-longest in Minnesota Twins history (but third longest if you go franchise history, which would include the Washington Senators).
For the most in Twins history, it should come as little surprise that Harmon Killebrew had streaks of five consecutive games with a home run three times -- including twice during the 1970 season. The only other Minnesota player to have homered in five straight games was none other than Marty Cordova, back in his Rookie of the Year season in 1995 (Cordova also had the most RBI of anyone with a homer streak of four-plus games, with 12).
Killebrew was the first Twins player to homer in four straight games (of course), and he accomplished that feat four times before anyone else did it once. Killebrew and Jimmie Hall are the only players to have multiple homer streaks of four or more games in the same season. "Killer" did it in 1962 and 1970 while Hall accomplished it in his rookie year of 1963.
Only two other players in Twins history have had more than one homer streak of four games -- Kirby Puckett (twice) and Kent Hrbek (three times). Interestingly, Hrbek really liked homering between the 7th and 10th as all three of his streaks are between those dates. In fact, he homered in four straight games between June 7-10 twice -- in 1982 and 1992.
If you are looking for the player who was most unlikely to have a long home run streak, we need to go back to the pre-Minnesota days. In 1958, Neil Chrisley had a four-game homer streak. He hit just five homers all season and 16 in his career.
As far as most unlikely Twins player, that honor goes to Graig Nettles. Yes, Nettles hit 390 career home runs, but in 1968 he had but five, all of which came during a four-game tear in early September. Nettles hit his first major-league home run on Sept. 6 against Detroit's Denny McLain -- who would win 31 games that season. He then hit two off the Tigers' Pat Dobson on Sept. 7, another in Detroit on Sept. 8 against Earl Wilson and finally at home in Minneapolis on Sept. 9 off Cleveland's Luis Tiant, who led the American League with a 1.60 ERA that season.
Those were also Nettles' only hits in those four games. Four other times players with HR streaks of four or more game hit nothing but home runs: Killebrew (twice), David Ortiz and Chrisley.
Here's the complete list of players in Twins franchise history with a home run streak of four or more games (* -- with the Washington Senators):
| | | | | | | | | | | |
| --- | --- | --- | --- | --- | --- | --- | --- | --- | --- | --- |
| Player | Dates | Games | R | RBI | 2B | 3B | HR | BAVG | OBP | SLG |
| Roy Sievers* | July 28-Aug. 3, 1957 | 6 | 9 | 8 | 0 | 0 | 6 | 0.333 | 0.433 | 1.083 |
| Marty Cordova | May 16-20, 1995 | 5 | 5 | 12 | 0 | 0 | 5 | 0.450 | 0.500 | 1.200 |
| Harmon Killebrew | July 11-18, 1970 | 5 | 6 | 8 | 0 | 0 | 5 | 0.381 | 0.409 | 1.095 |
| Harmon Killebrew | May 3-8, 1970 | 5 | 6 | 10 | 0 | 0 | 5 | 0.368 | 0.455 | 1.158 |
| Harmon Killebrew | June 26-29, 1964 | 5 | 6 | 8 | 0 | 0 | 5 | 0.333 | 0.500 | 1.333 |
| Miguel Sano | May 25-29, 2016 | 4 | 6 | 7 | 0 | 0 | 4 | 0.429 | 0.556 | 1.286 |
| Trevor Plouffe | June 12-15, 2012 | 4 | 7 | 7 | 1 | 0 | 5 | 0.412 | 0.412 | 1.353 |
| Jim Thome | Sept. 4-11, 2010 | 4 | 9 | 8 | 1 | 0 | 5 | 0.600 | 0.765 | 2.200 |
| Torii Hunter | Aug. 23-26, 2006 | 4 | 5 | 6 | 1 | 0 | 4 | 0.412 | 0.444 | 1.176 |
| Justin Morneau | May 3-7, 2005 | 4 | 4 | 7 | 0 | 0 | 4 | 0.357 | 0.400 | 1.214 |
| David Ortiz | Aug. 8-12, 2001 | 4 | 5 | 6 | 4 | 0 | 0 | 0.308 | 0.400 | 1.231 |
| Kent Hrbek | June 7-10, 1992 | 4 | 4 | 9 | 0 | 0 | 4 | 0.375 | 0.412 | 1.125 |
| Kent Hrbek | May 7-10, 1988 | 4 | 6 | 6 | 0 | 0 | 4 | 0.400 | 0.526 | 1.200 |
| Kirby Puckett | April 10-13, 1987 | 4 | 6 | 7 | 0 | 1 | 4 | 0.563 | 0.588 | 1.438 |
| Kent Hrbek | June 7-10, 1982 | 4 | 5 | 9 | 0 | 0 | 4 | 0.353 | 0.333 | 1.059 |
| Harmon Killebrew | July 23-28, 1972 | 4 | 4 | 6 | 0 | 0 | 4 | 0.385 | 0.500 | 1.308 |
| Tony Oliva | April 23-26, 1971 | 4 | 8 | 7 | 1 | 0 | 5 | 0.471 | 0.526 | 1.412 |
| Harmon Killebrew | Aug. 17-20, 1969 | 4 | 4 | 9 | 0 | 0 | 4 | 0.250 | 0.429 | 1.000 |
| Graig Nettles | Sept. 6-9, 1968 | 4 | 5 | 7 | 0 | 0 | 5 | 0.313 | 0.313 | 1.250 |
| Tony Oliva | April 13-16, 1966 | 4 | 6 | 10 | 0 | 0 | 4 | 0.643 | 0.688 | 1.500 |
| Jimmie Hall | July 31-Aug. 4, 1963 | 4 | 5 | 10 | 0 | 0 | 4 | 0.438 | 0.474 | 1.118 |
| Jimmie Hall | June 30-July 4, 1963 | 4 | 6 | 10 | 0 | 0 | 5 | 0.471 | 0.500 | 1.353 |
| Harmon Killebrew | June 18-21, 1963 | 4 | 5 | 4 | 1 | 0 | 4 | 0.467 | 0.529 | 1.333 |
| Harmon Killebrew | Sept. 21-25, 1962 | 4 | 4 | 8 | 0 | 0 | 4 | 0.429 | 0.529 | 1.286 |
| Harmon Killebrew | July 8-14, 1962 | 4 | 4 | 9 | 0 | 0 | 4 | 0.375 | 0.353 | 1.125 |
| Harmon Killebrew | Sept. 8-10, 1961 | 4 | 5 | 8 | 0 | 0 | 4 | 0.500 | 0.611 | 1.500 |
| Neil Chrisley* | Sept. 8-10, 1961 | 4 | 4 | 6 | 0 | 0 | 4 | 0.364 | 0.364 | 1.455 |
| Jim Lemon* | May 3-6, 1956 | 4 | 6 | 8 | 2 | 0 | 4 | 0.400 | 0.471 | 1.333 |
| Stan Spence* | May 3-7, 1944 | 4 | 6 | 8 | 1 | 0 | 4 | 0.400 | 0.400 | 1.050 |
Follow Dave Heller on Twitter