StaTuesday: Early defensive ratings for 2016 Minnesota Twins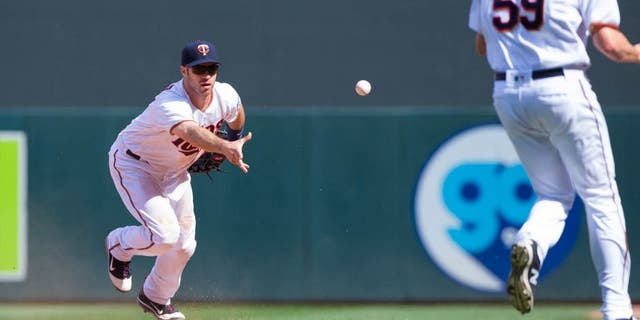 NEWYou can now listen to Fox News articles!
This past week, the Society of American Baseball Research (SABR) issued its first Defensive Index rankings (SDI) for the season, based on games played through June 12.
According to SABR, these rankings account for roughly 25 percent of the selection process used in determining each season's Gold Glove winners and also contributes in determining Platinum Glove Award winners.
The Defensive Index is compiled from different fielding metrics and incorporates a myriad of categories. (If you are interested in a more detailed explanation, please click here.)
The top-rated Twins player is Joe Mauer, who last year had a negative (-0.1) SDI. This year, however, through the June 12 rankings, Mauer is at a 2.1, which ties him for 23rd overall in the American League. Mauer isn't the highest-rated first baseman in the American League -- Texas' Mitch Moreland leads with a 3.7 -- but he is second and ranked fifth among all major-league first basemen.
Among pitchers, five Twins are rated a 0.0 or higher. Ervin Santana and the recently sent down Pat Dean are tops on the staff with 0.5, which tied them for seventh in the AL. Among qualifying pitchers, Michael Tonkin, Ricky Nolasco and Ryan Pressly are all at 0.0. Also, Phil Hughes has a -0.5 rating and Tyler Duffey a -0.8.
Unfortunately, the news is not good at other positions for the Twins.
Catcher Kurt Suzuki has a -1.1 rating, tying him for 9th in the AL. However, this is a large improvement over last season, when Suzuku finished with a -8.4 rating, worst among all qualifying catchers in the major leagues.
Other than Mauer, no other Twins infielder has a positive SDI rating. The biggest surprise has to be third baseman Trevor Plouffe. Last season, Plouffe was ranked 23rd overall in the AL with a 4.6 SDI. This year, however, and he is at a -4.3 thus far. There are three AL third basemen ranked worse than Plouffe -- Oakland's Danny Valencia (-5.1), Chicago's Todd Frazier (-5.4) and Los Angeles' Yunel Escobar (-7.0).
Both Brian Dozier and Eduardo Escobar had negative SDIs in 2015 and they are in that territory again this season. Dozier is ranked as the second-worst AL second baseman at -3.6 while Escobar is tied for the third-worst AL shortstop rating at -3.1. Tampa Bay shortstop Brad Miller is at a -8.4, which is the worst SDI of any qualifying AL player.
Minnesota doesn't have anyone who qualified for an SDI rating in either left field or center field (last season, Eddie Rosario was 12th overall in the AL with a 6.9), leaving just Miguel Sano, who is playing for the first time in right field after being primarily a third baseman. Sano is struggling with a -5.9 SDI, but hey, he's not the worst right fielder in the majors. Two experience players have worse ratings than Sano. Detroit's J.D. Martinez is at -6.5 while Cincinnati's Jay Bruce has the worst SDI of any qualifying major-league player at -9.8.
Dave Heller is the author of the upcoming book Ken Williams: A Slugger in Ruth's Shadow as well as Facing Ted Williams Players from the Golden Age of Baseball Recall the Greatest Hitter Who Ever Lived and As Good As It Got: The 1944 St. Louis Browns