StaTuesday: Brewers' soon-to-be franchise leader in HRs, Braun could be headed for 400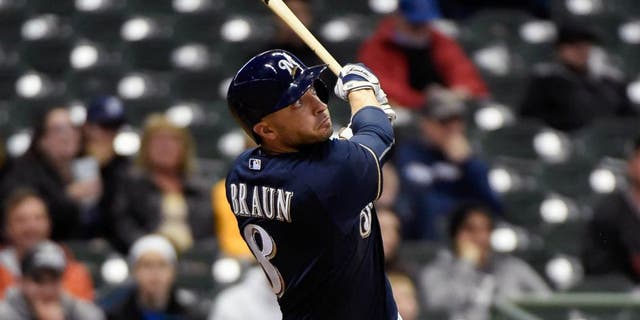 With his next home run, Ryan Braun will become the Milwaukee Brewers' all-time leader in long balls with 252.
After hitting a grand slam in Sunday's win over the Phillies to tie franchise legend Robin Yount at 251, Braun is almost assured -- though, as they say, of course, you can't predict ball -- of taking the top spot. He's also almost assured of holding it for a very long time, no matter what the number ends up, because the next-closest active Brewer is 29th-ranked Jonathan Lucroy with 63 home runs and counting.
For the purposes of team records, only the total amassed as a member of the Brewers is used, so guys that left the club but still play in the majors, like Prince Fielder, with 230, and Corey Hart, with 154, could not add to their totals unless they returned to Milwaukee.
So it looks like Braun, whenever he socks his next dinger, will be the organization's home-run king for quite a while.
Given that, we wanted to find out how the Brewers compared to other teams' home-run leaders, and also, since Braun is signed through 2020, how many homers the star outfielder will end up with when his career in Milwaukee -- or at least his five-year, $105 million contract -- ends.
Using numbers through Tuesday, the Brewers' leader (at present, both Braun and Yount) has 251 home runs. We thought that seemed like a low total, so we contrasted it with every other major-league club. Currently, only five teams have a career leader with fewer home runs than Milwaukee's 251 -- Arizona, Miami, San Diego, Tampa Bay and Washington. But three of those teams -- the Diamondbacks and Rays, both founded in 1998, and the Marlins, in 1993 -- are much newer franchises, and the other two, the Padres and Nationals, have existed exactly as long as the Brewers, beginning operations in 1969.
Meanwhile, younger clubs like the Colorado Rockies (369), Seattle Mariners (417) and Toronto Blue Jays (336) have franchise leaders with much higher home-run totals in many fewer games.
So it appears Milwaukee's mightiest mashers have been less powerful than those of most other teams. Of course, it doesn't help that Hank Aaron, who is No. 2 in MLB history with 755 home runs and spent half his career in Milwaukee, was officially a member of the Braves organization, not the Brewers.
But Braun, who is 31 and has been among the game's best hitters during his nine-year career, seems poised to add significantly to the franchise-leader total.
If we remove 2007, when he was called up as a rookie in late May and played just 113 games, and 2013, when he was suspended after only 61 games, Braun has played in an average of 151.1 games in his other seven seasons (he's on pace to appear in 152.5 in 2015). So let's call that 151 games a year and postulate that it represents a reasonably realistic season, assuming he stays in the majors and doesn't get suspended again.
Thus far in 2015, Braun has hit 21 home runs in 113 games, putting him on pace for 28.3 this year. Let's call that 28. Adding that to his season totals from the other six non-rookie, non-suspension years, Braun will have hit 215 home runs in seven full seasons, or an average of 30.7 a year. That seems fair because even for the career-high 41 he hit in 2012, he had a career-low 19 last year; for the 37 he smacked in 2008, he hit just 25 in 2010, which was two years before the MVP campaign and subsequent PED suspicions.
For the most part, he's right around 30.
If he hits the 28 he's on pace for this season, he'll have 258 for his career, setting the Brewers' all-time record (but not changing where it stands compared to other MLB teams' home-run leaders).
Now, let's live a little and round his 30.7 average over the seven years up to 31 because whole numbers are just more fun. If Braun averages 31 homers for the next five seasons starting in 2016, he'll have added another 155 home runs to his 258, for a career total of 413 by 2020.
Assuming that's the end of his time with the Brewers, Braun will be 37 when his active home-run count cements as the team record. Even if you object to the likelihood of Braun averaging 31 home runs for the next five seasons through his mid-30s, he only needs to put about 28 over the wall each year to get to 400 for his career.
And a milestone mark of 400 career home runs would exceed 16 teams' all-time leaders, a much more respectably powerful place to be for Milwaukee.
Follow James Carlton on Twitter