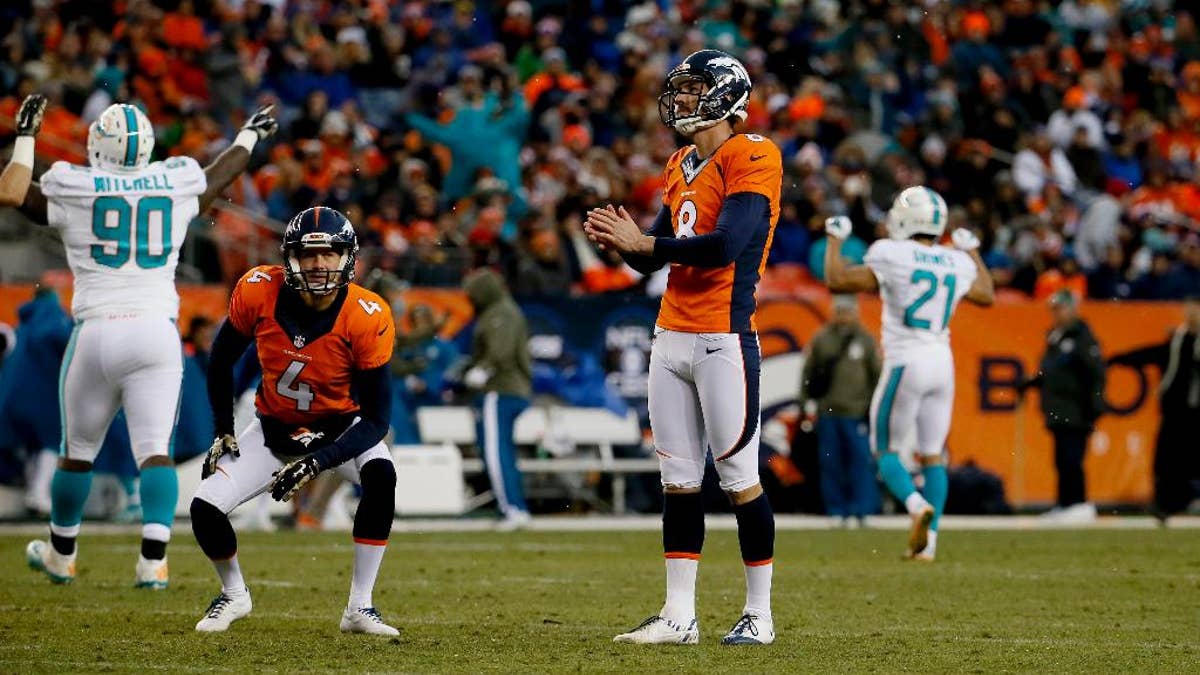 DAVIE, Fla. – Judging by the stat that matters most to Ryan Tannehill, he's doing only so-so.
The Miami Dolphins quarterback is always quick to say wins are his priority, and his team is 6-5 heading into Monday night's game at the New York Jets. Tannehill has a 21-22 record in three NFL seasons, and the Dolphins will need a late-season surge to avoid a sixth consecutive year out of the playoffs.
But the past two months have been the best stretch of Tannehill's brief career, and he has been especially good lately, completing over 70 percent of his passes in four consecutive games. No previous Dolphins quarterback ever had such a streak, not even Pro Football Hall of Famers Dan Marino or Bob Griese.
"He has been playing better," coach Joe Philbin said Wednesday. "Certainly he has been throwing the ball accurately and doing a good job running the offense."
In the past two games, Tannehill has posted back-to-back passer ratings above 100, a first for him. Those performances pushed his rating for the season to 93.4, which ranks ninth among quarterbacks with eight or more starts.
Tannehill ranks eighth in the league with a completion percentage of 66.1, and his touchdown-interception ratio of 20 to six is tied for ninth-best, which puts him ahead of Russell Wilson, Joe Flacco and Colin Kaepernick, among others. The athletic Tannehill also has 276 yards rushing, 45 shy of the franchise record for a quarterback.
That's better than so-so.
"I feel more comfortable the more games we play," Tannehill said. "I feel like I'm improving, and I just want to keep improving. There is still a lot of room for growth, and I just want to take those strides."
For starters, Tannehill and the Dolphins need to improve in close games. He said it feels as though the Dolphins are better than 6-5, but they're 0-3 in games decided by four points or less.
"You've got to be able to win those tough games," he said. "If we make one more play on offense or defense, we're going to win those games."
But it's hard to find too much fault with an offense on pace for the Dolphins' highest-scoring season since 1986.
Tannehill's accuracy on long passes remains problematic, so the Dolphins have stopped throwing deep much. He ranks only 29th in the NFL in yards per attempt, but has become adept at spreading the ball around and keeping defenses off balance with short throws.
He has also clicked with rookie Jarvis Landry, whose 49 catches lead the Dolphins.
"Each week you have seen Ryan progress," Landry said. "He is still on a constant rise, and we're excited about what the future holds."
Along with deep passes, consistency was another issue during Tannehill's first two-plus seasons, which makes his recent performances encouraging. He has had a passer rating above 100 in five of the past eight games, squelching early-season speculation that his status as a starter might be in jeopardy.
His recent play has validated his selection in the first round in 2012.
"I want to be here for a long time," Tannehill said. "Obviously I understand that in order to do that, you have to play well. At the end of the day I just want to win and take us into the playoffs."
The Dolphins will likely to need to win at least four of their final five games to have a shot at the postseason. That makes a victory Monday against the lowly Jets mandatory.
But Tannehill remembers all too well how the Jets kept the Dolphins out of the playoffs a year ago with an upset victory in Miami in the season finale. Tannehill threw three interceptions and the Dolphins lost 20-7.
"It's not a good memory," he said. "We didn't play well, and the Jets always find a way to play us well."
Tannehill has indeed struggled in his four games against the Jets. Monday night offers a prime-time chance for him to show them how much he has improved.
___
AP NFL website: www.pro32.ap.org and http://twitter.com/AP_NFL
___
Follow Steven Wine on Twitter: http://twitter.com/Steve_Wine