Starting middle linebacker spot down to two for Tennessee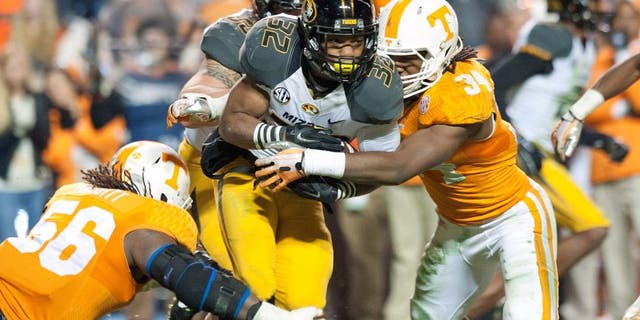 NEWYou can now listen to Fox News articles!
With just over a week until the season opener against Bowling Green, it appears the biggest question mark on Tennessee's defense is about to solved.
The whole left in the middle of the Volunteer defense following A.J. Johnson's suspension has yet to be determined in Knoxville. Nearly a year later the answer appears to be at hand, as the competition at middle linebacker has been narrowed to sophomore Colton Jumper and true freshman Darrin Kirkland, according to defensive coordinator John Jancek.
"It's really been narrowed down," Jancek said following Wednesday's practice. "To get three guys reps at this stage in the season, in camp, preseason, it's hard to do. It's really between Colton Jumper and Darrin Kirkland [Jr.]."
Kirkland comes into the program with a ton of hype after finishing his high school career in the U.S. Army All-American game, however an offseason weightlifting injury cost him the spring after enrolling early in January. Kirkland's upside at the position may make it difficult to keep him off the field but Jumper's knowledge and understanding of the defense should not be overlooked in the competition.
"He's spent countless hours in the film room on his own, taking notes, watching video and all that hard work is paying off," Jancek said. "He's really a great example for a lot of players in college football. Guys that come as four or five stars but lack the maturity or the work ethic that it takes really make yourself a great player. I think Colton is an example of that. He's made himself a very good football player."
So do the Vols go with the guy with massive talent or the crazy work ethic? We'll find out soon enough.