Starting 11: Ohio St. is way overrated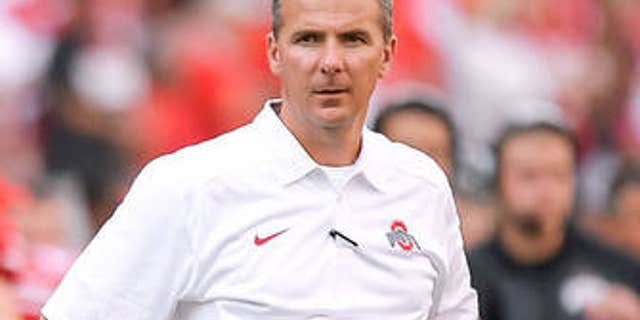 I watched 16 straight hours of college football on Saturday.
That seems impossible -- but I got to the FOX studios at 5 a.m. PT and didn't leave until 9 p.m. PT. That was 16 hours of television time. I then stayed up to watch the end of Wisconsin at Arizona State back in my hotel room. By the time the day was over, I thought the Louisville at Kentucky game had started a week beforehand.
As a result, I feel comfortable telling y'all this: Ohio State isn't a top-five team. In fact, the Buckeyes aren't even a top-five team in the SEC. I think Ohio State would be the eighth-best team in the SEC this year. To be fair, Ohio State would be in one top five -- the Buckeyes would be the fifth-best team in the SEC West.
We also found out that Louisville is a pretender to the top 10. Kentucky, indisputably the worst team in the SEC, didn't even play very well and kept it fairly even against the Cardinals. Louisville is a a fun team to watch because of Teddy Bridgewater -- but there's no way on earth they're a legit national title contender.
None.
Let's dive into the rest of the Starting 11.
1. Alabama has two games it could lose for the remainder of the regular season
I believe 'Bama will be favored by 10 points or more in both home games against Ole Miss and LSU.
Then, the Tide will probably draw Georgia in the SEC title game.
Remember all those complaints about Alabama's schedule being weak? It's likely the Tide will play three top 10 teams. Plus, Ole Miss is playing like a top 10 team right now and could end up there before the season is done. If Ole Miss cracks the top 10, that would get the Tide to four top 10 teams.
But even if Bama plays only three top 10 teams, that will still be three more than Ohio State. That will also be more than Louisville, Oklahoma State, UCLA, Michigan or Miami. If you aren't in the SEC or the Pac-12, the chances of you playing three top10 teams is virtually zero. (Clemson is the exception here, but only because it's playing two top 10 SEC teams.)
By the way, can we start talking about Nick Saban's hair plugs now?
Johnny Manziel didn't just destroy the Alabama defense, the College Station humidity also destroyed Saban's hair process.
2. Oregon disemboweled Tennessee
That's why I've been arguing for more than a year that Tennessee should have bought out the game at Autzen.
Fifty-nine unanswered points? The worst beating in more than 100 years of Volunteer football?
Tennessee gained absolutely nothing by going on the road to play at Oregon. Zero. The Vols could have stayed home and beaten a cream puff. Sure, they'd be an inflated 3-0, but an inflated 3-0 with games at Florida, Georgia, South Carolina and at Alabama all before Halloween? That seems like a pretty fair trade.
The Vols likely could have been 4-4 if they'd bought out Oregon with a season-defining finish at Missouri, Auburn, Vanderbilt and Kentucky. Split those four, and the Vols would be going bowling in Butch Jones' first season. Now? The Vols will need three of those final four to qualify for a bowl game. That statistic looks pretty damn daunting.
Based upon Saturday's game, it's possible the Vols are underdogs in three of those final four games. I'd take Mizzou, Auburn and Vandy all against Tennessee on neutral sites right now -- and that's even before the toll of playing four of the next five opponents sets in.
The Vols aren't deep, and they're going to lose some starters in those games.
Meanwhile, Oregon is brilliant.
At Washingon on Oct. 12 will be the first real test for Oregon. Then comes UCLA and at Stanford. Those are three pretty good tests for one of the nation's top two teams. I think the Ducks will go undefeated.
3. Ohio State might play just one top 25 team all season
And that top 25 team could be Northwestern.
It was a really bad weekend for the Big Ten. The Pac-12 knocked off two of the top 25 teams in the conference, Nebraska and Wisconsin. Washington also went on the road and took down Illinois.
Combine this awful schedule with the fact that Ohio State's defense has looked horrendous against three bad teams, and I'm already to the point where a one-loss SEC or Pac-12 team deserves to be in the BCS title game over an undefeated Ohio State.
The Buckeyes just aren't going to have the chops to justify a title game appearance.
Ask Vegas how many SEC teams would be favored over Ohio State on a neutral site right now? Six or seven is the answer. I think Ohio State would be the fifth best team in the SEC West this year.
4. The Pac-12 is the second best conference in America
At this point there is solid evidence that Oregon, Stanford, UCLA and Washington are very good teams.
You can make a case that all four should be ranked in the top 10 right now. (I don't have Stanford ranked in my on-field top 10 because the Cardinal still haven't played any decent teams, but I think it's pretty clear that Stanford is very good.)
Plus, how good are the two Arizona teams?
Half the Pac-12 could be ranked in the top 25 soon.
5. Wisconsin lost at Arizona State and Jen Bielema tweeted, "#karma"
I still have no idea what happened at the end of this game.
If you haven't seen the YouTube footage yet, here it is:
If this had happened earlier in the day, it would have been the lead story in college football. But instead, it happened late at night and was eclipsed by NFL headlines the following morning -- meaning that lots of y'all are just seeing this ending for the first time right now.
Confession: Now that I'm on the West Coast every weekend, there really is an East Coast bias -- but that bias is just because no one can stay awake long enough to watch all these Pac-12 games.
Jen Bielema, wife of former Wisconsin coach Bret, immediately tweeted out "#karma," evidently forgetting that the man who won this game was former Pittsburgh turncoat Todd Graham.
6. Mississippi State is officially staring 4-8 in the face
And that's giving State wins over Troy and Kentucky. I'm not really sure they get those both done.
If State goes 4-8, 1-7 in the SEC, Mullen's SEC record would only be 14-26. That's just four SEC wins better than Sylvester Croom did in his five years at State -- so, Mullen would be averaging 0.8 wins a year better than Croom. So much for all that all the Dan Mullen hysteria in Starkville.
Is that good enough? The trajectory is certainly pointing down.
7. This Auburn tattoo exists
And AJ McCarron thinks this tattoo is bad ass.
8. Could a one-loss Texas A&M get a BCS title game rematch against Alabama?
It's unlikely, but it's certainly possible. After all, Alabama has lost home games each of the past two years and still ended up winning the BCS title.
The SEC could end up a real mess this year if LSU beat Alabama but lost to Texas A&M in Baton Rouge. That opens up very good odds of a three-way, 11-1 tie in the SEC West. (Ole Miss, by the way, could also manage a three-way tie if it beat Alabama or LSU and won every other game.)
All three of these teams would likely be top five in the nation with a round-robin three-way loss. It would go all the way to the eighth SEC tiebreak -- eighth!
That tiebreak reads: "The tied team with the highest ranking in the Bowl Championship Series Standings following the last weekend of regular-season games shall be the divisional representative in the SEC Championship Game, unless the second of the tied teams is ranked within five-or-fewer places of the highest ranked tied team. In this case, the head-to-head results of the top two ranked tied teams shall determine the representative in the SEC Championship Game."
Good luck with that.
So, there's a decent chance the second-highest ranked BCS team would be the SEC's representative in the SEC title game -- but the highest-ranked team would get to sit out the SEC title game and potentially default into the game itself.
How the hell do you resolve that for both the SEC title and BCS title?
The ultimate complicating factor: How do you resolve things if five SEC teams are all ranked in the top 10 with one loss at the end of the season? Don't laugh; it's possible that Alabama, Texas A&M, Ole Miss, Georgia and South Carolina could all finish the regular season 11-1.
9. How good is LSU?
Really damn good.
So good that I'm already considering the implications of a three-way SEC West tie.
Zach Mettenberger has nine touchdowns and no interceptions so far this year. If you've been sleeping on the Tigers thus far, you'd better wake up.
That game in Athens in two weeks is going to be epic, and LSU is a legit national title contender.
10. My national top 10 based on the games played thus far
1. Oregon
2. Alabama
3. LSU
4. Clemson
5. Georgia
6. UCLA
7. Washington
8. Oklahoma State
9. Texas A&M
10. Ole Miss
11. My SEC power rankings based entirely on the games played thus far
(From this point on I will also be including Ohio State in my SEC rankings).
1. Alabama
2. LSU
3. Georgia
4. Texas A&M
5. Ole Miss
6. South Carolina
7. Florida
8. Ohio State
9. Auburn
10. Vanderbilt
11. Missouri
12. Arkansas
13. Tennessee
14. Mississippi State
15. Kentucky