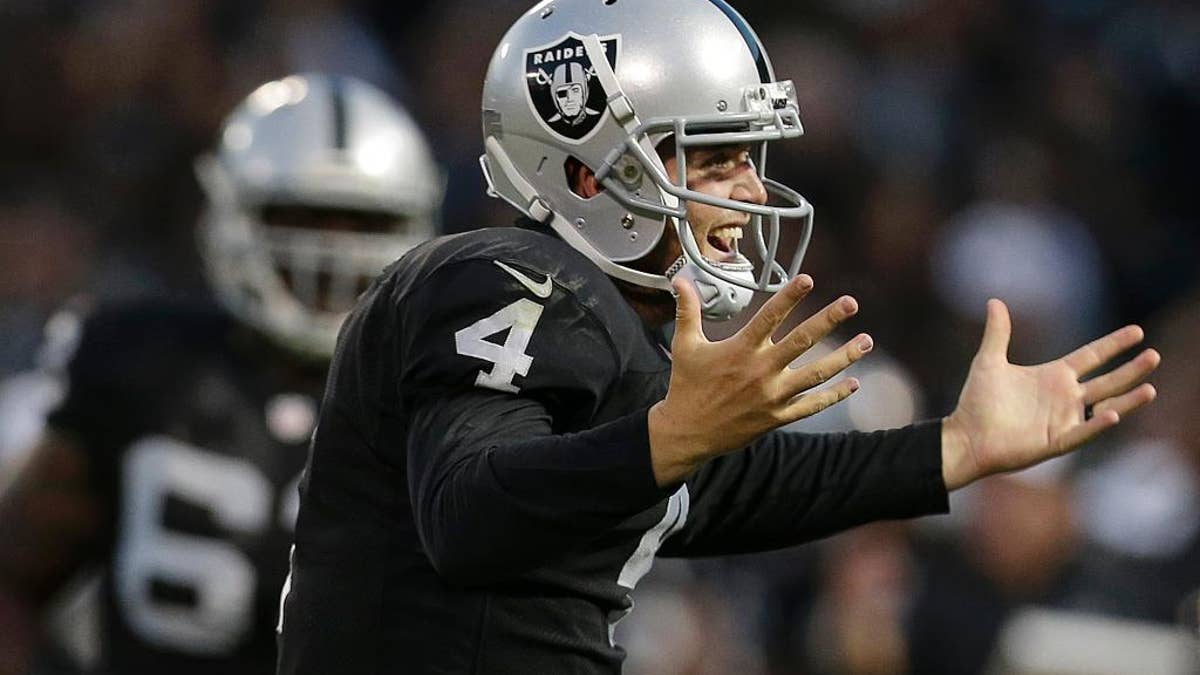 ALAMEDA, Calif. – Coach Dennis Allen says he expects to know who will start at quarterback for the Oakland Raiders when the team returns to practice Monday.
A sore elbow for Matt Schaub and a strong finish to the preseason by rookie Derek Carr have injected some doubt into what had seemed to be a resolved issue as recently as four days ago.
Allen said unequivocally Monday that Schaub would start the opener at the New York Jets on Sept. 7 even as he was sitting out the week of practice with a sore throwing elbow.
But Allen was far from definitive on Friday, a day after Carr threw three touchdown passes and led the Raiders to the end zone on all four drives he played in the exhibition finale against Seattle.
"There's a lot of things that go into a performance," Allen said. "There's a lot of things that factor into the decision-making process. But I will say that I was very pleased with what I saw out of Derek Carr last night."
Carr was sharp from the start against the defending Super Bowl champions, showing no fear of attacking the NFL's most feared defense. He drove the Raiders down the field on the opening drive against Seattle's starting defense, twice targeting All Pro cornerback Richard Sherman, including on an 11-yard pass to Denarius Moore on third-and-10 to set up a TD run by Latavius Murray.
"They were the No. 1 ranked defense in the league last year." Allen said. "It's a good defensive football team and they had nine of their 11 starters playing. But what I really look at is, I look at the offensive unit as a whole."
Carr then took advantage of two short fields provided by the special teams to throw back-to-back TD passes on successive one-play drives, connecting with Moore from 36 yards out and Mychal Rivera on a 20-yard score.
Carr ended his night with another long drive, capped by a perfectly placed back-shoulder 11-yard TD pass to Moore. Carr finished 11 for 13 for 143 yards and three touchdowns, completing all four third-down pass attempts for 62 yards.
Carr completed 66.7 percent of his passes in the preseason, with four touchdowns, one interception and a 108.2 passer rating.
The Raiders did not expect Carr to challenge for the starting spot so soon after they drafted him in the second round out of Fresno State. That pick came less than two weeks after they acquired Schaub in a trade from Houston and immediately anointed him the starter.
But the debate could be moot if Schaub's sore elbow doesn't heal enough to allow him to practice this week. The injury has been lingering for much of training camp and Schaub told Allen last week it was bothering him. Schaub sat out practice all week, throwing only a little on the side with a trainer.
Schaub was excused from the team Friday to deal with a personal issue but Allen said he expected him back when the team resumed practice Monday.
"I think the biggest thing really is to check on Matt and see where Matt is health-wise," Allen said. "He was making some progress last week throwing on the side with the trainers. I feel like he'll be ready to go but I think we need to see how he's feeling Monday when he gets in here."
Schaub has struggled when he has played, completing just 24 of 47 passes for 218 yards, no touchdowns and one interception for a passer rating of 55.1 this preseason. Schaub has led the Raiders to two scores on 15 drives this preseason and completed just two passes that traveled more than 10 yards downfield.
NOTES: The Raiders began making cuts to get the roster down to 53 but will wait to announce any moves until after Saturday's deadline. ... Allen said he expected K Sebastian Janikowski to be ready for the opener after sitting out with a sore quadriceps. ... TE David Ausberry is expected back at practice Monday following knee surgery earlier in the month. ... Backup LB Kaelin Burnett did not play Thursday after injuring his knee in practice.
___
Online:
AP NFL website: www.pro32.ap.org and www.twitter.com/AP_NFL