Stars, born and bred, Paige VanZant & Sage Northcutt play to the crowd in Las Vegas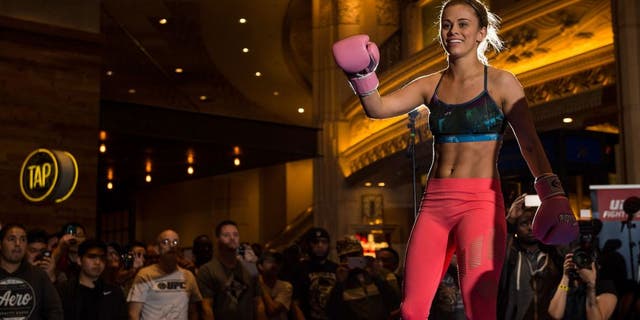 NEWYou can now listen to Fox News articles!
LAS VEGAS -- It's hard to not get the feeling that Paige VanZant and Sage Northcutt have wanted to be stars for most of their lives. To be sure, they've both trained since they were children to be the expert fighters they are now.
They deserve a lot of respect for being the skilled and practitioners that they are. Still, most people don't take to stages, lights and cameras with the type of pageant-kid gusto that they did on Tuesday at the open workouts for Thursday's UFC Fight Night event.
Sage took the stage set up on the MGM Grand Casino floor, near the sportsbook, stretched and immediately connected with the nearby fans. "Hey Sage, are you going to do your backflip?" a fan asked, from behind the barrier.
On the mat, limbering up, Sage looked up, made eye-contact with the fan, nodded and winked. A coach joined him on stage with Thai pads and then Sage immediately took off his shirt.
What, did you think he was going to do this workout with a shirt on?
Not with those abs. No other fighter up to that point had conducted their workouts topless (though Aljamain Sterling would later do the same thing), but Sage is trained to give people what they want.
Sage hit the pads, without gloves, a few times. Then, the blue-matted stage was cleared and he executed some impressive flips.
Then, he put his shirt back on and exited the stage. It was the day's shortest public workout, but it still generated buzz.
Afterwards, the 19-year-old spoke with assembled media members and -- €"as usual -- spoke in broad, but positive strokes, sounding somehow a bit younger than he actually is.
"You've got the lights, and then you've got the music going, so that was cool!" he laughed in his typical list-things and then say they are cool way of talking.
"Everyone's pumped-up."
That cannot be denied. Any fan with eyes realizes that Sage is a special athlete.
What fighter -- young or old -- wouldn't be excited at getting the type of attention Sage has in the past few months? None, but most would be a bit overwhelmed by it all.
Sage, however, is eager for whatever he thinks is happening. So far, he's also looked ready.
Asked if he wished things would slow down just a bit for him as he makes his way into the UFC, the Texan was clear. "No way!" he said.
"No, there's no part of me that says that. I want more. So, if I get to fight next month, and I'm safe, protected, and injury free, I'm ready to fight next month."
Paige VanZant took the stage last, wearing pink tights and holding a jump rope. Off the bat, she played to the crowd and directly encouraged them to make some noise, before beginning to bounce.
"I like to put on a show up there, so it's fun," she would later tell reporters.
She did put on a show -- teasing a strategy against opponent Rose Namajunas that could be focused on striking just enough to get inside and work takedowns. VanZant worked hip-tosses, trips, landing on top in dominant positions, then transitioning to crucifix positions, back-takes, and arm bars.
The young lady has a real mean streak, and that's what makes her a serious threat inside the cage, no matter how much she and the UFC play up her cutsy angle. After all, there is no rule that says someone can't be both bubbly and dangerous.
In between moves, VanZant continued to implore the crowd to make noise for her. She smiled, raised her gloved hands up and said, "Come on!"
The crowd obliged her and she got back to putting on her show. Many fighters draw inward during open workouts to maintain focus.
VanZant and Northcutt were no-doubt concentrating on themselves but very much appeared to enjoy the public nature of it all. Crowds don't drain people like that -- they energize them.
Drawing attention to oneself can often create additional, invisible pressure to succeed. After her workout, Paige drew an important distinction.
She doesn't feel that she has to win. She just enjoys winning, so she's going to try to do that some more.
"No, I don't feel like I have to prove anything to anybody," she said.
"I just like to win so that's what I plan on doing."