Stanton, Ozuna launch Marlins past Phillies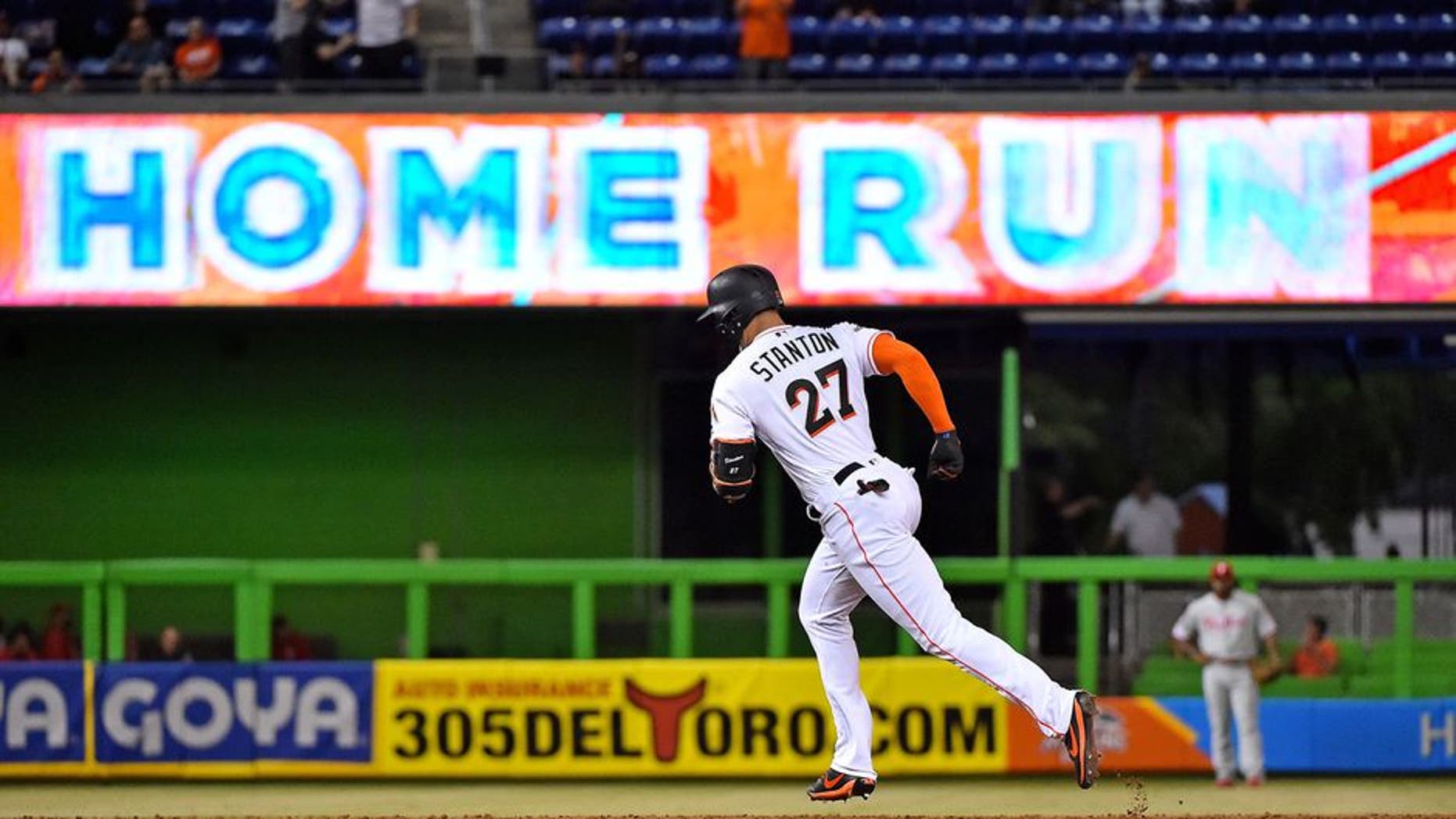 MIAMI (AP) -- Giancarlo Stanton hit his third homer since moving into the No. 2 spot in the batting order, a change that has revived the Miami Marlins, who won their third game in a row by beating the Philadelphia Phillies 7-2 on Tuesday night.
Marcell Ozuna also homered for the Marlins, whose modest winning streak is their longest since mid-April.
Stanton hit a two-run homer, his 14th, in a five-run third. Since he moved up to the No. 2 spot, Stanton is 12 for 29 (.414) with three homers and seven RBIs in seven games, and the Marlins are 5-2 while outscoring opponents 48-22.
Miami's record before the change was 15-28.
Both starting pitchers departed with injuries. Phillies right-hander Vince Velasquez (2-5) left in the second inning because of a right elbow flexor strain, and Marlins left-hander Justin Nicolino exited after three scoreless innings due to a bruised left index finger.
Nicolino was injured when he bunted in the third inning and reached second on a throwing error. His status is day to day.
The Phillies managed only two hits against five pitchers. They dropped their first two games in Miami to lose their 10th consecutive series, their worst streak in 20 years.
The Phils (17-33) have the worst record in the majors after 50 games. They've lost 24 of their past 30, and are 7-20 on the road.
Philadelphia outfielder Howie Kendrick, who returned this week after missing 37 games because of an abdominal strain, hit his first homer of the year to make the score 7-1.
Dustin McGowan (2-0) replaced Nicolino and allowed one run in three innings. Velasquez threw only 19 pitches in 1 1/3 innings and was charged with two runs, one earned.
Miami's Justin Bour reached base four times. Ozuna had three hits to hike his average to .314.
SCARY MOMENT
The Phillies escaped an injury when the bat slipped out of first baseman Andres Blanco's hands on a swing, went flying and struck the roof of the dugout.
SMALL TURNOUT
The Marlins drew one of their smallest crowds this season -- 16,241 -- hours after news surfaced that former Florida Gov. Jeb Bush is no longer interested in buying the team. The Marlins rank last in the NL in attendance.
UP NEXT
The Marlins try for their first sweep of the season Wednesday when RHP Dan Straily (3-3, 3.83 ERA) faces RHP Aaron Nola (2-2, 4.34 ERA).