Stann'd and Deliver: Jon Jones looms large over UFC 192 this weekend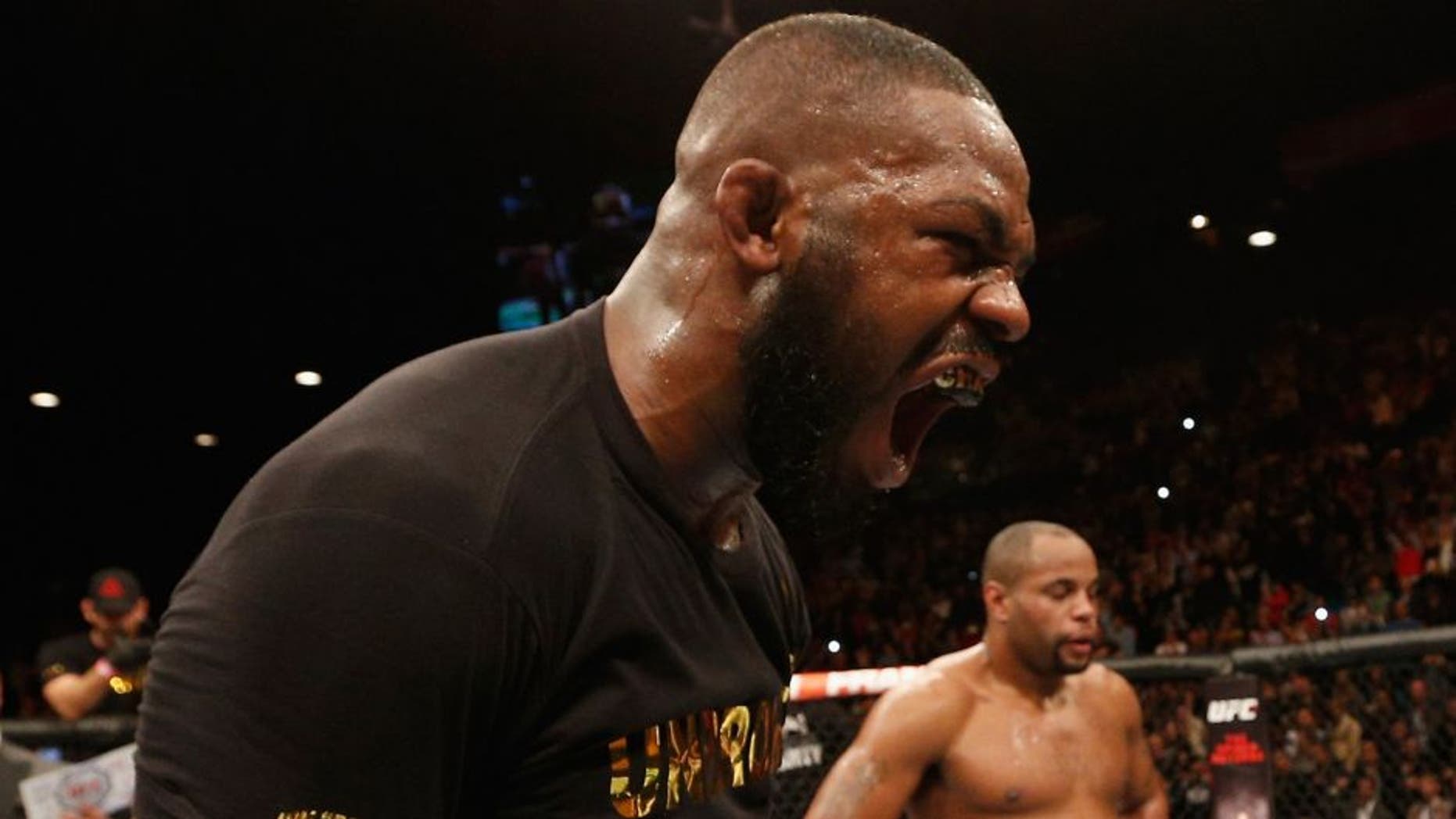 FOX UFC analyst Brian Stann weighs in on the hot topics for this weekend's UFC 192 fight card, most notably the shadow of Jon Jones that will be looming large over two of the biggest bouts including the main event between Daniel Cormier and Alexander Gustafsson.
The timing couldn't have worked out any better or worse depending on how you look at Jon Jones' plea deal. The former light heavyweight champion was released Tuesday, with no jail time, just four days before the title he never lost is defended by Daniel Cormier against Alexander Gustafsson at UFC 192 in Houston.
Jones will serve 18 months of probation and the UFC has stated they will do an investigation into his plea deal, but it's all likely semantics at that point. The most dominant light heavyweight champion in UFC history is on his way back to the Octagon probably sooner rather than later, and his shadow will loom large over the main event this weekend.
FOX UFC analyst Brian Stann knows Jones better than most, and he's quite sure that the former champion will be the talk of the town this weekend in Houston despite the fact that he's not fighting or technically reinstated from an indefinite suspension levied by the UFC when he was arrested back in April.
"You couldn't have drawn up a better narrative for this thing to take place," Stann told FOX Sports about Jones' return. "Whether Gustafsson wins this fight, people have been clamoring to see a rematch there with Jon Jones, and obviously if Daniel Cormier defends his title and wins, it's going to be him versus Jon Jones again. It's going to be ridiculous in terms of the buildup for that fight and the trash talk that would take place."
The end of Jones' legal troubles, which frees the way for him to return to action, could easily distract both fighters in the main event. Cormier lost to Jones just one fight ago before winning the vacant belt when he was stripped after his arrest.
Cormier has already dealt with a load of naysayers telling him that he's carrying around a fake belt and the title really belongs to Jones, who never actually lost it in competition.
Stann says as much as that kind of torment might affect some other fighters, Cormier isn't going to bat an eye at Jones returning to action, much less caring if people are mocking his title reign
"People forget Daniel Cormier is a man and he's a man who has been through a lot in his life with much tougher things to deal with than people hurling insults at him because of the way he won the title. I don't think it bothers him in the least. He's been a competitor his whole life and he's been in competitions that are far more difficult than what 99 percent of the fighters in the UFC have gone through. He's enjoying his time with that belt and he's capitalizing on the opportunities that come with it," Stann said.
"I don't think any of the talk about Jon Jones or that belt may not be real, none of that bothers him. He brushes that stuff off. When you look at the life story of Daniel Cormier and you think that stuff is going to bother him? Come on."
The person who might have to deal with much more this weekend is Cormier's opponent, Alexander Gustafsson, who gets his second crack at UFC gold after losing a close decision to Jones in 2013. Gustafsson had a chance to earn a second shot at Jones and the belt earlier this year, but lost by TKO to Anthony Johnson in January before being granted the chance to face Cormier this weekend.
Gustafsson will not only have to deal with the questions about Jones, but he will also have to answer for Cormier's claims that the most impressive part of his resume is actually a loss.
"I think everybody is questioning his credentials," Stann said about Gustafsson. "I think Daniel Cormier is pushing the narrative and making people check his credentials. When you examine his record you see he has wins in a bunch of fights he was supposed to win. Daniel Cormier's right -- people give him the most credit in his career for a fight he lost against Jon Jones. I think there's a ton of pressure on Gustafsson."
Gustafsson is getting a title shot without actually winning a fight in 2015 after returning from the loss to Johnson in January. Another defeat on Saturday night will not only eliminate Gustafsson from the chance to avenge his previous loss to Jones, but will probably knock him out of title contention in the foreseeable future.
"If he loses to Daniel Cormier, he's shut out for a very long time and that's a lot of pressure on him," Stann said. "I feel like there's a lot more pressure on Gustafsson than there is on Daniel Cormier. There's a lot of people who felt Ryan Bader should have gotten the shot instead of Gustafsson."
No matter how much Cormier and Gustafsson will attempt to brush aside the questions about Jones this week, Stann knows that the former champion will definitely be the topic on everyone's mind and even if he's not reinstated by the time the fight is over, he's going to be the subject everyone will be asking about after the event is finished as well.
Jones just happens to be the greatest fighter of all time according to Stann and the nearly six months he's been gone since his arrest isn't nearly enough time for fans to forget the kind of unbelievable feats he pulled off every time he walked into the cage.
"It has not been nearly long enough for people to forget about Jon Jones. Jon Jones is the best ever to put gloves on and go inside that Octagon," Stann said. "People will try to argue with me on that and I've never lost an argument when they've tried.
"No matter what they do this weekend, people aren't forgetting about Jon Jones."