Stanley Cup Final: Penguins win second consecutive title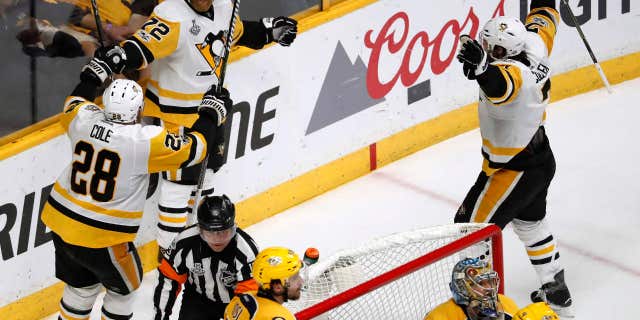 NEWYou can now listen to Fox News articles!
The Pittsburgh Penguins accomplished a Stanley Cup feat that has not been done since the late 1990s – win back-to-back championships.
The Penguins defeated the Nashville Predators in Game 6 on Sunday, 2-0, thanks to a Patric Hornqvist goal with 1:35 in the third period. Carl Hagelin added the empty-net goal to put the game, and the title, out of reach for the Predators.
Pittsburgh won its fifth title -- all of which have been clinched on the road -- to tie the Wayne Gretzky-Mark Messier-era Edmonton Oilers for sixth on the all-time list. The Detroit Red Wings in 1997 and `98 were the last champion to defend their title, but the Penguins are the first to do it in the salary cap era.
"We knew it was going to be tough all year, but we just tried to keep with it," said Sidney Crosby, who won his second Conn Smythe Trophy as postseason MVP. "We had a lot of injuries and things like that. We just kept finding ways. That was really what we did all season, all playoffs. It's great to be able to do it."
Nashville lost for the first time in regulation on home ice this postseason.
Colton Sissons had a goal erased by a whistle 67 seconds into the second period. The Predators went 0 of 4 with the man advantage, including 32 seconds of a 5-on-3 in the third.
Forget a golden anniversary: The Penguins will cap their 50th season with their names on the most famous silver cup in sports -- again. It is also the third championship for Crosby and a handful of teammates from the 2009 title team, surpassing the two won by the Penguins teams led by current owner Mario Lemieux in the 1990s.
And it's the second championship in 18 months for coach Mike Sullivan, who has yet to lose a playoff series since taking over after Mike Johnston was fired. Sullivan is the first American-born coach to win the Cup not once, but twice.
Matt Murray became the first goalie to win not one, but two Stanley Cups as a rookie after being a late-season call up a year ago and didn't play enough games to get that tag removed. That's something neither Patrick Roy, Ken Dryden or Cam Ward ever managed, but the 23-year-old Murray finished this Cup Final shutting out Nashville for the final 126:52.
The loss ended the upstart Predators' deepest playoff run in the franchise's 19-year history and one that became the talk of the town far beyond Music City, catfish and all.
The Associated Press contributed to this report.