Stanford Routs Virginia Tech in Orange Bowl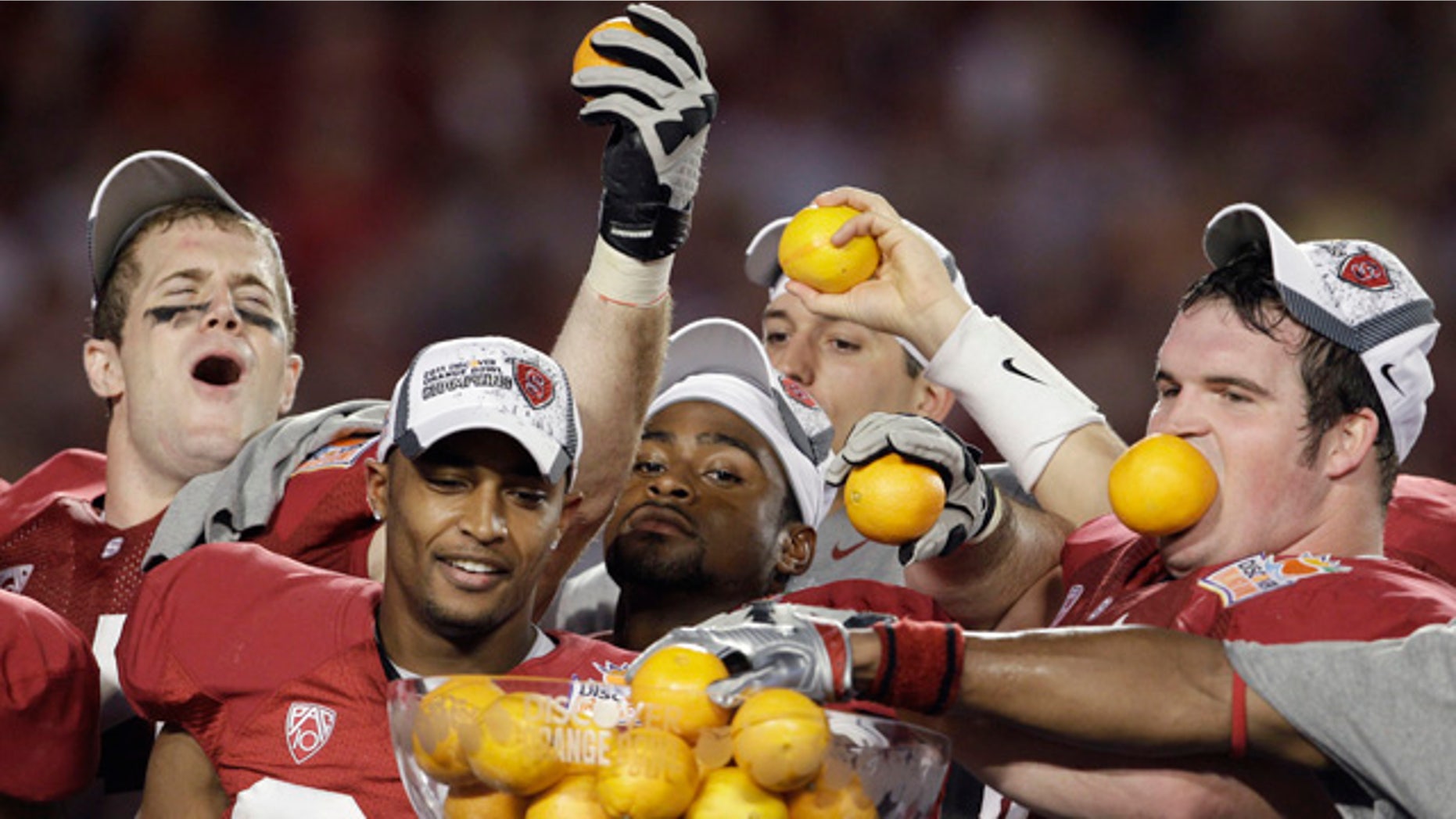 MIAMI -- As the Stanford Cardinal accepted their Orange Bowl trophy, fans chanted "One more year!" They're hoping to keep the coach and quarterback who helped the school to its first bowl win in 14 years.
Andrew Luck threw for 287 yards and four touchdowns Monday night to lead fifth-ranked Stanford past No. 12 Virginia Tech, 40-12. The blowout was the latest success for a school that went 1-11 just four years ago before hiring Jim Harbaugh as coach.
Afterward, Luck and Harbaugh deflected questions about whether the game might have been their last at Stanford. Harbaugh is expected to be courted by NFL teams and perhaps alma mater Michigan, and Luck is projected as the likely first pick in the draft if he turns pro this year.
"There are a lot of worse decisions you might have to make in life," Luck said. "I don't want to make an impulsive decision. I'll enjoy this as long as I can. I know the deadline is coming up. I'll sit down with my parents, weigh the pros and cons and go from there."
The sophomore turned in a performance reminiscent of two sideline spectators, former Stanford quarterbacks John Elway and Jim Plunkett. Elway, who is expected to become the Denver Broncos' chief football executive this week, served as honorary captain.
"As an alum, it's the greatest -- to be able to come down here and watch a great football team," Elway said. "They're well-coached, they played great. Some great players. A big thrill."
The Cardinal (12-1) likely will end the season ranked in the top 5 for the first time since the unbeaten 1940 team finished No. 2.
"They've bounced back from some terrible years and put Stanford back on the football map," Plunkett said. "I'm very proud of them."
Virginia Tech (11-3), playing in a bowl game for the 18th consecutive year, fell to 1-27 against top-5 teams. They were outscored 27-0 by the Cardinal in the second half.
"They're really good, and we helped them be good," Hokies coach Frank Beamer said. "There were a couple of long plays against our defense, and then the game got away from us. The thing kind of snowballed."
Tight end Coby Fleener caught scoring passes of 41, 58 and 38 yards from Luck, all in the final 21 minutes. Zach Ertz had a 25-yard TD reception, Jeremy Stewart scored on a 60-yard run and Stepfan Taylor added a 56-yard run. Fullback-linebacker Owen Marecic scored on a 1-yard run and had a sack.
Luck went 18 for 23 and was chosen the game's most valuable player.
"Andrew Luck is the straw that stirs the drink around here," Harbaugh said.
Fleener had six catches for 173 yards for the Cardinal, who outgained Tech 534-288.
Stanford began to pull away by going 97 yards in two plays in the third quarter. After Delano Howell made an interception at the 3, Taylor busted loose and reached Hokies territory. On the next play, Luck threw deep to Fleener for a 26-12 lead.
Luck also threw for a safety that cut Stanford's lead to 7-2. His pass was batted backward by Antoine Hopkins to 303-pound offensive tackle Derek Hall, who caught the ball rather than knocking it down and was tackled in the end zone.
"It was somewhat of a comical situation," Luck said. "Football can be a very funny game."
The Hokies' Tyrod Taylor passed for 222 yards, but he was thrown for 70 yards in losses, and Tech twice came away empty after driving inside the Stanford 35.
Taylor's scrambling skills helped the Hokies score their only touchdown. On third-and-goal he rolled left, retreated, spun 180 degrees near the Stanford bench and threw to David Wilson for an 11-yard score.
"Tyrod looked over at me and said, `Was I inbounds?"' Harbaugh said. "I go, `Yes, you were inbounds. And that was one heck of a play, young man."'
Taylor moved the Hokies 60 yards in the last 47 seconds of the first half to set up a field goal, but that was their final score.
"I'm still proud of my boys for this whole season," Taylor said. "We had a heck of a season, and it's nothing to hold your head down about right now."