Stan Wawrinka wins French Open title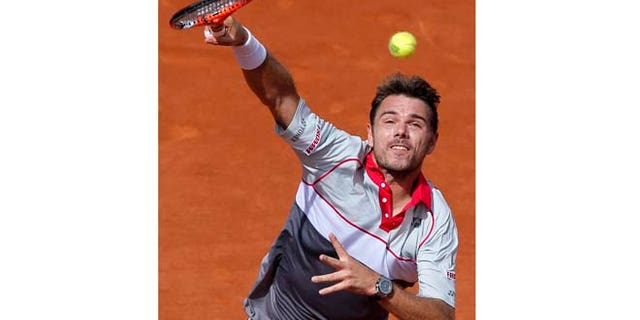 PARIS – Moments before his third French Open final in four years, Novak Djokovic jogged in a stadium hallway, near a poster of the Coupe des Mousquetaires, the silver trophy awarded to the men's champion at the only major tournament he has never won.
This time, it would be Stan Wawrinka standing between the No. 1-seeded Djokovic and the title at Roland Garros that the 28-year-old Serb needs for a career Grand Slam.
And once again, Djokovic came up one victory shy, stopped by the eighth-seeded Wawrinka and his magical, one-handed backhand. Wawrinka won his first French Open championship and second major title by stunning Djokovic 4-6, 6-4, 6-3, 6-4 in a superbly played match Sunday.
"One day, you will win Roland Garros," Wawrinka told Djokovic during the post-match ceremony. "You deserve it."
Wawrinka had exited in the first round in Paris a year ago. And he had lost 17 of his past 20 matches against Djokovic. But Wawrinka would not relent on this sunlit afternoon, compiling twice as many winners, 60 to 30.
That beautiful backhand of his was a big reason; one even made its way around the net post before landing on the red clay.
Another backhand earned the match's last break, to 5-4 in the fourth set. And, fittingly, yet another finished the match and allowed the 30-year-old Wawrinka, so long in the shadow of his Swiss Davis Cup teammate and good friend Roger Federer, to add to the championship he won at last year's Australian Open.
"No question," said Djokovic, who entered with a 28-match winning streak, "one of the best one-handed backhands that I have seen in tennis."
When Djokovic received the silver plate given to the losing finalist, the spectators gave him an unusually long ovation. Djokovic shook his head and his eyes welled with tears.
"Obviously was not easy to stand there as a runner-up again," Djokovic said, "but I lost to a better player who played some courageous tennis."
Wawrinka was making his 11th French Open appearance, equaling Federer and Andre Agassi for most attempts before winning it.
This was also Djokovic's 11th French Open. He has won eight Grand Slam titles, with five at the Australian Open, two at Wimbledon and one at the U.S. Open. But he must wait for another year if he's to become the eighth man in tennis history with at least one title from each major.
Djokovic came up short against Rafael Nadal in the 2012 and 2014 finals, but he cleared that hurdle this year, defeating the nine-time champion in the quarterfinals. Djokovic eliminated No. 3 Andy Murray in a two-day, five-set semifinal that concluded about 25 hours before Sunday's start.
"Maybe in some important moments, I didn't feel I had that explosivity in the legs, but, look, at the end of the day, (Wawrinka) was just a better player," Djokovic said.
Normally, it's the sliding, stretching, body-contorting brand of defense Djokovic delights in that wears down opponents, but he looked spent by the end Sunday, when the finalists repeatedly engaged in lengthy baseline exchanges that went 20, 30, even 40 strokes.
When he clinched the first set, Djokovic swiveled to look toward his coaches, Boris Becker and Marian Vajda. Djokovic stood tall and bellowed. The trophy, propped on the wooden edge of the president's box, stood but a few feet away, glistening. At that moment, it was but two sets away.
So close, yet so far.
Wawrinka broke to take the second set when Djokovic faltered on a 23-stroke point, slapping a backhand long. Djokovic reared back and spiked his racket off the court, caught it, and, unsatisfied, slammed it down a second time, mangling the thing. That drew derisive whistles from spectators and a warning from the chair umpire.
"You go through emotions," Djokovic said. "Of course I was more nervous than any other match."
By now, Wawrinka was the aggressor, and his shots kept finding their appointed marks. Djokovic made one last stand, with zero unforced errors on the way to a 3-0 lead in the fourth set. Wawrinka, though, reeled off six of the last seven games.
When it was over, Wawrinka tossed his racket overhead. At the net, Djokovic patted the 2015 French Open champion on the cheek.
Djokovic said later it sometimes seems as if all the attention others pay to his pursuit of a title in Paris neglects to take into account that there are others, such as Wawrinka, just as intent to win.
"It feels like I'm the only player who wants to win this trophy, and nobody wants to win it as much as I do," Djokovic said. "This is completely untrue."