Stamkos re-emerges, Lightning head back to Eastern Conference finals for 1st time since 2011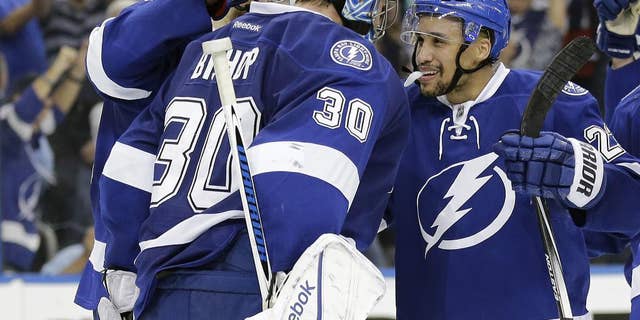 TAMPA, Fla. – So much for all those questions about what's happened to Steven Stamkos in the NHL playoffs.
The two-time Maurice Richard Trophy winner and the Tampa Bay Lightning are headed back to the Eastern Conference finals for the first time in four years after Tuesday night's 4-1 victory over the Montreal Canadiens ended their second-round series in six games.
Stamkos failed to score in Tampa Bay's opening-round matchup against Detroit. He had three goals against the Canadiens, the last helping propel the Lightning after Montreal fought off elimination in Games 4 and 5.
The Lightning move on the conference finals, where they'll face either the New York Rangers or Washington Capitals, who play Game 7 of their second-round series on Wednesday night.
The Lightning are one stage away from the Stanley Cup Final for the first time since 2011, when they lost to the Boston Bruins in seven games. Tampa Bay won its only NHL title in 2004.
"It's exciting. I've always talked about 2011 was the most fun I've ever had playing this game. We're getting right on that (again) right now," said Stamkos.
"Obviously, I want a little better result this time. This group has been resilient all year. ... We've got to believe that anything's possible here," the captain added. "We're obviously going to be paying close attention to the game (Wednesday night)."
After watching Tampa Bay's series lead shrink to 3-2, Stamkos urged his teammates to not play "scared" in trying to finish off the Canadiens and avoid a trip to Montreal for Game 7.
The Lightning responded with their best game of the series, maybe the playoffs.
"We were talking about this game like it was Game 7," Stamkos said. "We clogged it up good in the third period. It was as good a defensive period as we've played."
Montreal's loss means the last of five Canadian-based teams that reached the postseason is eliminated. A Canadian-based team hasn't won the Cup since the Canadiens did it in 1993.
Nikita Kucherov had two goals and an assist for Tampa Bay on Tuesday, finishing with six goals in the series. Ondrej Palat also had a goal and an assist in the clincher, while Ben Bishop stopped 18 shots to outperform Montreal goaltender Carey Price.
"Our goalie continues to step up in big situations," Lightning coach Jon Cooper said. "The longer the series goes, Ben just gets better and better."
The Lightning finished the Canadiens despite playing without forward Ryan Callahan, who had an emergency appendectomy on Monday night. Cooper has not ruled out getting Callahan back in the playoffs.
"Cally's been a warrior for us since he's been here," Stamkos said. "We miss him out there for sure, but we had his name up on the board before the game as a little inspiration, and guys stepped up."
Tampa Bay is headed to the conference finals just a year after being swept by Montreal in the opening round.
"Last year, we were a young group. I think half the team didn't play a playoff game," before facing the Canadiens, Kucherov said. "This year we are more mature, and we have more confidence."
Bishop, who had no previous NHL playoff experience before beating the Red Wings in the first round, sat out the 2014 postseason with an injury. Losing a player such as Callahan in a key situation also might have doomed Tampa Bay in the past.
This is a different team, though.
"We've had tons of depth on this team all season," Stamkos said, applauding the job Jonathan Marchessault did filling in Tuesday night. "I thought everyone had a great game, and that's why we got that result."