Stability helping Hawks' Leddy feel more at home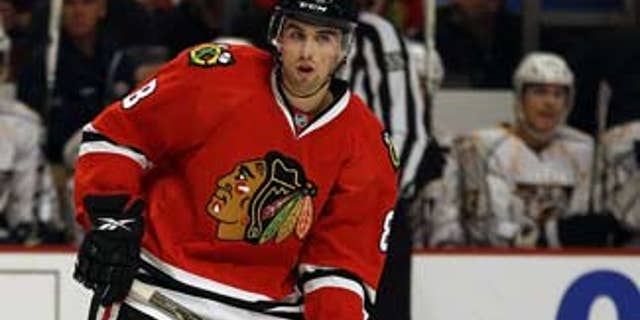 The word from Stan Bowman has come enough times this season to make Nick Leddy's head spin. Chicago's 19-year-old rookie defenseman has been sent to the American Hockey League and called up to the big club six times since he won a spot in the opening-night lineup.
Most of the transactions involving Leddy simply have been for flexibility with the salary cap, sending him down during stretches where the Hawks had a break in the schedule. However, it didn't stop the youngster from feeling the stress of the business.
"It's been a whirlwind," Leddy told NHL.com. "This is my first big season and it's been like a business. Last year I experienced it with the trade (from Minnesota), but being sent up and down, the uncertainty has definitely been a little weird."
Bowman probably can take Leddy off his speed dial. It appears the young blueliner's role on the Blackhawks now is stable.
Leddy, who was acquired from Minnesota last February, has played in 26 straight games with the Hawks since winning a bronze medal with Team USA at the 2011 IIHF World Junior Championship. Lately he's been playing most of his even-strength shifts with Norris Trophy winner Duncan Keith, and he's fared quite well, too, according to coach Joel Quenneville. Leddy also has seen time killing penalties.
He might see time there Sunday in Washington when the Blackhawks take on the Capitals in the NBC Sports NHL Game of the Week (12:30 p.m. ET).
"Everyone is saying he's Dunc's protégé, and I don't know about that yet, but he's really good," right wing Patrick Kane told NHL.com. "He's calm with the puck and it seems like he makes a lot of plays. You tell him to do one thing and he'll do it the next time out. I think he's going to be really good."
Leddy is not polished -- he's two years removed from playing high school hockey in Minnesota -- but that hasn't deterred the Blackhawks from letting him learn on the fly in the middle of a playoff race. By pairing him with Keith, Quenneville also has given the Leddy the confidence that he belongs as a top-four defenseman in the NHL even if his age and his minutes would suggest that's not the case just yet.
"Playing with him has just helped so much," said Leddy, who is averaging less than 15 minutes of ice time per game and has 2 goals in 32 games. "He's such a good player and he makes everybody around him better. I think that's a big part of how he's teaching me. He just makes everybody better and I feel 100-percent more comfortable knowing that I'm playing with him."
Quenneville initially made the move to pair Leddy with Keith because he wanted to take some of the pressure minutes off his gold-medal pair of Keith and Brent Seabrook, who now plays most of his even-strength minutes with Niklas Hjalmarsson. Brian Campbell has seemed to fit well with newcomer Chris Campoli as the team's third pairing.
Leddy has made his share of rookie mistakes, but overall he's earned the trust of the coaching staff.
Quenneville praised Leddy's "poise with the puck and his recognition of plays" as being high-end. He said he helps Keith "alleviate forecheck pressure," and they're a good pair because "they both complement one another with getting loose pucks and making direct plays to get out of their own end as cleanly and quickly as possible."
"With him, he really anticipates, sees the game well," Quenneville added. "Knowing that's one of his strengths, that's maybe why we're comfortable with him against top players and seeing situations that he's going to learn from as you go along right now. His anticipation level for a young kid is very high-end and it's a good trait to have."
Kane called Leddy a "fun" defenseman to play with because of his ability to skate and move the puck along with his fearlessness in joining the rush.
"He's got a good shot from the point, some mustard on it," Kane said. "He has really good hands and he's a good passer, too."
Leddy said the key to his NHL staying power the last two months has been his improved defensive play. It's an area he's been able to focus on more while playing with Keith, who is quick enough and sharp enough to cover for the rookie when he forgets to err on the side of caution.
"By focusing on that area the offense will come, and playing with Duncs helps," Leddy said. "I've really tried to be good in the defensive zone."
"He's usually out there with myself, (Jonathan) Toews and (Patrick) Sharp, so his mindset is probably play defense first and try to get us the puck," said Kane.
It is, however, hard to ignore that Leddy still appears a bit uncomfortable in a charismatic, star-studded, championship locker room. He talks quietly when he does interviews and Kane said he's similarly quiet when the media isn't allowed in the room.
"But that's how everyone seems when they come into the League when they're that young," said Kane, who debuted at 18 and now, at 22, is the second-youngest player on the roster. "He's really, really confident with his game. The coaches like him a lot. I think he's keeping to himself so he can keep playing well to stay up here."
Follow Dan Rosen on Twitter at: @drosennhl