St. Louis marathon winner stripped of title because she didn't run the race, officials say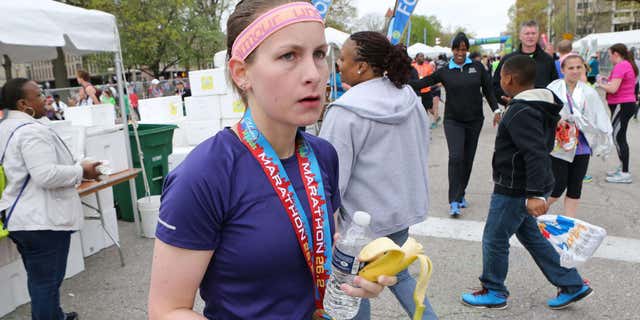 The first woman to cross the finish line at the recent St. Louis Marathon had her victory taken away from her after officials determined that she did not run the event, the St. Louis Dispatch reported Friday.
Kendall Schler is believed to have slipped onto the course on Sunday after the last checkpoint in an attempt to trick race officials into believing she ran the whole marathon. Officials said that Schler failed to register any times on the 26.2 mile route, and that a review of the previous year's marathon, where Schler registered a third place finish, also did not reveal any image of her on the course.
"It's a difficult situation for everybody, including the people who run a fair race and don't get the recognition they should receive," Nancy Lieberman, president of GO! St. Louis, told the Dispatch. "I said to her, 'It looks like you perpetrated a fraud."
When Schler finished the 2014 marathon, her time qualified her to run in the Boston Marathon next Monday.
When Schler was confronted with the accusation, she was told she would be disqualified unless she provided photos of herself on the course in 2014. When she didn't, Schler's name was removed from the list of entrants.
Schler told Lieberman that she had removed the timing strip from her bib both years. The strip records a time – the starting line, finish and five spots within the course. Schler did not register a time at any spot.
Click for more from the St Louis Dispatch.