St. Louis 'Kid-inals' stymie Dodgers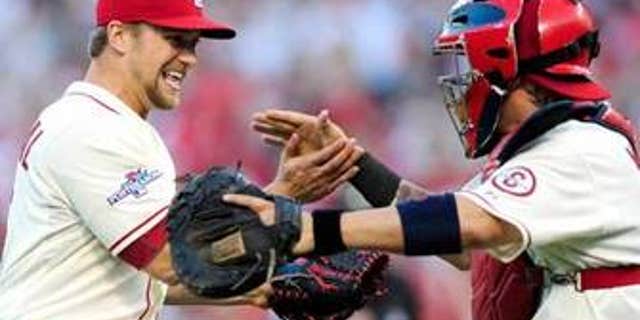 NEWYou can now listen to Fox News articles!
ST. LOUIS – First, it was starter Michael Wacha. He pitched brilliantly into the seventh inning. Then they emerged from the bullpen -- Kevin Siegrist and Carlos Martinez and Trevor Rosenthal.
They came from different places: Wacha starred at Texas A&M. Siegrist was drafted out of Palm Beach Community College in Lake Worth, Fla. Martinez, a native of the Dominican Republic, signed with the Cardinals as an amateur free agent when he was 18. Rosenthal, born in Missouri, pitched at a community college in Arkansas City, Kan.
But in Game 2 of the National League Championship Series, they were more alike than different. They pitched with firm fastballs and savvy well beyond their years. And not one of them surrendered a run in the Cardinals' crisp 1-0 victory over the Los Angeles Dodgers to give them a 2-0 series edge.
And one more thing: All of them are rookies.
Aren't they supposed to be nervous?
"They might be nervous, but I think they're so dialed in," observed David Freese, the frequent postseason hero, who scored the game's only run.
"You've got Yadi (Molina) back there. You've got to give a lot of credit to him. But these guys go out and execute."
Saturday, they combined for an historic win. Consider:
* The Cardinals now have used five rookie pitchers in the series, including Seth Maness' Game 1 relief appearance. That's a record for a League Championship Series, according to STATS LLC, surpassing the four rookies used by the '06 Cardinals, '07 Indians and '08 Dodgers.
* Saturday marked only the second time a team used four rookie pitchers in a Major League Baseball postseason game, according to STATS LLC. The Cardinals also were responsible for the first -- in Game 3 of the 1944 World Series against the St. Louis Browns.
* Rookies accounted for 26 of the 27 outs recorded by St. Louis pitching, the lone exception being Randy Choate's left-left encounter with Carl Crawford in the eighth.
Remember all of this the next time you hear teams must possess experience in order to win tight postseason games. The Cardinals secured back-to-back LCS victories with a half-rookie staff (six of 12).
Together, they've flummoxed a Dodgers lineup that produced 26 runs in a four-game series victory over Atlanta in the first round. Now the Dodgers are mired in streak of 19 consecutive scoreless innings -- and counting. Yasiel Puig is 0-for-10 with six strikeouts against St. Louis, and star shortstop Hanley Ramirez is questionable for Game 3 because of bruised ribs.
Oh, and the Cardinals have Adam Wainwright lined up for Monday's Game 3 at Dodger Stadium. He's 4-0 with a 2.03 ERA in 15 postseason games, threw the final pitch of the 2006 World Series, and has loads of experience in big moments -- which, as his teammates are proving, might not be as important as we once thought.