Spurs star Kawhi Leonard will not play in Game 6 against the Rockets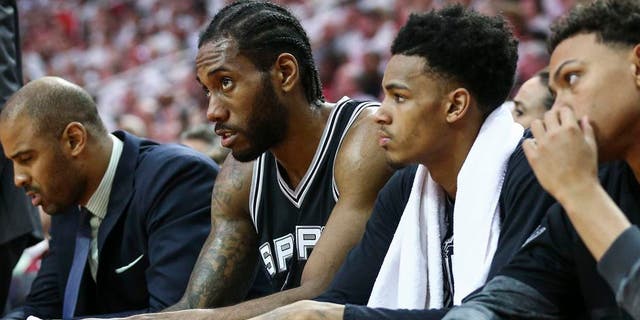 The San Antonio Spurs will not have Kawhi Leonard in the lineup Thursday against the Houston Rockets in a potential series closeout game. Leonard, who suffered an ankle injury in the Spurs Game 5 victory, missed all of the fourth quarter and overtime in Tuesdays 110-107 win.
Jonathan Simmons will start in Leonard's place. Leonard, who is averaging 23.8 points, 9.8 rebounds and 5.8 assists in the series, played 38 minutes and finished with 22 points and 15 rebounds Tuesday as the Spurs took a 3-2 lead.
The Spurs were already shorthanded before losing Leonard as starting point guard Tony Parker was ruled out for the rest of the season after rupturing a quad in Game 2 of the series.
Leonard, a two-time Defensive Player of the Year, has been the Spurs No. 1 option this season. He averaged a career-high 25.5 points and 5.8 rebounds in the regular season to lead the Spurs to a 61-21 record.
Soobum Im-USA TODAY Sports | Soobum Im