Spurs, Rockets ready for reset after surprising Game 1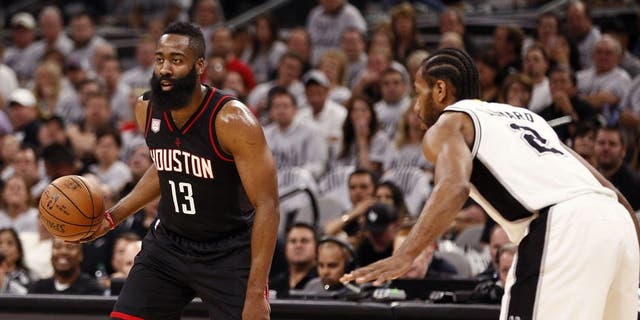 No one expected the Houston Rockets to explode for a 27-point win over the San Antonio Spurs in Game 1 of the teams' Western Conference semifinal series on Monday.
After the blowout, both the Rockets and Spurs took the result in stride, knowing it was likely an anomaly while trying to find ways to explain the romp.
The teams meet for Game 2 on Wednesday night at the AT&T Center in San Antonio facing a different scenario, at least as far as competitiveness and execution on the Spurs' part should be expected.
One game with a near-perfect result does not make for a winning series, even if it resulted in the worst home loss of San Antonio's storied postseason history.
"It's a very long series and this was just Game 1," Rockets forward Ryan Anderson said. "We had a great game but we can't just be happy after one game -- we've got to be as good or better the next game."
Trevor Ariza led the Rockets with 23 points in Game 1 and James Harden added 20 points and 14 assists in three quarters of play. Four other Houston players scored in double figures and Clint Capela added 13 rebounds as the Rockets dominated in every facet of the game.
Houston's 22 made 3-pointers were a playoff high for a San Antonio opponent. The Rockets' starters outscored the Spurs' first-line players 77-44 in the first three quarters.
"There's always two sides of every coin," Rockets coach Mike D'Antoni said. "We played as well as we can play and they missed open shots. They had opportunities early and it kind of got away from them. We don't expect it to be like this always, but we need to defend and rebound like we did. The defense was key to everything."
The Rockets' goal in Game 2 and the rest of the series will be playing to the lofty benchmark they set Monday and duplicating their performance on the road against a Spurs team with the league's second-best record in the regular season.
"I'm sure we will be watching film looking for mistakes we can correct," Anderson said. "San Antonio is going to be preparing and looking to put Game 1 behind it and we can't back down in any game."
Kawhi Leonard led the Spurs with 21 points, 11 rebounds and six assists while Tony Parker and Jonathon Simmons added 11 points apiece. San Antonio got just four points and six rebounds from LaMarcus Aldridge and eight points from Danny Green, all in the third quarter when the game was already decided.
"It's just one game, but at the same time we have to understand what happened," Parker said. "We'll watch some film to see where we need to improve, but if Houston shoots the ball like they did in Game 1 we'll just have to shake their hands."
San Antonio coach Gregg Popovich laughed off a question from a reporter who asked if he was worried about the Spurs' ragged play carrying over to Game 2.
"There's not much that coaches don't worry about, but that won't be one of them in all honesty," Popovich said. "We've got to play a lot smarter than we saw tonight. I thought Houston played really well in every facet of the game."