Spurs look to take commanding lead against Rockets tonight in Game 4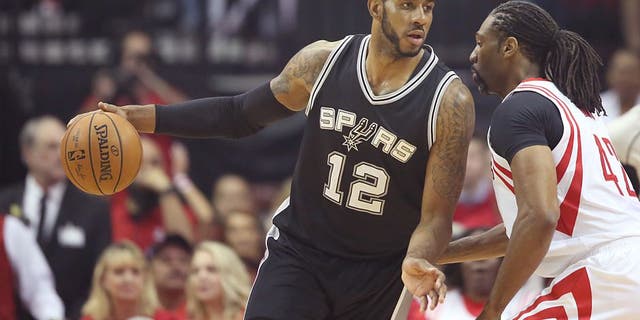 HOUSTON -- As Houston Rockets guard James Harden barreled through the San Antonio defense on Friday night en route to 30 second-half points, what gradually became clear was the Spurs' willingness to let Harden thrive as long as his teammates did not.
Plenty of the postgame dialogue celebrated the Spurs' height advantage and how they parlayed it into a 103-92 victory over Houston in Game 3 of this Western Conference semifinal series. The adjustment that proved more decisive was San Antonio ceding scoring opportunities to Harden while muting the Rockets' other perimeter threats.
Harden scored 56.6 percent of Houston's second-half points, doing so with an impressive 75.0 effective field goal percentage. But Harden recorded two assists following the intermission and had just one teammate reach double figures in scoring after halftime. Center Clint Capela had 10 of his 12 points after the break.
Houston aims to square the series at 2-2 in Game 4 on Sunday night at Toyota Center.
After averaging a league-leading 11.2 assists during the regular season and 12 in Games 1 and 2 in San Antonio, Harden produced five assists in Game 3. Houston fell to 1-5 in the six games that Harden recorded six or fewer assists this season.
"It's a battle I've been trying to figure out all year long, to find a happy medium between scoring the basketball and facilitating," said Harden, who finished with 43 points. "I think I just go with basketball instincts. If I have a shot be aggressive and shoot it. If not, get off the ball and have someone else make a play."
The Rockets exploited foes based on decisions Harden makes with the ball, and when he is able to score and facilitate, their offense is often overwhelming. Harden recorded 20 points and 14 assists in the series opener, needing just 13 shots to orchestrate an offense that produced a 39-point lead and a 126-99 win.
Houston finished 19-10 when Harden produced 30-plus points and 10-plus assists during the regular season. Preventing him from striking that balance, even while running the risk of Harden exploding, renders the Rockets' offense less frightful. Excluding Harden, Houston went 0 for 8 on second-half 3-pointers.
"It's a challenge," Spurs coach Gregg Popovich said. "They've got great shooters, good athletes, good scheme, and just as anyone else would do we're just trying to do our best to get out to those shooters. James does a great job making you think about what you have to do to him, how much you can help off other people. It's enough to drive you crazy but you just do your best. That's why people score."
The Spurs will again be without point guard Tony Parker in Game 4 after he was lost for the season with a quadriceps injury in Game 2. Rookie Dejounte Murray will again start with Patty Mills coming in off the bench.
Power forward LaMarcus Aldridge exploded for 26 points in Game 2 after totaling just 19 over the first two games. Star small forward Kawhi Leonard had another strong game with 26 points, 10 rebounds and seven assists.
What proved crucial for San Antonio was that while Harden scored at will in the second half, so too did the Spurs. After mustering only 43 points prior to the intermission, San Antonio scored 60 in the second half with a 63.9 effective field goal percentage.
While there was no correlation between Harden finding his offensive rhythm and the Rockets' defensive collapse, their shortcoming on that end of the court left them acknowledging one more thing that needs to change Sunday night.
"They played harder than we did in the second half. We can't allow that, especially at home," Rockets forward Trevor Ariza said. "We've got to do a better job of matching their physicality and playing harder."