Spurs guard Tony Parker shrugs off accolades, sets sights on winning another NBA title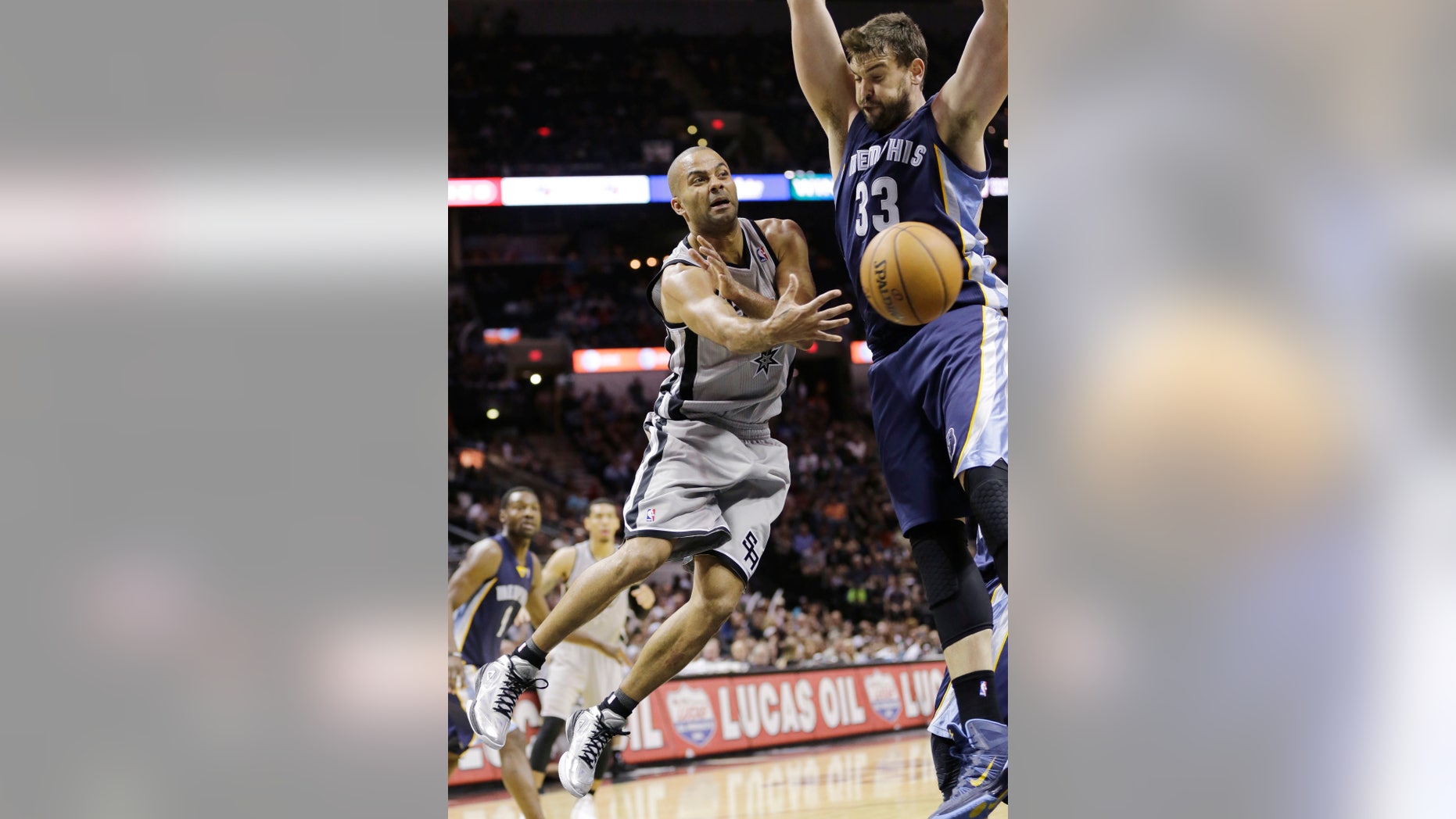 SAN ANTONIO – Winning is the best antidote for a painful loss.
Just ask Tony Parker.
The San Antonio Spurs' point guard spent a big chunk of his summer in Europe leading his native France to its first Euroleague Championship, knocking off Spain and Lithuania to capture the title on Sept. 22. That championship, and being named France's greatest athlete ever in a poll conducted by L'Equipe, blunted some of the pain that came with losing the NBA Finals to Miami in a seven-game clash.
"It was a great summer," Parker said. "Obviously, it was worth it. Big win for France; first win in the history. The last week it was just an experience you only live once in a lifetime. It was crazy in France, people were so happy."
So, too, was Parker.
"It definitely helped," he said. "It was tough, obviously, it was really tough, but to have only three weeks and to play with the national team, it was a good therapy to think about something else and have new goals."
The goals for the Spurs remain the same — to win NBA titles. Tim Duncan and Manu Ginobili are back, giving San Antonio its Big Three, but only Parker can really be considered to be in his prime and among the best point guards in the NBA.
It will be on the Big Three — but particularly Parker — to drive the Spurs back to the heights of last season. The team will need to try and forget they were 5 seconds from closing out Miami for the NBA title in Game 6 before losing in overtime and then dropping Game 7 for their first loss in five finals appearances.
Another title would certainly be therapy.
"We'll get there, we'll get there," Duncan said. "I don't think it's time to heal all wounds yet, we're going to let it fester for a little while. We're going to continue to think about it because it's going to continue to hurt whether we talk about it or let it go or not."
Despite getting minimal rest over the summer, the 31-year-old Parker looks refreshed and eager to begin his 13th season.
"I love basketball," he said. "I'm very passionate about it. The way I play, I'll be fine. I have next summer to rest."
Not that Parker would get much sympathy otherwise from his coach.
"No, what's he make, $200 million a year," Gregg Popovich said with a smile when asked about resting Parker. "Everybody says he's a cute little guy and all this kind of stuff, so he must be like 20, 21? He's going to play."
Popovich was joking, but a tireless and near-flawless performance is truly what everyone has come to expect from Parker. He has won three NBA titles, is a five-time All-Star, two-time All-NBA second team, was the 2007 NBA Finals MVP and was named the FIBA EuroBasket MVP after leading France to its first title.
"I'm really proud of him," Ginobili said. "It's not easy to do. He really needed to win one of those championships, he was missing that, and I'm really glad he did it."
Parker is a hero in France and is the heart of the Spurs, a franchise that is happy to be one of the NBA's wallflowers.
Parker was once married to television star Eva Longoria. He was among People Magazine's "50 Most Beautiful People" in 2003 and was voted as the "sexiest basketball player alive" in Glamour Magazine's November 2013 edition. Parker still produces squeals of delight wherever he goes, including San Antonio's training camp at the Air Force Academy in Colorado.
"He's one of the sexist people in the world isn't he?" Duncan said, playfully puzzled. "Still? No, that was like 10 years ago, never mind."
Parker is still a kid brother to Duncan, the affable son of Popovich and the clarity to Ginobili's calamity.
"There is a lot of joking going around and he takes it well," San Antonio guard Patty Mills said. "But also serious stuff as well. The way the system is run here in San Antonio, Pop likes to treat everyone equally. The last guy gets yelled at just as much as Tony Parker gets yelled at. I think that's what's so great about (Parker), being able to handle that and understand it just shows how professional he is."
Not that Popovich has had much cause to yell at Parker.
Last season, he averaged 7.6 assists and 20.3 points, the second-highest scoring average of his career. He has perfected a 180-degree spinning layup that leaves defenders just as frustrated as they are with his teardrop shot.
In spite of all the individual accolades and statistics, Parker enters the new season with the same goal he had entering last season's run to the finals. He got off to a fast start this week, scoring 13 points and adding nine assists in a season-opening win over Memphis.
"I'm so excited to start with the Spurs and try to win a championship," Parker said. "I get another opportunity to get Timmy out with a championship. I'm ready to go."