Spurs, Grizzlies set to resume postseason rivalry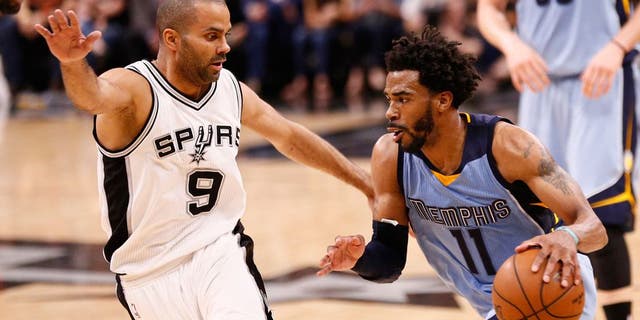 NEWYou can now listen to Fox News articles!
Plenty of grit and determination will be on display when two slug-it-out rivals, the San Antonio Spurs and the Memphis Grizzlies, square off for the first round of the NBA playoffs. The bell rings for Game 1 in this heavyweight fight for the second-seeded Spurs and No. 7 Grizzlies on Saturday at the AT&T Center in San Antonio.
The two teams split their season series in 2016-17 and have met four previous times in the Western Conference playoffs, with the Spurs sweeping all but one of the matchups. That one series was a big one though, as the eighth-seeded Grizzlies upset the top-seeded Spurs in the first round in 2011.
Memphis' chances to pull another upset took a huge blow when the team announced Thursday that guard Tony Allen, it's defensive ball hawk, would be sidelined indefinitely with a strained calf he suffered in the Grizzlies' season-ending loss at Dallas on Wednesday.
"Memphis is a very well-rounded team -- they are physical and very good defensively," Spurs coach Gregg Popovich said. "They are a major challenge and a very good basketball team. It doesn't matter how much we've played them in the past month -- we still have to play them and every night is a new game."
San Antonio enters the playoffs after a banner regular season in which it went 61-21, equaling the fourth-best single season record ever and the first time in franchise history they have won 60-plus games in consecutive seasons. The Spurs have now won at least 61 games six times since they entered the NBA in 1976; they have five league championships since 1999.
The Spurs' list of superlatives from this season are lengthy: they lead the league in three-point percentage (.391); have the best defensive rating in the league (100.9) and second-best net rating (7.9) behind Golden State.
San Antonio finished out the regular season with 30 wins on the road, the most the Spurs have ever logged in a single season, and are in the playoffs for the 20th consecutive season -- the longest active streak in the NBA (Atlanta is second with nine).
San Antonio ended the regular season with three losses in a row, the first time all year that the Spurs had a three-game losing streak. Those losses, and that losing streak, mean absolutely nothing -- San Antonio had nothing to play for and is a team that can turn on its execution like a light switch.
"Those last games are always tough to play -- I'm just happy everybody is healthy and we have no injuries, that was our main thing," Spurs guard Tony Parker said. "Now everyone is focused on our main goal, and that's winning a championship. You have to look at the big picture."
Memphis (43-39) lost its final two regular-season games and shuffled into the postseason with five defeats in its last six games. It also carries a six-game road losing streak, including a 95-89 overtime loss at San Antonio on April 4 that allowed the Spurs to square the season series between the two teams.
"We have to be more disciplined and continue to help each other," Grizzlies center Marc Gasol said. "If we're going to do anything in the playoffs, it's going to be as a team on both ends of the floor. We need to be more consistent."
The relentless 35-year-old Allen was to be Memphis' best hope of containing Spurs erstwhile MVP candidate and star Kawhi Leonard, but he's been ruled out indefinitely, with the early prognosis having him miss the entire first -round series against the Spurs.
A member of the NBA's All-Defense team for the past five years (and a sixth straight selection when the season's postseason awards are announced in the coming weeks), Allen was able to help the Grizzlies hold Leonard to 42.6 percent shooting the three meetings this season.
His absence puts added pressure on Grizzlies guard and scoring leader Mike Conley, who understands the team will go as far as he can carry it.
"I see it as an opportunity," Conley said. "It drives me. I know that I'm going to have to play well and Marc (Gasol) is going to have to play well. I've seen the benefits of when we're aggressive."
Game 2 is Monday in San Antonio before the series switches to Memphis for games 3 and 4 on April 20 and 22.