Spurs, Grizzlies down to best-of-3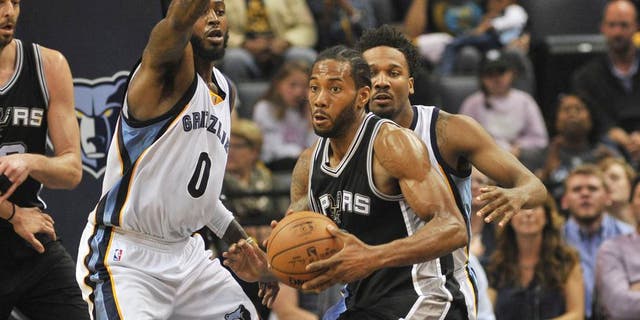 NEWYou can now listen to Fox News articles!
The first-round Western Conference playoff series between the Memphis Grizzlies and San Antonio Spurs has, after four games split between the two teams, come down to which squad can win two of the next three.
The rugged battle to advance (or is it survive?) is tied at 2-2 after the Grizzlies answered San Antonio's two wins at home with two on their home floor, and will be renewed on Tuesday night at the AT&T Center in San Antonio.
Memphis squared the series with a 110-108 overtime victory on Saturday in which the Grizzlies found a way to win despite committing 23 turnovers that led to 31 Spurs points and a career-high 43 points from Kawhi Leonard, San Antonio's erstwhile MVP candidate.
The difference on Saturday was Marc Gasol's floating jumper over LaMarcus Aldridge of San Antonio with 0.7 seconds left in overtime.
"(Gasol) made the play that mattered," said Mike Conley, who led the Grizzlies with a postseason franchise-record 35 points and added nine rebounds and eight assists. "It's scary as hell watching (Leonard). He was unbelievable.
"We have to play with the same intensity on Tuesday. Of course, we're in desperation mode. But according to the media, we were supposed to be swept anyway."
San Antonio coach Gregg Popovich said both teams played their hearts out in Game 4.
"It was just a fantastic basketball game," Popovich said. "The fans got their money's worth. Marc made a great shot. L.A. (Aldridge) contested it very well; it (went) down.
"We got down a couple of times but stuck with the program and kept on playing, which is always a good thing to see."
Leonard carried the Spurs into the overtime by scoring their last 16 points. In the final four minutes, he was 5 of 7 from the floor (including 3 for 3 from 3-point range), 3 of 3 from the line, took a rebound (after one of his own misses, leading to free throws) and stole the ball twice, with both steals ending up in baskets he made.
"Honestly, I'm taking suggestions on how to guard Kawhi Leonard," Memphis coach David Fizdale said. "I've tried everything and the guy is just tough. Man, is he a superstar."
Tony Parker added 22 points for the Spurs two nights after he didn't score and wasn't credited with an assist in San Antonio's Game 3 loss.
"You know it's going to be a physical series," Parker said. "Memphis is going to make it hard. You know they are going to do a lot of fouling and stuff like that. They made more shots.
"Obviously, playing at home, they play with a lot more confidence and I have to give them credit. I thought we played well enough to win the game."
The teams have split eight games this season, with the home team winning each time.
"Guys are more comfortable at home," Fizdale explained. "You know, sleeping in their own beds and playing in their own arena. For our young guys, those first few games they had the jitters and maybe coming home, getting their feet wet here, playing well and now going back out on the road, they will feel a little bit more comfortable."
Received 04/24/17 03:51 pm ET