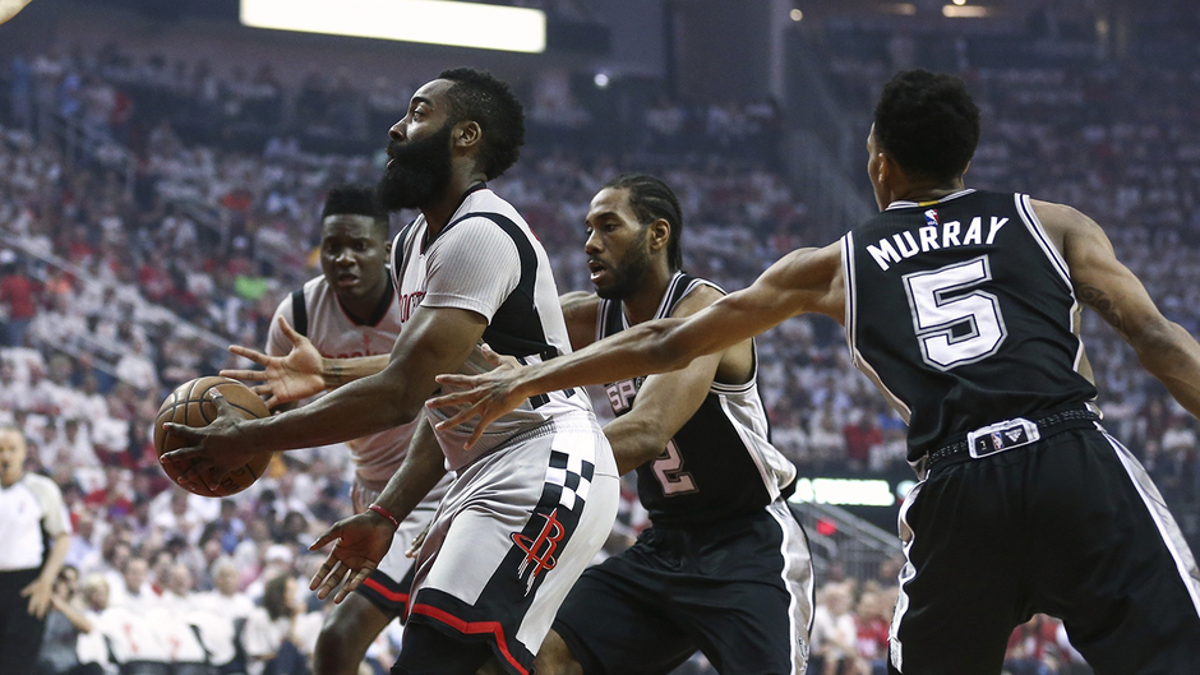 HOUSTON (AP) -- James Harden scored 28 points, Eric Gordon added 22 and the Houston Rockets rebounded from consecutive losses to beat the San Antonio Spurs 125-104 on Sunday night and tie the Western Conference semifinal at 2-2.
The Rockets never trailed and used hot 3-point shooting to pull away in the third quarter.
Game 5 is Tuesday night in San Antonio.
Jonathon Simmons had 17 points for the Spurs, and Kawhi Leonard and LaMarcus Aldridge added 16 apiece.
Houston made 22 3-pointers in a blowout win in Game 1, but had struggled from long-range in its two losses. The Rockets' 3-point shooting, a hallmark of their success in the regular season, got back on track Sunday when they made 19 of 43, led by six from Gordon.
The Rockets led by 15 entering the fourth quarter and immediately padded the lead when Gordon made a 3-pointer to open the period. Simmons made a 3 on the other end before Gordon struck again with his sixth 3-pointer to leave the Rockets up 97-79.
The Spurs were unable to cut into the lead after that and both teams had mostly backups on the court by the midpoint of the period with the game out of hand.
Houston's offense bounced back in a big way after the team had been held to below 100 points in each of the last two games after failing to reach the mark only five times in the regular season.
The offense was helped by a more balanced scoring attack with seven players scoring in double figures after only three Rockets scored more than 10 points in Game 3. Harden had 12 assists after managing just five in the last game and added five rebounds.
The Rockets were up by five early in the third quarter before using an 8-2 run to make it 70-59 with about eight minutes left in the quarter. Gordon started that run with a 3-pointer and Harden capped it when he stepped back and sunk another 3 with Aldridge in his face.
Harden was shaken up soon after that when he banged his left knee into Patty Mills as he attempted to drive to the basket. He fell to the court grabbing his knee as Houston called a timeout and trainers rushed to him. But there was no need for alarm, as he shook off the injury and returned after the timeout to make a 3-pointer seconds later.
It was the first of three straight 3-pointers for the Rockets in a 9-2 run that made it 79-61 midway through the quarter.
San Antonio scored the next eight points, with six from Aldridge, to cut it to 79-69 with 3 1/2 minutes left in the third.
Houston still had a 10-point lead late in the quarter before closing out the third with an 8-3 run that pushed it to 91-76 entering the fourth. Ryan Anderson wrapped up the scoring in that quarter with a 3-pointer at the buzzer.
Houston led by as many as 15 in the first half and was up 57-53 at halftime.
TIP-INS
Spurs: Rookie Dejounte Murray had eight points in his second game in the starting lineup since Tony Parker suffered a season-ending leg injury in Game 3. … Pau Gasol had eight points and seven rebounds. … Danny Green finished with just 3 points.
Rockets: Hall of Famer Hakeem Olajuwon sat courtside. … Nene was pulled his left groin in the first quarter and didn't return. … Trevor Ariza had 16 points for his second straight game with double figures.
UP NEXT
After Game 5 in San Antonio on Tuesday, the series shifts back to Houston for Game 6 on Thursday night.