Sprinter Allyson Felix to focus on 100 and 200 meter races at Olympics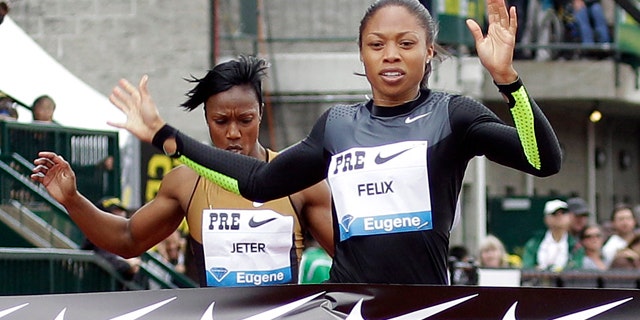 Sprinter Allyson Felix will focus on the 100 and 200 meter races at the U.S. Olympic trials, forgoing an attempt at a 400-200 double in London, her coach, Bob Kersee, told The Telegraph.
This decision will give Felix her best chance of winning a gold medal in the 200, after two consecutive silver medals for running the 4x100 and the 4x400 relays at previous Games.
"It will be easier for her, as well as helping the team out, if she runs the 1[00] and the 2[00]," Kersee said of the Thursday trials, that continue until July 1.
He went on to say, "If something happens in the 100, she still has enough time to recover and make the team in the 200," of the two finals that are a week apart.
This change has comes after Felix's attempt to win both the 200 and 400 meter races at last year's world championships in South Korea. She ended up finishing third in the 200 after taking second in the 400. Before her loss, she had won three consecutive world titles in the 200.
"I just didn't feel like myself [in the 200]," Felix told reporters in April of her world championships, "I didn't have a normal burst in the home stretch."
After asking Kersee to put more emphasis on speed work this season, the two developed a competition that has only included the 100 and 200.
These reformations seemed to have worked, as early in the season Felix ran a 100 meter personal best at the Diamond League meet in Doha, Qatar.
However a fourth-place finish in her latest 100 in New York on June 9 left some wondering if she would attempt more than just the 200 at the trials in Eugene, Oregon.
"We weren't quite prepared to run the 100 in New York, but we ran it anyway," Kersee disagreed, "But we have had some good training since coming back."
A strong group of 100 meter runners at the trials will be led by world champion Carmelite Jester, and Sana Richards-Ross, the year's fastest in both the 200 and 400 meter races, is expected to challenge Felix in the 200.
With no exceptions, only the top three finishers in each event will qualify to make the American team.
Click for more from The Telegraph.