Sprint Cup final practice at Dover cancelled due to rain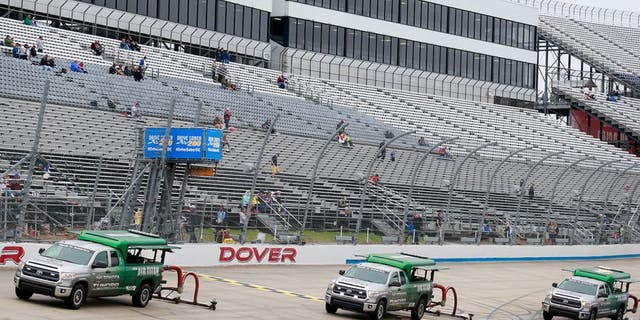 Persistent rain at Dover International Speedway forced the cancellation of Saturday's final Happy Hour round of NASCAR Sprint Cup Series practice, which was scheduled for 1:30 p.m. ET.
Qualifying was also rained out on Friday, which means the field for Sunday's Citizen Soldier 400 Sprint Cup race at Dover will be set per the NASCAR rule book, with the 16 drivers in the Chase for the NASCAR Sprint Cup lining up by points in the first 16 positions.
Brad Keselowski and Martin Truex Jr. will start on the front row in Sunday's race.
The Citizen Soldier 400 will be the first elimination race of the Chase. Once the race ends, the field of championship eligible drivers will be cut from 16 to 12.
The four drivers currently in points positions 13-16 are: Jamie McMurray, who is 5 points behind 12th-place Kyle Larson, McMurray's teammate; then it's Austin Dillon (-5); Tony Stewart (-11) and Chris Buescher (-30).
The weather forecast for Sunday's race looks good, with only a 15 percent chance of rain.